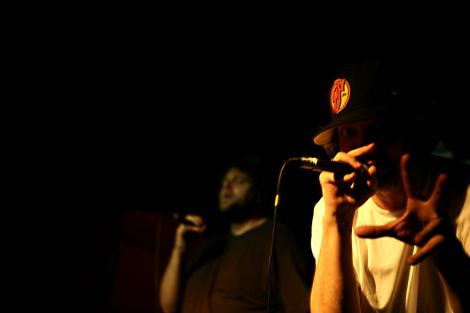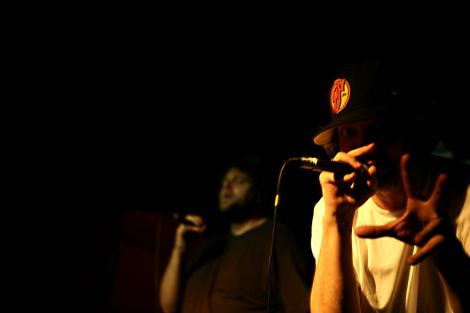 Aesop is one rapper I've always wanted to see live and the opportunity came to pass on Saturday night. Despite the fact that his lyrics are, and have always been the lyrical equivalent of the Rubix Cube, his raspy growl places him in my top five MCs. Accompanied by Rob Sonic and DJ Big Wiz, Aes was in flying form delivering rapidfire, animated rhymes with the large-bellied Sonic an admirable aide (Srsly, that belly was huuuuge). Big Wiz was DJ for the night and live visuals were hooked up to his mixer, providing syncopated scratch eye candy.
Arriving late to Crawdaddy can be a bit of a nightmare; the low ceiling dampens the sound and I'm too short to see over a packed crowd. The end result meant finding a couple of seats upstairs where the sound was clear and the show could be seen. Aesop and Sonic were in a giddy mood, trading rhymes and jokes about Phil Collins. The crowd too were in a uplifting buoyant mood, albeit one that meant resorting to "Olé Olé" chants during the set and egging Aesop to chug a bottle of water.
Aesop was a non-stop performer, his big doughy eyes revelling in the music and the atmosphere, side-stepping and gesticulating his way through every line. Songs from his latest album (and perhaps his least thrilling) None Shall Pass made up most of the set, though "Coffee" was a highlight, as were the Labor Days-era "No Regrets" and the set-culminating "Daylight". Songs from Rob Sonic's latest Sabotage Gigante were also aired and sounded impressive enough to warrant a purchase from eMusic (I'll report back if it's worthy of a post).
Aes and Sonic were genuinely thrilled by the reaction promising to come back with his buddies El-P and Cage soon. They stayed behind after the show to sign autographs and talk to the crowd.
More Photos of Aes, Rob Sonic and support MJEX after the link. Special thanks to Dolan for the photos.

Photos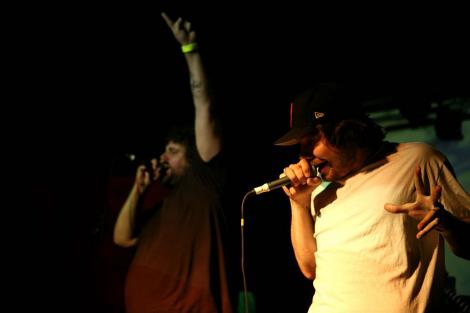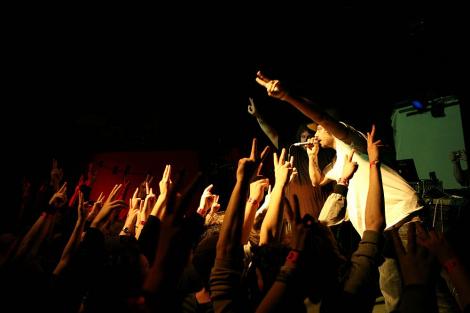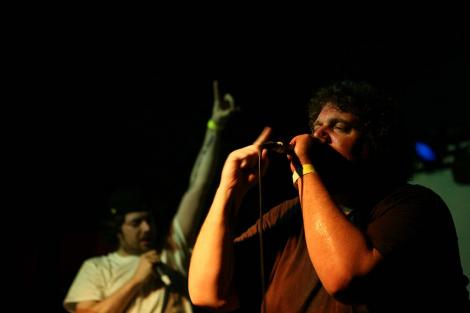 Messiah J and the Expert