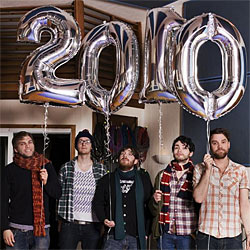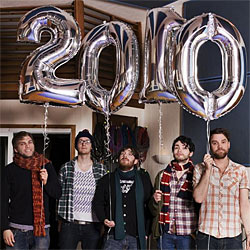 After listening to the new Frightened Rabbit album The Winter Of Mixed Drinks over the last few days, I'm convinced these Scots will have a great year and deservedly so. Their third album is the sound of a band who are sick of strumming an acoustic in reflection and are ready to project outward with the result being some swelling, epic tunes.
I already featured 'Swim Until You Can't See Land' on our last podcast but since I received the album I've got a renewed sense of love for it, listening to the song over 25 times in a few days. It rarely happens to me. The album as just better than previous albums especially with the expanded now five-piece lineup: big sounding band arrangements rooted in folk compositions with singer Scott utilising his lilting Scottish accent to great effect while reigning in elements of his voice that were once a tad whiney for me.
Here's a Youtube playlist of the two videos from the album so far:

Here's the B-side to 'Swim Until You Can't See Land':
MP3: Frightened Rabbit – Fun Stuff
The album is released on the 1st March. Buy it here.
Related