All Together Now have added the final acts for the festival and shared the stage-by-stage breakdown of acts across some of its stages across the weekend in Curraghmore Estate in Waterford.
All Curious Minds, Food & Feasts, Breathe Area, Kids Together are still to be announced plus the festival is promising to share the "steps we've taken this year to improve the festival," for anyone worried about a repeat of the traffic situation from 2019.
First here's some new additions:
Blindboy
The Mary Wallopers
Soda Blonde
Kean Kavanagh
New Jackson (Live)
Yenkee
Khakikid
X Collective
Lemoncello
Brigid Mae Power
MuRLi
KK Lewis
DJ Deece
Lumo Club DJs
Galway Street Club
Onion Boys
Chameleon
The Classic Beatles
Al Gibbs Holotronic
Fizzy Orange
Tara Kumar
Marcus O'Laoire 'Guilty Treasures'
January Winters
Soul Jam
Kate Brennan Harding
Jio & JT
Burlie Mac
Gary O'Neill
Liam Merriman
Bella Festa
There are also some more additions across the stages in BOLD.
Here's a look at some of the stages by acts:
---
Main Stage
Friday
Jungle
Gemma Dunleavy
Trinity Orchestra
Saturday
Groove Armada
Nick Cave & The Bad Seeds
Pillow Queens
Soda Blonde
Special Guest
Sunday
Underworld
King Gizzard & The Lizard Wizard
Jordan Rakei
CMAT
Denise Chaila
Glasshouse Ensemble
---
Some Kind Of Wonderful
Friday
Gilla Band
Self Esteem
King Kong Company
Dry Cleaning
The Altered Hours
Saturday
DJ Koze
DIIV
Mano Le Tough
The Murder Capital
Jessie Buckley & Bernard Butler
John Francis Flynn
Caroline
Sunday
Honey Dijon
Floating Points
Flight Facilities
Shame
Romy
The Mary Wallopers
Billy No Mates
---
Road To Nowhere
Friday
Sad Night Dynamite
Houseplants
Far Caspian
Melts
Enola Gay
Al Gibbs Holotronic
Saturday
Joy Orbison
Rival Consoles
Sorcha Richardson
Sinead O'Brien

Kampire

New Jackson

Martha Skye Murphy
AE MAK
Monjola
Powpig
Sunday
Maeve B2B with Mano Le Tough, The Drifter, Lil Dave,

Baikal

George Fitzgerald (DJ)
Christian Loffler
NewDad

Oscar Jerome

Sorry
Smoothboi Ezra
Aby Coulibaly
Molly Payton
---
Belonging Bandstand
The Belonging Bandstand was designed by multi-award-winning creator Morag Myerscough, especially for All Together Now. Designer Morag's mantra is 'make happy those who are near and those who are far will come'.
Friday
Crazy P (DJ)

Malaki

Tara Kumar

Carrie Baxter

January Winters

Galway Street Club
Saturday
Brunch With David O'Doherty
Sing Along Social

Mango X Mathman

Prymary Colours

New Brass Kings

Sally Cinnamon
Lumo Club DJs
Sunday
Brunch With Blindboy
Cooks But We're Chefs
Toshin x Aretha Franklin
The Classic Beatles

Fleetmac Wood

Elaine Mai
Nialler9
Backroad Smokers Club
---
AVA in the Woods
Dance and electronic music in the woods with visuals by Algorithm.
Friday
YUNG SINGH
BKLAVA
Cáit
Siofra
Saturday
ECLAIR FIFI
PEREL
R Kitt (DJ)
EVE
Away From Dave
Cartin (DJ)
Sunday
SALUTE
CROMBY
Long Island Sound
Inside Moves
Nikki O
---
Arcadia Bug
Friday
Saturday
Sunday
---
Global Roots Main Stage
Friday
A Lazarus Soul
Branwen
Cormac Begley
Inni-K
Jinx Lennon
John Daly
Sister Fenix
Saturday
Loah
Iarla O'Lionaird
Junior Brother
Niamh Regan
Paddy Mulcahy
Colm K
Indistinct Chatter (Myles O'Reilly)
Sunday
Shiv
Yankari
Strange Boy
Rí Rá
Citrus Fresh
Stevie G & Minnie Marley
Negro Impacto
Hazey Haze
---
Global Roots Cambium Club
Friday
Soundsystem All-Ireland with…
Big Earl
Chonkie
Cian Finn
Damia Soundsystem
Firehouse Skank
Ras Tinny
Revelations Sounds
Worries Outernational
Saturday
Donal Dineen's Backstory with…
Donal Dineen
T-woc
Kate Butler
Sally Cinnamon
Diamond Dagger
Automatic Tasty
Emmet Homebeat
Sunday
The Mix Up with…
Will Softly
Ernie DC
Tamen
Lolz (Gash Collective)
Frawl
Gwada Mike
Sibh (Street 66)
One Word Sound Kid's Disco
---
The Well: Music
Friday
Alex Gough
Adam Mohamed
Conor Hamilton
Conor Thornton
Greg Tisdall
Marcus O'Laoire 'Guilty Treasures'
The Burma
Saturday
Pretty Happy
Acid Granny
Papa Romeo
Onion Boys
Burlie Mac
Sunday
Silverbacks
Skinner
Abbacaxi
Thumper
DJ Deece
---
Live On The Lawns
Friday
Ailbhe Reddy
Brídín
Chris Wong
Jack Foster
Lucy McWilliams
Maria Kelly
Rachael Lavelle
Rob DeBoer
Yenkee
Uly
Saturday
Brigid Mae Power
David Kitt
Ellie O'Neill
Emma Langford
Gary O'Neill
KK Lewis
Lemoncello
Liam Merriman
Mik Pyro
Sunday
Adrian Crowley
Gemma Hayes
Clare Sands
The Next Low
---
---
Jameson Connects: The Circle
"Jameson Connects: The Circle at All Together Now is a space for collaboration, creation and craic. Enter The Circle to find some of the most exciting musicians in Ireland, as well as cocktails, conversation, BBQ and plenty of surprises."
Cocktail Making Workshop with Oisin Davis
BBQ Showcase with Pitt Bros
Live
Kean Kavanagh
Loah
John Francis Flynn
MuRLi
Elaine Mai
Nealo
Chamomile Club & Friends
Jordan O'Leary & Claire Kinsella
Celaviedmai
X Collective
DJs
Sean Johnston B2B Cian Ó Cíobháin
Soft Boy B2B David Kitt
Moving Still
Tara Kumar B2B Sally Cinnamon .
Mango B2B Roo Honeychild
Narolane B2B Diffusion Lab
All City & Friends
Aidan Kelly
Prymary Colours
---
Schweppes
The Schweppes Ultimate Mixer Stage…
Khakikid
Papa Rua
Papa Romeo
Fizzy Orange
Chameleon
JT & Jio
Kate Brennan Harding
January Winters
Soul Jam
Bella Festa
Arman Giorgio
---
Ping Pong Disco
Club! ArtSpace! Dance-Floor! Push your wild instincts and dance-floor desire in our joyously outrageous, pop-up club! A consistently fantastic dance floor, delivering up bold beats and disco bangers, mixed with unpredictably and wonderfully weird live performance. Throw your heels in the air, paint your face and ditch your preconceived ideas, this is clubbing, this is queer and it is beautifully banging!
Friday
Mc Gaff-E (Live)
Eddie Kay
Paradise Cabaret
The Dirtbird
The Wild Geeze
Stephan Fae
Madonna Kebab
Mags
Craic Talkers
Saturday
Moving Still
P Disconaut
Xnthony Gas Bitch
Cian Austin Jesus
Ping Pong Girls (Stations Of The Cross Dresser)
Eddie Kay
Craic Talkers
Sunday
Brian Ring
Tonie Walsh's Disco Camp
A Man To Pet
Mc Gaff-E
Circus De Catastrophe
Angi
Ping Pong Girls (+ Friends)
Craic Talkers
---
The Last City
The idea for The Last City came from ten years of working in the event sector and seeing massive waste and inefficiencies in the way we created these spaces.

These inefficiencies and waste are not exclusive to the event sector and can be seen throughout our personal and professional lives. Instead of finding alternatives to slot into the same model, we believe changing the model and how we do things is the only way to make true change.

At The Last City we will demonstrate how materials and energy can be used in a more sustainable way. 90% of the area will be built using upcycled materials and we will be powering all the lighting and sound from battery power, dramatically reducing our carbon footprint.

We are choosing what we build and how we build it with sustainability being the main focus. All the crew, performers and speakers involved in The Last City believe nothing has to be sacrificed with this new model and are confident your mind will be blown.
Artists
Sarah Red
John Byrne
Moon Looks On
Ger Kelly
Krisdeberg
Johnny C
Stevie Barge
Megarabbit
Conor Miley
Anamoe Drive
Halli
Bronagh Keogh
Tracey Gallagher
Aonair
+ more to be announced
Workshops
Introduction to Permaculture
Green Woodworking
---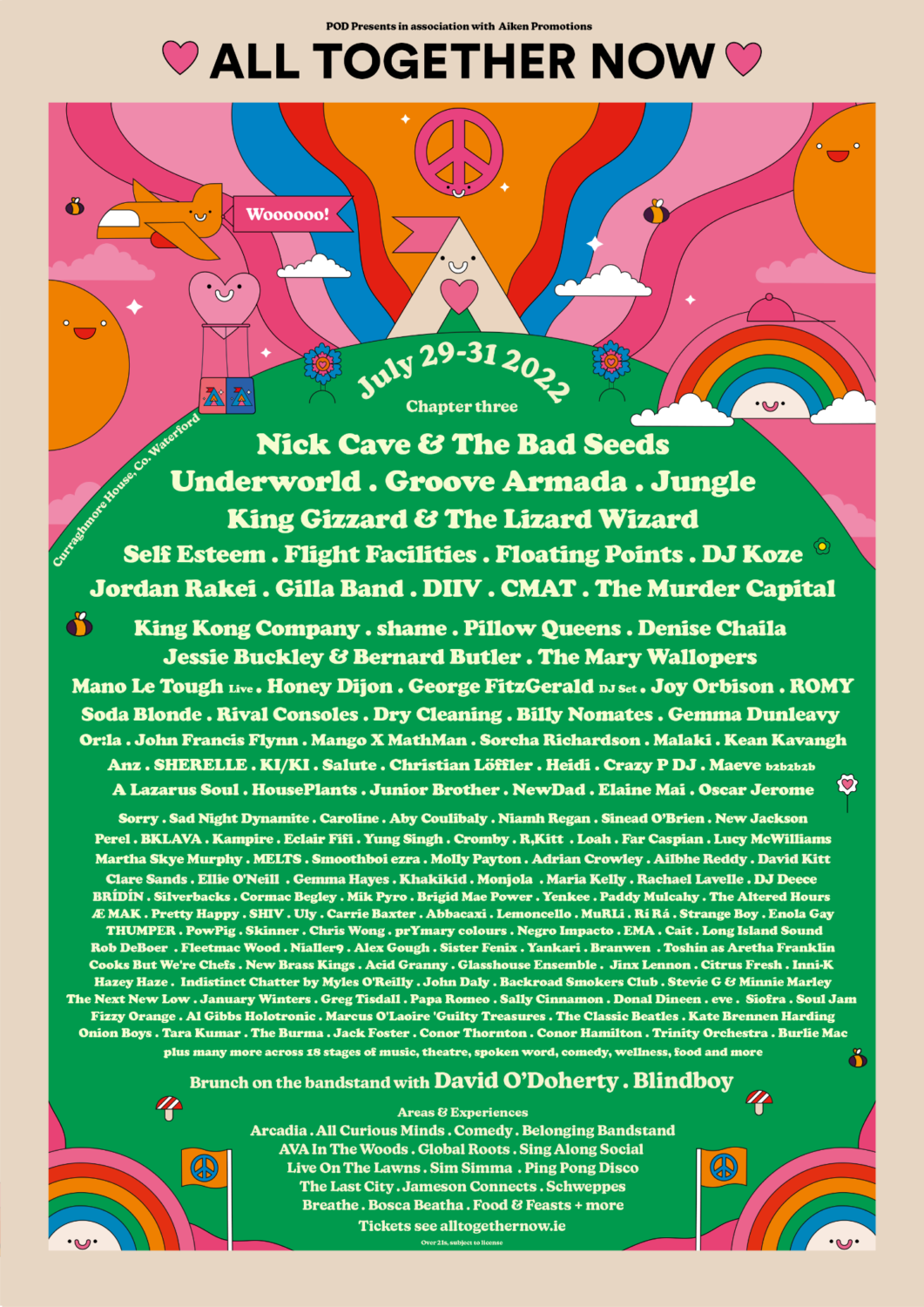 ---
Tickets
All Together Now is again strictly over 21s. Children 12 and under can attend free of charge, accompanied by a parent with a family ticket.
Tickets are close to being sold out.
Weekend Camping tickets are on sale via Ticketmaster Ireland & usual outlets priced at €235 plus fees.
Early Entry passes for Weekend Ticket holders are available via Ticketmaster Ireland & usual outlets priced at €24 plus fees. You can arrive from 4pm on Thursday.
Related