All Together Now have announced the programme for the the All Curious Minds, the cultural chat and discussion tent on the lawns of Curraghmore.
The programme, curated by Raymond Bell and David Bell, will feature:
Sport
Footballing legend Liam Brady will be discussing his illustrious career and forthcoming memoir Born to be a Footballer with journalist/podcaster, Danny Kelly, whose own 'Trans Europe Express' podcast is such a staple of talkSport.
Film & Theatre
Actors Colm Meaney and his daughter Brenda Meaney will explore, in the company of Alex Clark (co-host of 'The Graham Norton Book Club'), their recent two-hander in Enda Walsh's celebrated play, Bedbound.
Billy Magra, award-winning film-maker, TV producer and pioneer of Irish comedy, will explore the personal side of sex, drugs and rock'n'roll in his acclaimed stage memoir Gusto.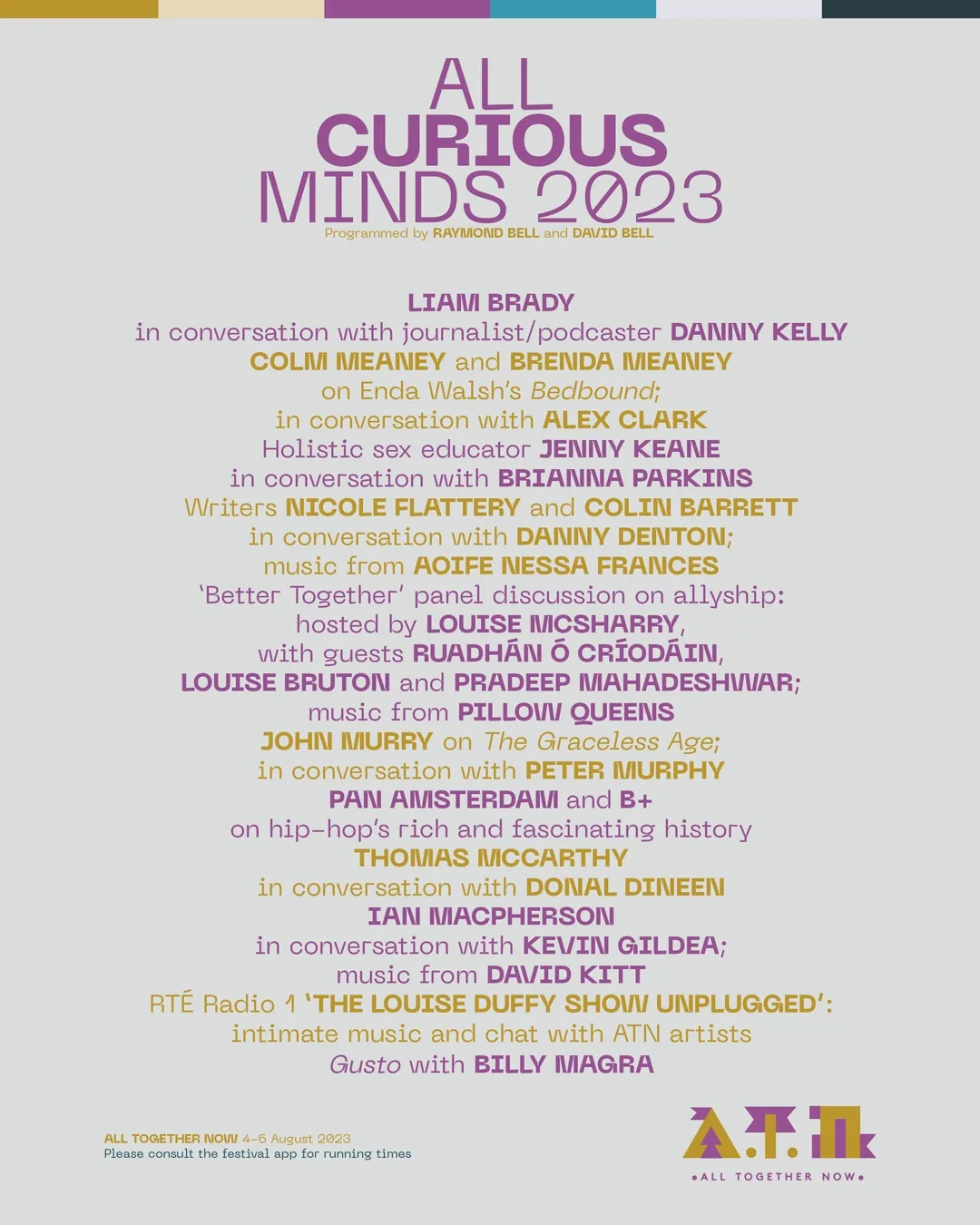 Sex and Wellness
Jenny Keane, holistic sex educator and creator of Sexed Up, will expound on intimate matters with Brianna Parkins of The Irish Times.
Literature
Award-winning writers Nicole Flattery (Show Them a Good Time, Nothing Special) and Colin Barrett (Young Skins, Homesickness) will discuss their work with fellow novelist, Danny Denton (All Along the Echo), with
Music
Acoustic performances from Aoife Nessa Frances, Pillow Queens, David Kitt
American musician John Murry will join Peter Murphy to discuss his seminal album The Graceless Age (one of the most feted albums of the past decade), on this its tenth anniversary. Excerpts will also be shown from the accompanying feature, The Graceless Age: The Ballad of John Murry, a documentary which charts John's journey from near death to redemption via a new zeal for the creative impulse.
Pan Amsterdam (aka American jazz trumpetist and Iggy Pop collaborator, Leron Thomas) will join hip-hop chronicler B+ (aka Brian Cross, author of It's Not About a Salary—Rap and Resistance in LA) to discuss hip-hop's rich and enduring legacy.
Irish traveller, singer and storyteller Thomas McCarthy will discuss his singular craft with acclaimed film-maker and DJ, Donal Dineen (of the 'Make Me an Island' podcasts).
Social Justice
There will be a 'Better Together' panel discussion on allyship, hosted by Louise McSharry, with guests Ruadhán Ó Críodáin (ShoutOut Ireland), Louise Bruton (disability rights activist and playwright) and Pradeep Mahadeshwar (artist and LGBTQ+ activist), with music from Pillow Queens (Leave the Light On).
Comedy
Ian Macpherson (comic performer and author of Sloot and Hewbris) will be in conversation with fellow comedian Kevin Gildea,
Radio
RTÉ Radio 1's Louise Duffy will present a special edition of 'The Louise Duffy Show Unplugged', featuring intimate chat and music from some of the festival's musical guests.
Please consult the All Together Now festival app for running times, etc., and also the signage outside the All Curious Minds tent itself, located on the lawns of Curraghmore House.
Previously conversations at All Curious Minds have featured Patti Smith, Ólafur Arnalds, Claire Keegan, the family of Nobel Laureate Seamus Heaney, John Grant, Panti Bliss, Aaron and Bryce Dessner of The National, Will Self, and the cast of The Young Offenders.