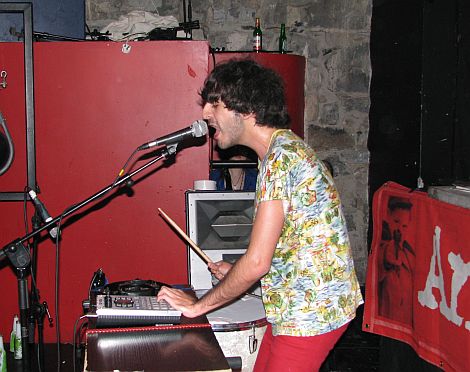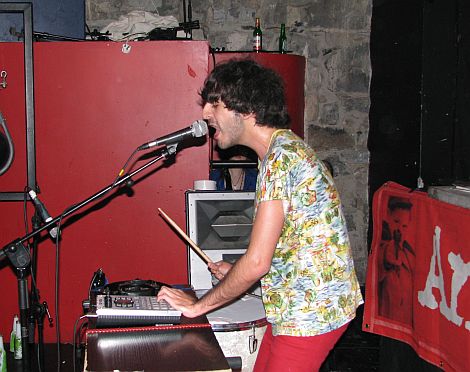 I set myself a challenge yesterday. A small one. I promised myself I would stay out long enough for El Guincho's debut Irish show in Crawdaddy which was to start last night at 1am. I was already out at the Electric Picnic launch at 7pm, so after that it was upstairs in Whelans, where Adrian Crowley was playing the last night of his residency. I met Loreana, Storkboy and friends who told me they were refused entry to El Guincho for lack of ID. Yeh, it was that kind of club that those comfortably in their mid-20's who had forgotten how vital ID once was, were superceded by all the giddy youngsters with IDs at the ready.
For those who are unaware, Antics on a Wednesday night in Crawdaddy is a student indie night, who frequently put on decent live acts. It's cheap admission (€5), cheap booze (€3 – All pints, scummy blue alcohol etc). Unfortunately, a night at Antics is akin to running a gauntlet of well-dressed stumbling and eventually falling – fey 19 year old girls, inebriated young males dressed like extras in Skins propping themselves up and feigning dance moves to ward off sleep. They laugh and shout at each other across the room, dance, snog, snog and dance, and fall down all over again.

Now, it may sound like I've hit an elder age in which to curse the folly of youth. Fuck it, this ain't that. It's probably because in them, I see parts of my former self I recognise, parts that I have largely shed with passing of time – the awkwardness, the uncontrollable drunkenness, all those elements of adolescence you'd rather forget. It was more of an experience and a reminder of what happens below my age bracket, as I rarely have to spend time with a mass of people in their late-teens. In a way I envy them, as when I was their age (I'm 25 now) going out with college buddies etc, meant a lowest common denominator known as Turks Head. I shudder when I think of it. They are lucky that they have a place called Antics where they can catch a savage Catalan one-man band El Guincho on a school night.
And what a show Pablo Díaz-Reixa puts on! With one microphone, one sampler, one bass drum, one tambourine and one drumstick, his brand of tropical Mediterranean hypno-dance was fitting in its strangeness and repetitous Spanish-sung melodies. Comparisons abound to Panda Bear-esque visions but El Guincho moves your feet a lot more than your mind. Upbeat African polyrhythms infuse the tracks, and sampled steel drums add an unmistakable ray of sunshine. Despite the chaotic young crowd before him, he had them on his side in moments, leading to a stage invitation, a pissed off bouncer and a set cut slightly short. Beats a night out in Turks Head anyday!
More: MP3 @ State