AVA Festival announce 45 acts for 2023 including Central Cee, Slowthai, Overmono, Eliza Rose and more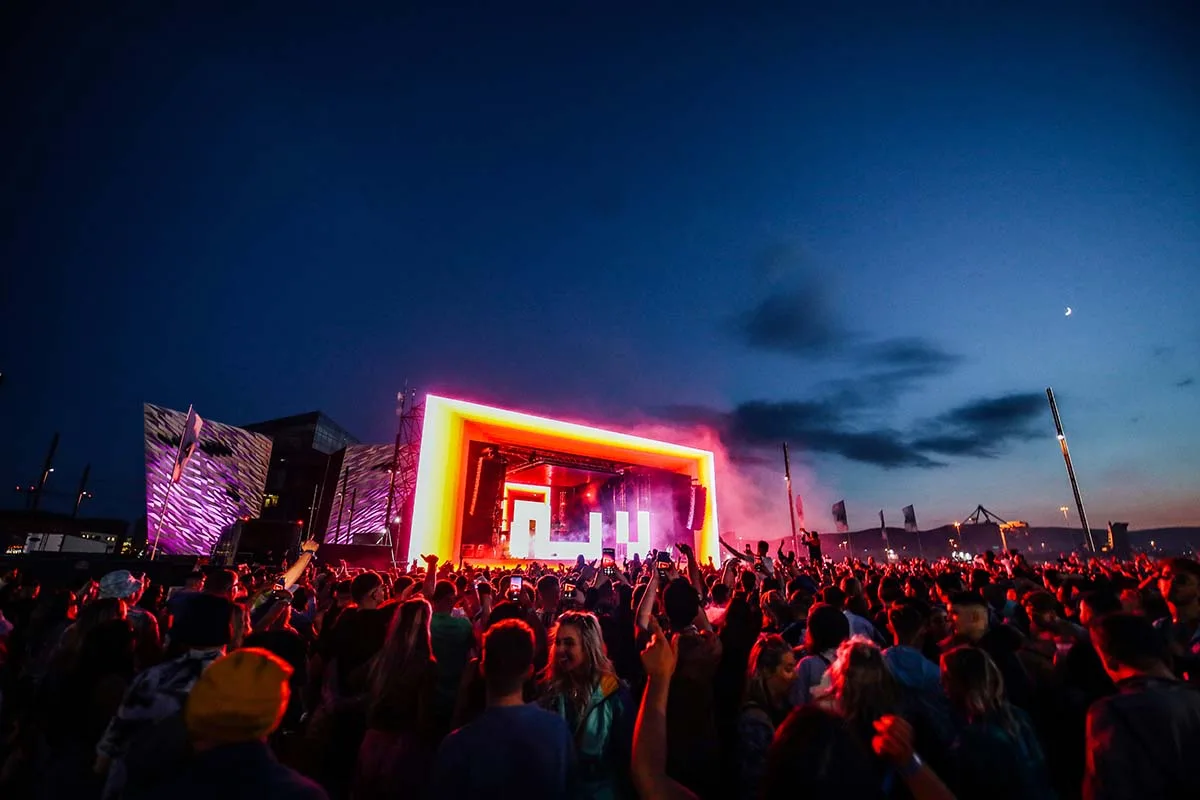 AVA Festival has revealed the first names for the festival due to play the Belfast electronic festival at Titanic Slipways on Friday 2nd and Saturday 3rd June this summer.
The first acts playing are:
Central Cee
Slowthai
Kettama (Boiler Room set)
Overmono
Eliza Rose
Hèctor Oaks
SPFDJ
Job Jobse
KI/KI
Kojaque
Sally C
Yung Singh
Southstar
DJ Boring
Interplanetary Criminal
DJ Heartstring
X.Club
I.Jordan
Pretty Girl
Imnotyourmate
Kessler
Holly Lester
Swoose
Timmy Stewart
Jordan Nocturne
Carlton Doom
Mount Palomar
Emby
NEZ
Marion Hawkes
Crilli DNB
Plain Sailing
Twitch
Ricky Chong
Síofra
Caoimhe
Reger
Danse Intermission
Blark
Crock
Dallas
Nikki O
KEM
Hannah
Paudie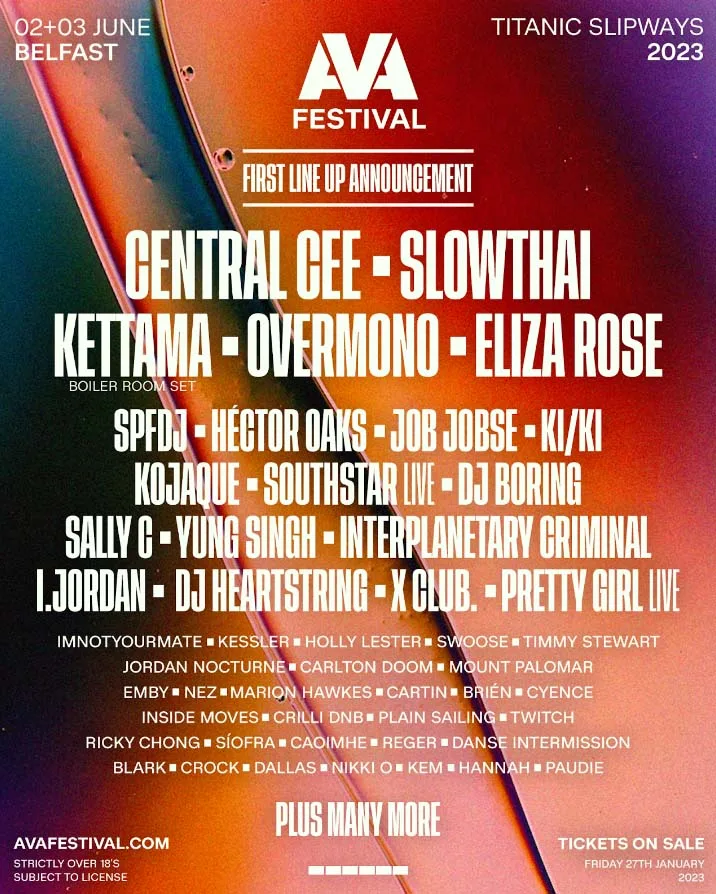 AVA Festival (Audio Visual Arts) has built its rep on considered and knowledgeable lineups over the last number of years, and 2023 sees it return to Titanic Slipways in Belfast for the second time.
Tickets
Tickets for the festival are available from Friday at 10am, with Weekend, Group & Deposit-scheme tickets available starting from £30 – head to avafestival.com/tickets to secure a ticket now.
More about the AVA lineup
AVA Belfast's programme has evolved – staying true to its electronic roots but welcomes a wider array of sounds to reflect the tastes of its attendees. For 2023, Central Cee headlines – the West London rapper who has exploded for his unique take on UK rap / drill, aesthetic and continuously solid output. The first ever UK artist to achieve 1 billion Spotify streams in one year, the first UK rapper to achieve such a feat, Central Cee is one of the most vital artists to break through in recent years – and his performance at AVA will be one of a select few UK & Ireland summer shows. Also joining is esteemed artist Slowthai; whose intellectual, cheeky output influenced by rap, grime, punk, plus unforgettable performances have gained him a reputation as a solid talent. Representing the Irish squad is Soft Boy Records boss and Irish prodigy – Kojaque.
G-Town records boss and party starter Kettama joins the infamous AVA Boiler Room stage for an unmissable performance, plus AVA solid faves Overmono return for a live main stage show consisting of a euphoric blend of rave, trance, and breaks – following a highlight set at the festival in 2022. On top of that, there's esteemed selectors and producers Job Jobse, KIKI, SPFDJ, I.JORDAN and many more.
An AVA first timer is Eliza Rose, the artist behind the UK "people's anthem" and Number One record B.O.T.A. Eliza will be joined on the line-up by her production partner Interplanetary Criminal, bringing good-time vibes, garage and more. Hector Oaks will also make an appearance, the revered party selector and resident at some of the world's most loved parties Bassiani (Tbilisi), and Herrensauna (Berlin.) The final two names in this teaser selection are rising Berlin trance due DJ Heartstring and plenty more.
As always, there's a stack of local legends on board to showcase the health of the current Irish movement including Holly Lester, EMBY, Jordan, Carlton Doom and plenty more. Kessler and IAMNOTYOURMATE both also rep for Irish acts, and after their electric performance at AVA's NYE special, both sets will be hi-energy highlights on the bill.
AVA found its perfect home at the industrialist Titanic Slipways, and the team are excited to head back after a success. There'll be adaptations – new indoor areas, arts spaces, bars, maximising the space in the heart of Belfast's shipping area. For visitors, AVA is an opportunity to experience the Belfast craic in a way like no other – with the locals, in an incredible space, with the extended AVA family. Flights arrive into Belfast from most major cities and there's plenty of hotel options.
AVA has grown into an essential event for culture in Ireland – pioneering the first large-scale multi-stage event to represent a modern Belfast, promoting the growing community in Northern Ireland and beyond. AVA support local artists with a platform along with some of the world's most celebrated musicians, and also opportunities for work, education and networking. AVA has created an inclusive, vibrant, and celebrated space for talent to be nurtured from their DJ competitions to work programmes. We look forward to another year with AVA at the centre of Ireland's thriving music movement.
'At AVA, we are committed to evolving as both a festival and a cultural movement, with a mantra to never stand still. 2023 marks a moment where AVA is evolving as music and cultural tastes change. It moves with the moment whilst staying true to its origins in electronic music. It's where multiple artforms converge to create memorable moments for music fans and electronic arts enthusiasts. Our commitment to design, festival experience, high production levels and amplifying local talent is as strong as ever, and we can't wait to bring you our next AVA Belfast edition this June!'

– Sarah McBriar, AVA Festival Director
More tickets and information can be found at www.avafestival.com