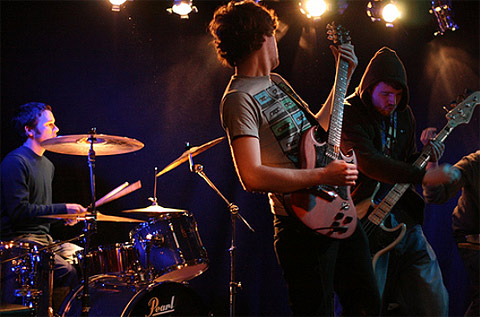 So the followup to the Super Extra Bonus Party debut album looks imminent for May, according to their site's latest update. Night Horses will be another collaborative affair with some special guest vocalists to be revealed soon. The first single will be 'Radar' which features Cadence Weapon and a video is currently in the works.
From what I've heard so far, it is definitely a step away from the sound of the first LP. It's darker, more cerebral, more band-orientated, more cohesive but still surprising. I'm looking forward to hearing the end product. A couple of videos featuring live versions new songs are after the jump. Here's a video of the band recording some "fiery" drums.
Super Extra Bonus Party – Favourite Things
Super Extra Bonus Party – Everything Flows (Jape's Flow remix)
You can still get the Remix album for free.
Photo by Sara.
Radar featuring Cadence Weapon

Eamonn