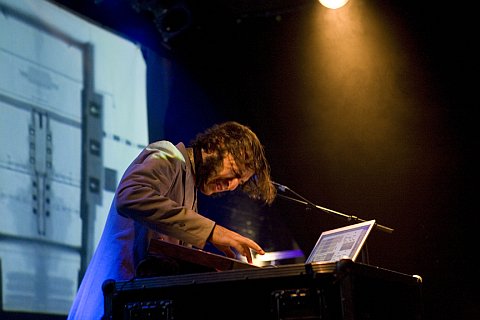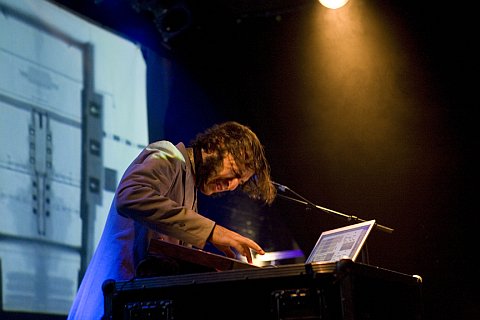 Some real highlights this weekend for me. Daedelus absolutely killed his set on Friday night. What a performer (see video below) – he's the apotheosis of a DJ – playing his own tracks amidst a gazillion others with a big smile on his face and his hands darting around his Monome box. Steinski was better as a speaker at Sweet Talk on Thursday than as a mostly perfunctory DJ on Friday though it was nice to see him up there rocking his old nerdy emotionless self complete with nerdy trackball mouse selectah style.
Also good fun at !Kaboogie's show on Thursday in ALT with Ed Devane and Ebola. Didn't stick around for Mad EP though.
M83 were brilliant in Vicar Street and really took advantage of the soundsystem there. Precise serene synths, loads of "dum dum ba dum" '80s drums behind a transparent drum shield. Just an immense sound. Channel One played a really nice set too. Good to see them again.
Managed to get into the DEAF closing party at about 11pm on Sunday. The place was swarming with Laurent Garnier fans, a lot of whom, couldn't get into an over-stuffed Village for his mammoth 3 hour set so we're furiously looking for refunds. Moritz Von Oswald had cancelled and there were rumours he suffered a stroke on the way over (bless him). There was a strange atmosphere about the place. Even Whelans had a high obnoxious drunk people quotient so we only stayed for Fuck Buttons who were fantastic, full of immense digital noise where every chord or progression is cheered on by the assembled as it's so drawn out. A really great set with a lot more beats than their Primavera set in May. We had a quick look upstairs in the !Kaboogie room but left shortly afterwards due to the weird atmosphere permeating the place. Still though, that's the only negative in a weekend full of positives. Seems like this year was largely a success for DEAF.
So, what did I miss?
Daedelus

More photos by the mighty Dolan after the jump.