Dekmantel Festival has become one of the key electronic music festivals in Europe over the last nine years, since its inception.
The Amsterdam-set festival has just announced 115 acts for its 2023 edition to take place from August 2nd to 6th this year.
The first two days will be happening at venues alongside the IJ river, while the latter three will unfold in the tree-lined atmosphere of the Amsterdamse Bos.
Dekmantel 2023 lineup
Announced as part of the lineup for the summer festival are the likes of Shygirl, Gary Numan, Omar S, Blawan, Cymande, Hudson Mohawke, Stingray 313, Jeff Mills, Peach, Young Marco, Avalon Emerson, Anz & Special Request, Carista, Flohio, Bogdan Raczynski, Helena Hauff, John Talabot & Orpheu The Wizard, Martyn, Upsammy, Shanti Celeste, VTSS, Mu-Ziq and more, as per the poster.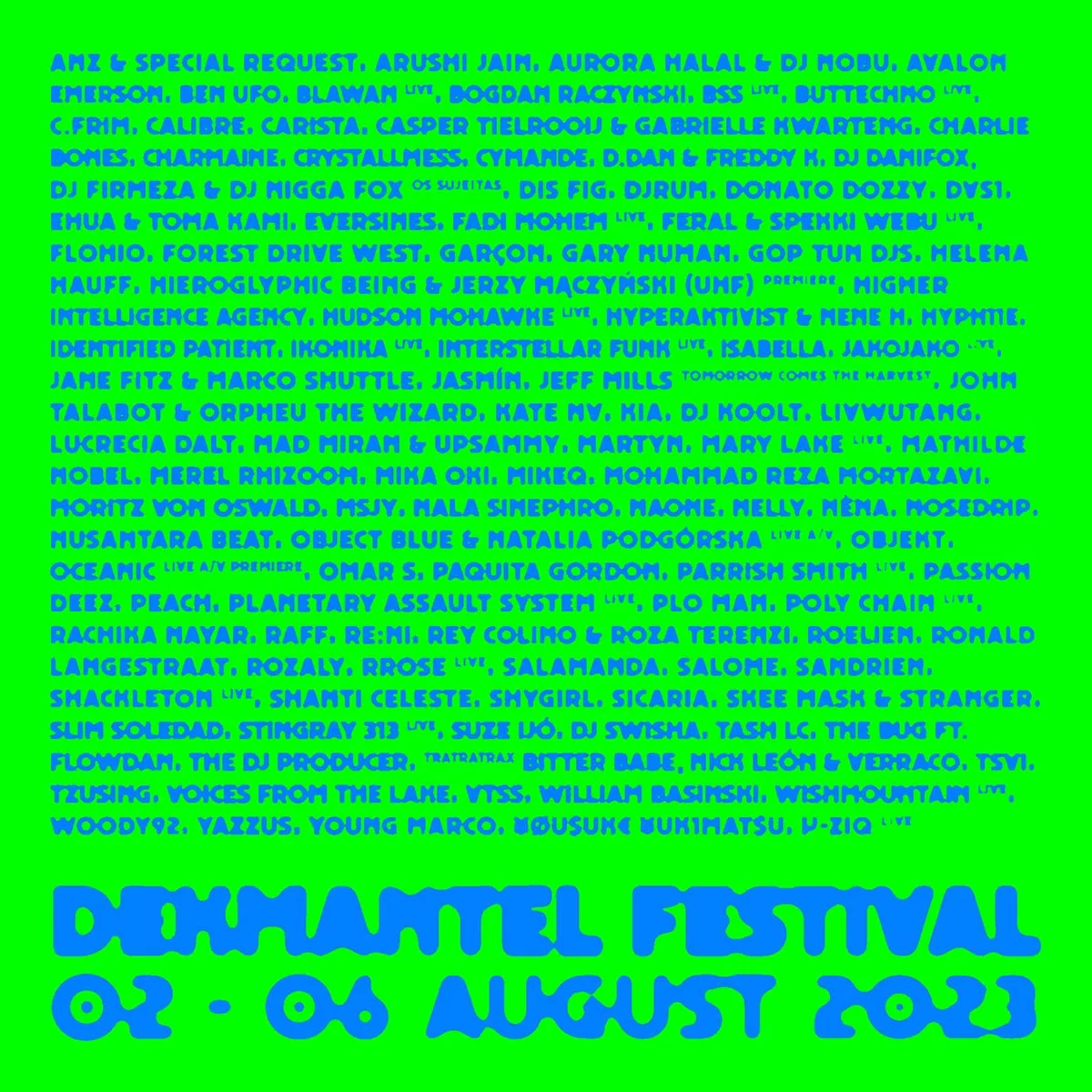 Dekmantel tickets
Pre-registration tickets for the Wednesday program as well as pre-registration weekend tickets (3-day or 4-day passes) will be available on January 26 at 11:00 CET.
Regular ticket sale (subject to availability) starts on January 27 at 11:00 CET.
Pre-register here
Ticket Information*:
Single Day Festival Ticket – Wednesday: €39
4-Day Festival Ticket: €220
3-Day Festival Ticket: €185
Camping pass, 4 Nights: €60
Camping pass, 5 Nights: €72
All prices listed do not include service charges
More About Dekmantel 2023:

Dekmantel Festival begins on Wednesday at Muziekgebouw, where techno icon Jeff Mills will headline a night of live concerts with a performance of 'Tomorrow Comes the Harvest', the groundbreaking album he composed with late Afrobeat legend Tony Allen. On Thursday, the Aan 't IJ programming expands to venues up and down the river, with live concerts from Colombian avant- pop mystic Lucrecia Dalt, loop abstractor William Basinski, psychedelic techno adventurers Voices From the Lake [Donato Dozzy and Neel], ambient jazz prodigy Nala Sinephro and fluorescent crunk maestro Hudson Mohawke.
Although Dekmantel has expanded in scope over the years, Amsterdamse Bos will always be the festival's most hallowed ground, and this year its lush environs will play host to live performances from synth-pop deity Gary Numan, Afro-Caribbean funk legends Cymande and ambient techno trailblazer Higher Intelligence Agency. Future- pop provocateur Shygirl makes her Dekmantel debut, headlining a strong crop of more than 25 first-timers that includes technicolour rave scientist Avalon Emerson, irrepressible scamp Charlie Bones, Brazilian force of nature Slim Soledad and free- flowing groove cultivator DJ Koolt. Latin futurism will be provided by the TraTraTrax crew (Bitter Babe, Nick León and Verraco), while livwutang cultivates genre-hopping joy and PLO Man pilots a sweat-inducing journey into the cosmos.
Additionally, this year's lineup includes the exclusive premiere of Universal Frequencies & Harmonies, a new live collaboration between Chicago house maverick Hieroglyphic Being and saxophonist Jerzy-Mączyński. Detroit electro badman Stingray 313 also unveils a brand-new live show, while veteran shapeshifter Matthew Herbert will be performing under his newly resurrected Wishmountain moniker. Back behind the decks, Dekmantel 2023 also plays host to a slew of special back-to-back DJ pairings, including Anz & Special Request, Jane Fitz & Marco Shuttle and D.Dan & Freddy K.
At Dekmantel, boundaries are beside the point. Pushing the limits while celebrating the exceptional is the primary objective, and while that celebration routinely spotlights some of electronic music's freshest faces, it also includes those pioneers and heavyweights whose work now resonates more loudly than ever before. Honoring the past while looking to the future, Dekmantel has curated a festival that's not just a snapshot of electronic music's most thrilling contemporary sounds, but a projection of where things look to be headed in the years to come.