The programme for Electric Picnic's Late-Night Quarter Freetown has been revealed with full lineups for Providencia, Spike Island and more now here.
Here's the info from EP direct…
About Freetown:
The vibrant district of Freetown – perched on the northwestern fringes of the Picnic metropolis – is what to do at night when the need for some mischief descends. Situated just beyond Salty Dog are the winding streets of this chaotic bespoke-built townscape, hosting an exhilarating 14 venues, all flanking the colossal dance cathedral Terminus. The new Late-Night Quarter, where the bars remain open just that little bit later than the Main Arena, sees the nightbirds chirping until 4am.
Here all manner of life clings to the sides of the mothership, from German nihilism to an eclectic artist commune, a Cajun bayou to céilí hall, a dive bar district to a collective of electrician-nerds learning to party. From the creative team behind Trailer Park, Terminus, and Salty Dog, the Freetown Late Quarter is open to the curious and the errant from 6pm to 4am each evening.
---
Providencia
Red lights lure you into an abandoned town taken over by artists and reprobates, a haven for the peculiar; their infamous night parties are a bizarre, energetic celebration of weirdness, absurdity and analogue esoterica, powering on until dawn. From electronica to Icelandic art-punk, rock, trad, jazz, electro-hop, D&B, techno, hard house and everything in between. Synths, storytellers and brass clash in front of abandoned billboards flowering with strange art; Glam Pigs ply their wares, and – for just two hours each night (read: morning) – NACKTLICKER is an elusive cabaret venue housing absurdist filth and punk theatre not for the faint of heart.
EMA
Toya Delazy
Kila
Gróa (Icl)
Cousn
Code of Behaviour Brass
Sky Atlas
Grooveline Yvr
of Ghosts & Other Forms
Benjamin Yellowitz
Pj Peek
Siânageddon
Tara Boom (Aus)
Providencia is also home to LIMBO, an abandoned Iglesia plays host to a new kind of spiritual encounter, to a soundtrack of exuberant dance music, where costumed theatre meets pagan club. ELECTORADO, a chop shop of wire-laden scrap, bust electronic crap, bleeping lights, and fizzing wires – where a team of nerdy electrical engineers ("Beasts of the Southern Wild in a Lab Coat") make wild head-torches and illuminated head-dresses for hundreds of enlightened souls. CASA DI VALENTINA in which star Portuguese artist Valentina Alvarez returns to her tarot 'house', not just with her immensely charismatic and effervescent house parties, but this time with superstar visual creationists Venga Venga, Brazilian sound cocoon artist Cigarra, Lisbon-based Afro Caribbean deckster, and hiphop MC Tefa Libre…. This is the coolest arts shop in the whole festival.
Our Lady of the Consumption
A 50s parish hall turned céilí house – humming with bodhran and fiddle – with trad titan Liam Ó Maonlaí, a giant seisún stretching long into the night while the porter flows freely. Irish dancing is expected.
Liam Ó Maonlaí
Louise and Michelle Mulcahy
Maitiu O Casaide
Roisin Chambers
Peter O'Toole
Darach Mac an Iomaire
Katerina Garcia
Amaia Elizaran
and Many More
Six Bars
A labyrinthine alleyway system navigating all visitors to a hidden clearing in which six dive bars cluster around a ramshackle pagoda structure. Here Donal Dineen's Backstory unfolds: music like nowhere else – ten curated vinyl DJs from every continent in the world, deep diving into their collections – a fitting soundtrack to the bars of Mexico City, New York, Berlin, Bangkok, Paris and Cahersiveen. The newly hewn stage is a big rusty, angular, made-of-bits-and-tarps pagoda nestled into the dilapidated alleyways and dirty crannies of Six Bars – a warren of small snugs holding six drinkers apiece.
Donal Dineen's Backstory
Dj Azeez
Hewan Mulugeta
Twoc
Queen Beatz vs Dj Puffinho
Dejuan
Baby Cheeks
Ben Bix
Little Woccie
Donal Dineen
Special Guests
Cerebral Fortress
On the outskirts of the village, Cerebral Fortress indoctrinates over-prescribed patients, mismanaged by nefarious staff loosely connected to a new shopping mall, selling cigarette butts, unhappy ending massages, and an apocalyptic beauty parlour, with Drum'n'Bass shaking the walls down.
Labyrinthe de la Fou
A large-scale high-hedged maze from UK theatre director Richard Stamp, with a small cast of mischief-makers needling those who think they never get lost.
Brutopolis
An iron curtain-inspired regime springing leaks behind every façade – with liberal thinking, obscenity, culture and all other forms of disreputable rebellion exploding out of a gurgling underground scene. There is an uprising from within. Immersive theatre, loud music, nudity and attempted oppression.
Sleaze
Dirty Faces
Everything Shook
Ed Cox
Yop
Monsieur Pompier's Travelling Freakshow
Charles and Andrew Hendy's Country Music Set
Dj Mags
Dj Omin
Dj Charles Hendy
Dj Paddy Bloomer
Dj Fedr
Dj Owls
and More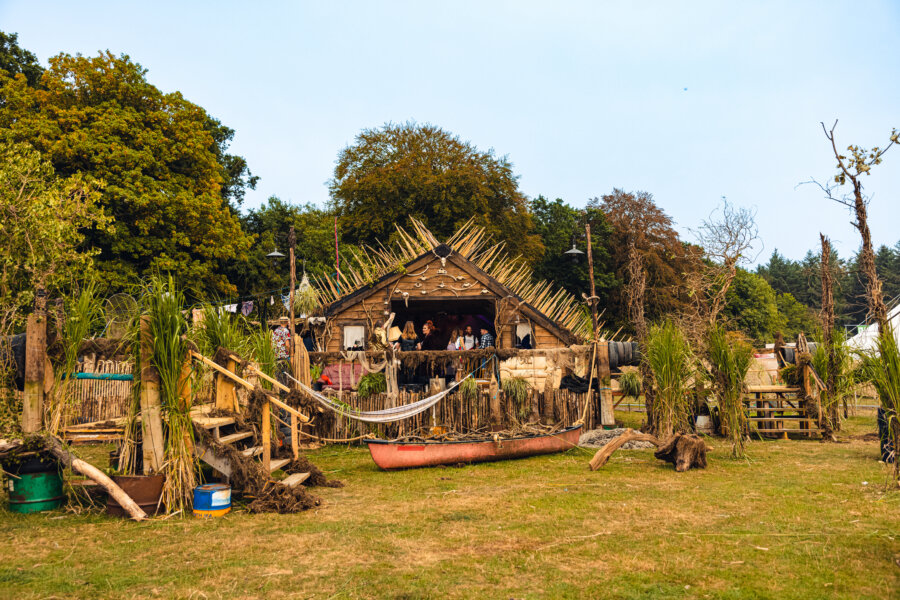 Spike Island
Spike Island is a floating swamp-hut that squats in the marshlands, cloven from drift-wood, with a defensive shell of hedgehog spines, and camouflaged by pond-weed, ditch-vines, elephant grass and soupy leech-sludge – the only way into this shack-on-stilts is the raised walkway through a break in the fence. Inside is for huddling around the music – folk, trad, cajun, seisiúns of slip-jigs, creole field-hollers, Delta blues chants, beardy men playing paradiddle on a piccolo snare. Those fond of a jig may jig; those who just want to lean in closer to the smell of the mandolin-man can do so too.
The Robin James Hurt Band
Peer Pleasure
Sabbages
Bone Machine
Backyard Smokers Club
Cua
Tulua
The Moon Rockets
Deadlians
Of Mice And Men
The Outcast Crew
Dubh Lee
Pearse McGloughlin & Nocturnes
Eadaoin Ní Mhaichín & Band
Old Bohemia
Racoon Jane
The Colm Skwirbat Band
The Cacks
Kiruu
Bana Rua
Featuring the incredible New Orleans vinyl goddess DJ LIL' KOKO and live music. Late into the night, you'd find Old Boy Meaney setting a match to the barrel-fires and starting a bit of a song.