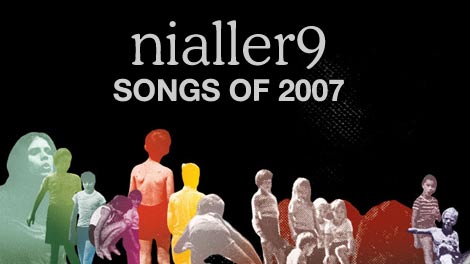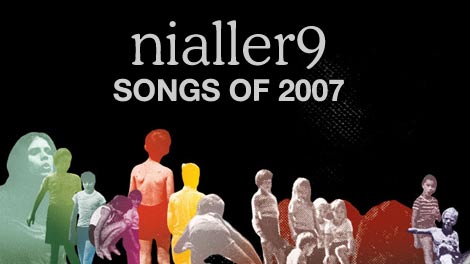 I relish compiling lists. So much so that I ended up with a list of 75 songs from this year on a longlist. So for the sake of your attention-span and as recommendation reminders here are my top 25 songs of 2007. I'll talk about the track when it warrants it or if I've talked about it before, I'll be lazy and quote myself. Link to the MP3, stream or video can be found on the title of the song.
25. Modeselektor – Dark Side of the Sun
My favourite track from Happy Birthday although it took a few months for me to settle on it, like a lottery ball in front of a hapless individual on Winning Streak.
24. Zach Condon – Venice
"The downtempo electronic tones may surprise you if you've been enjoying his Balkan ways..". (June)
23. Caribou – Melody Day (Four Tet remix)
"It strips back the instrumentation completely and adds extra vocals from Adem, Luke LaLonde, and One Little Plane to produce a delectably sparse, acoustic-led track.". (July 07 – Featured in July Podcast)
22. Justice – Stress
If Bernard Herrman was alive to make Blog House, it would sound like this. (Featured in May Podcast)
21. M.I.A – Paper Planes
A number of alternative versions popped up after Kala was released including the Bun B/Rich Boy and the Esau Mwamwaya all-African version.
20. Nouveau Noise – Cinnte
19. Jape – I was a Man
18. The Bees – Listening Man
The Bees: The best 60's band of the 21st Century.
17. Dan Deacon – The Crystal Cat
My introduction to the bat-shit crazy world of Dan Deacon was this bat-shit crazy tune. (Kicked off the April Podcast)

16. TTC – Telephone
15. Prefuse 73 – Class of 73 Bells
14. Feist – 1234
13. Ida Maria – Oh my God
"Ida Maria sings with more fervour and soul than your average indie boy frontman, starting with such impetuosity that by the end she's snarling/howling the chorus at us." (Nov)
12. Matthew Dear – Deserter
"..moody texture-rich companion to LCD Soundsystem's "All my Friends" with the same epic quality." (Aug)
11. Super Extra Bonus Party – Everything Flows
An Irish indie-pop belter with electronic beats and vocals from Paul O' Reilly (Channel One). My guitar riff of the year.
10. LCD Soundsystem – All My Friends
9. J Dilla – Nothing Like This
8. The Vinny Club – It's not you, it's OF
"Starting with a radio jingle of "Nineteen Eighty Threeeeeeeee", it kicks into ultra-violent synth mode and struts around beating the shit out of anything that moves for 2 and a half minutes." (March)
7. Neon Neon – Trick for Treat
The first single from the Boom Bip/Gruff Rhys collaboration featured a falsetto from Har Mar Superstar and a turn from Naeem from Spank Rock.
6. Amon Tobin – Esther's
Using the technqiues of Field recording, this track features a motorbike revving up, a group of wasps buzzing in a jar and very possibly, tigers roaring pegged to immense beats.
5. Dan Deacon – Wham City
A 12 minute, three-part nursery rhyme-assisted, unabashedly nonsensical spectacular tune. Live, it's even more incendiary.
4. LCD Soundsystem – Someone Great
3. Panda Bear – Bros
"The album's standout, the near 13 minute "Bros" starts with an owl hoot and takes off into a jangly rhythm with beautiful echoing vocal lines. About halfway, the jangly guitar is replaced by a distorted ethereal guitar and Lennox jams out the song to it's never dull length. It all sounds so naive and wide-eyed but every sound is calculated to precision." (January)
2. Milanese – Caramel Cognac
The aural equivalent of a Transformer robot crushing a city landscape while being pursued by a sonic boom homing missile. The humans triumph with sweet vocals and fanfare. Everybody wins.
1. Battles – Atlas
A rock band try to ape T. Raumschmiere with their instruments and create the most original and thrilling song of the year.