If there's anything this weekend reminded me, it's when it comes to festivals, you don't have to travel to get the experience. With Bloom in the Park taking up a large space in the Phoenix Park to Forbidden Fruit in the Royal Hospital Gardens in Kilmainham, the green west part of the city was home to many more people's weekends than normal, an encouraging display of the sentiment that the city is there for us to use.
Of course, nothing's perfect and in Ireland even less so when we can't maintain the same weather pattern for more than 24 hours, sunshine at an Irish festival is a luxury not a given, and sometimes, like on Saturday night at Forbidden Fruit after you've found out the act you've been waiting to see missed his flight (Actress, you flaky git), it doesn't feel worth the effort.
Having said that, Forbidden Fruit year two wiped away the memories of a first year beset with organisational difficulties. Sure, there were some problems: not enough toilet facilities, only one exit for all punters, the re-entry thing enforced with vigilance, a lack of a whole stage on Monday and the weather on Saturday and Sunday (but like I said, it's Ireland, what were we expecting). But there were plenty of positives in the carefully-curated lineup. The festival grounds were kept in good shape by cleaning teams all weekend so the site wasn't an eyesore. Of course, being at a city festival where you have the option of going home to your bed is a big plus. Plus, there were afterparties to go to where plenty of the acts playing the festival DJed or played in town afterwards, bringing the festival vibe into the city itself.
My Highlights?
Grimes
This could have gone either way but Clare Boucher's set was one of the pure delights of the weekend. The atmosphere for just the 3pm Sunday tent slot was impressive. Boucher made the most on that eager full crowd. The set list was composed of the most accessible parts of her breakthrough album Visions and the beats from it hit the most from the speakers. Boucher's on-stage antics are endearing; she jumped around her equipment clearly relishing her own performance and that energy was infectious. I heard about four people during the gig turn to their friends and comment on how cool or cute she was. That she may be but it were the tunes that did it. Grimes has direct songs that are still packed with lots of synth oddness and eerie atmospheres that make her music very much a unique prospect. Oh, and she's back for Electric Picnic.
Chromatics
Wow. So Chromatics are not just a great studio band but a great live band. Knowledge, purpose, confidence and chemistry, they had all of these qualities on show last night and frankly, were a cut above a lot of musicians this weekend. There was no time for ambient meandering here, this was a no-nonsense 45 minute set of the glittering parts of their catalogue: 'Kill For Love', 'Lady', 'In The City', 'Hands In The Dark', 'Back From The Grave', 'I Want Your Love' and my personal highlight, the eight minute vocoder-assisted 'These Streets Will Never Look The Same'. They finished their set and the festival with two covers; Kate Bush's 'Running Up That Hill' and the Kill For Love album opener Neil Young's 'Hey Hey My My (Into The Black)'. It was over far too soon.
Le Galaxie
The local boys did what was expected of them, they delivered a packed festival set. Tracks from the forthcoming five-track EP sounded like future winners especially, the Japanese vocal housey number and the Elaine Mai-assisted 'Love System'. Taking to the stage with ex-Presidents Point Break masks and ignoring the festival warnings of "no glowsticks" by handing out, yes, lots of glowsticks during their set are just small but important indications of the effort the band go to entertain. Also, their debut album is now free.
Factory Floor
Factory Floor rely on the combination of hypnotic arpeggiated synths, driving drums and the right atmosphere to experience that. The Undergrowth stage had what they needed and it was dark enough in the tent to make for a conducive atmosphere to let loose. Extra kudos to the band for bringing an great light show with them, it made the difference and highlighted to me, what a lot of the Irish electronic musicians are missing at festivals. It looked a bit like this.
Purity Ring
Taking a leaf out of the stage show effort book, Purity Ring had a very unique setup. Corin Roddick's table featured lamps that when hit with drumsticks triggered samples, turned on and off and changed colour while Megan James' held a chain lamp above her head while a drum skin glowed in time to the music. Their songs are all based on rumbling low bass, pitched shifted vocals and pinging synths which may grate over a whole album but live, James' voice was the standout, her angelic tones pierced the menacing melodies reverberating around the tent.
Modeselektor
I hadn't seen these German mischief makers in so long, I almost forgot just how fun their live show is. Now amped up with extra visuals, Gernot Bronsert and Sebastian Szary played a non-stop mix of their biggest tracks. It was a barrage of the finest high BPM techno and electronica and the constant pace gave it a greatest hits feel. 'Dancing Box', 'Kill Bill Vol. 4′, "Pretentious Friends' , 'Let Your Love Grow', 'Evil Twin' and '2000007' amongst others were aired along with their now customary champagne audience drench.
New Order
I caught the end of this main stage set which seemed to attract the most people over the weekend. While Peter Hook is off with his own band performing Joy Division covers, the current New Order ended their set with a cover of Joy Division's 'Love Will Tear Us Apart'. Sure, that song has long since lost its live edge but if this band can't play it then who can? For a band with their own rich discography and their best days behind them, their set was still a winner. Aided by visuals and laser lights, the one-two of 'Blue Monday' and 'Temptation' was the biggest thrill. New Order are getting on with being older admirably.
Chairlift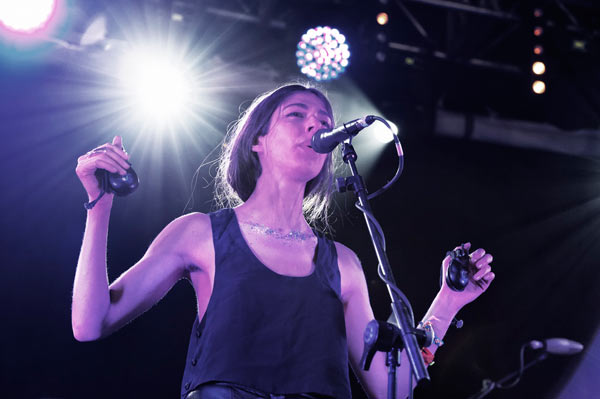 It wasn't the first time Chairlift had played Ireland but it was the first time since the band proved themselves as worthy of championing. Their most recent album Something is heavy on the '80s John Hughes dancing and great songs but it's Caroline Polachek who has really come into her own as an engaging performer. All eyes were on her as she sashayed her way around her mic, made maracas look and sound like a good idea and gave a flawless vocal performance despite some mic issues. Also, kudos on the leather slit pants, not many people could make that work.
Over to you…