Fuinneamh Festival has announced its return to Bellurgan Park in Louth this September 16th to 18th.
The music and arts festival with an electronic music focus is influenced by open air parties on the European mainland and its name comes from the Irish word meaning "energy" or "spirit'.
Announced today on the electronic front are the following acts along with previous ones:
FJAAK (DJ Set)
Ellen Allien
LSDXOXO
EMA
X Club
DJ Heartstring
Yours Truly
Tyvion Valentine
SPFDJ
Lucas
Prymary Colours
High Fidelity
Reclaim The Mainframe
Hothouse Label
Research
Reboot
Slither
Altered Events
Worried Outnational
Rise
Inhabit
Tender
Weekend camping tickets available from €160 + on Eventbrite.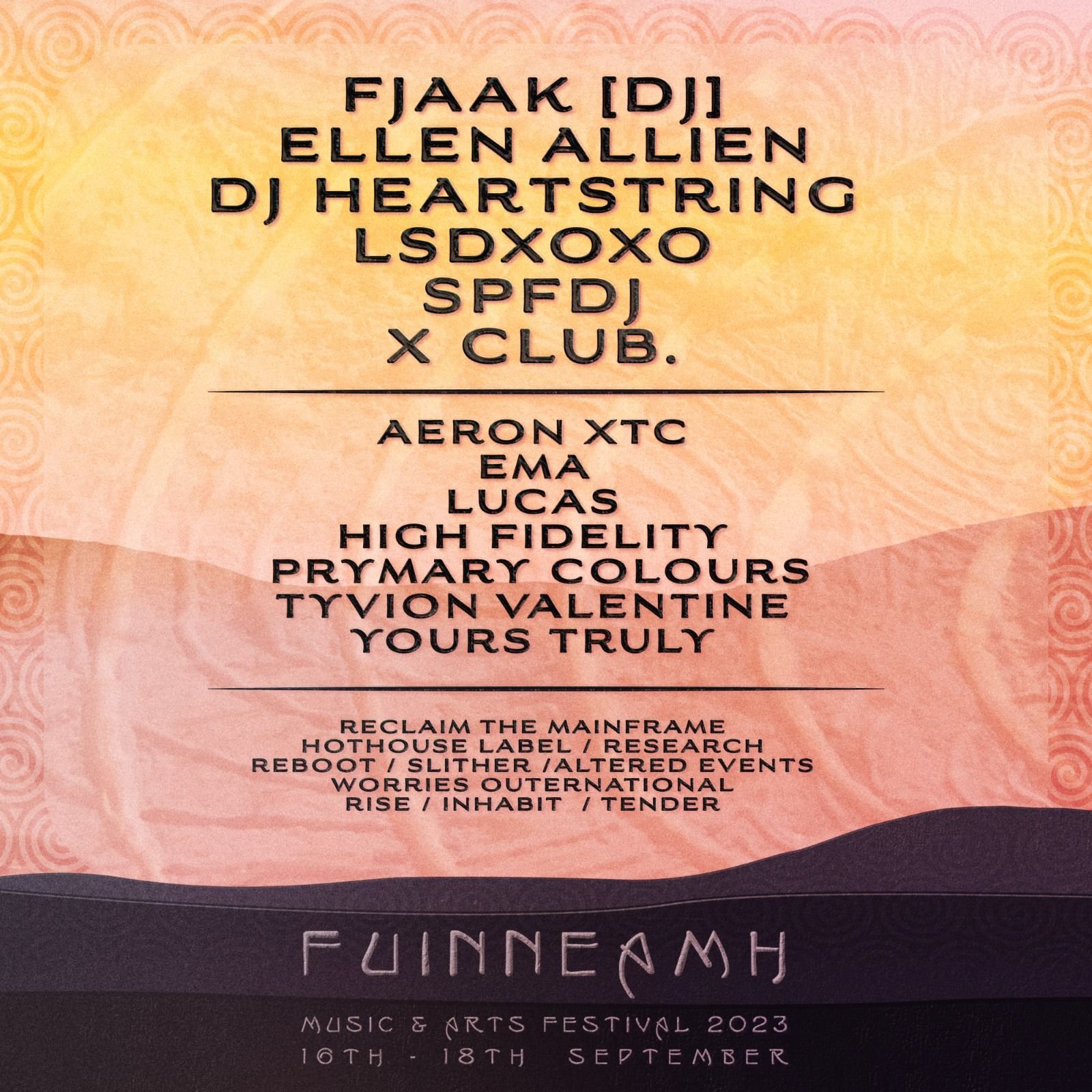 About new Fuinneamh announcements
The latest electronic music announcement has just been launched with the iconic Ellen Allien, a creative all rounder with dance music in her DNA, dance music legends FJAAK, the German duo dropping energetic anthems on the regular alongside Australian duo X Club. set to bring their raw energy to the festival.
They join the already announced DJ Heartstring, two of the most sought after DJs at the moment, set to bring a taste of their playful Eurodance-infused productions to the festival, alongside the one-and-only LSDXOXO, a multifaceted artist, notably for his DJ sets and productions, along with his collaborations with everyone from Lady Gaga to VTSS and Shygirl.
From the local heroes we see Woozy boss EMA joining the crew fresh off playing the legendary Printworks, Berlin-based change-maker Yours Truly who has been guesting on the likes of Rinse and Project Radio, as well as playing high profile club and festival slots, among a whole host of others.
The festival wouldn't be complete without the wealth of local talent coming through from the biggest collectives running club events across the country such as Research, Reboot and Slither, just some of the collectives taking the reigns.
More from: fuinneamh.ie/
Related