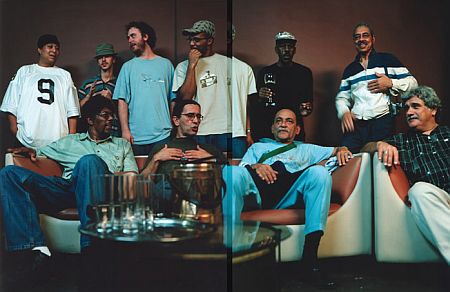 Another great weekend for live music in Dublin with the Fiery Furnaces rockin Whelans and North Mississippi Allstars bringing the blues into town. With the sun shining all weekend, I wanted to post some music to facilitate the good vibes so here you go..
Cut Chemist & This Kid named Miles – SNT (Live at Peacepipe)
I downloaded this track off the net maybe 8 years ago. It's from Cut Chemist (Jurassic 5) and this Kid named Miles with some nice samples and scratching over the top.

This Kid named Miles – Slight Amnesia
Taken from a rare RJD2 mix – Constant Elevation, this is a cool little funky song.

Blackalicious – Swan Lake
This song is so laid back, it's perfect for sitting out in the garden with a blue sky colouring your afternoon. This was Blackalicious' first release and what a song. Gift of the Gab rhymes on this track make it.

Cut Chemist- Bunky's Pick
Cut Chemist's new album 'The Audience's Listening' was featured on Gorilla vs Bear recently and from what I've heard so far is a slight departure for the man. On this track taken from 2001's Funk compilation – The Funky 16 Corners, he does what he is best known for. This compliation is well worth checking out if you are looking for some decent funk tunes. Complied by Egon and Peanut Butter Wolf, it is a collection of out-of print tunes from the late 60's and 70's. Also worth checking out is the documentary KeepinTime featuring Cut Chemist, Babu and J.Rocc playing with some of LA's finest and oldest session drummers and its sister documentary BrasilinTime.

DJ Krush – Meiso (DJ Shadow Remix)
Highly Recommended.

Unknown Artist – Coucou
This track is cool – A chorus of men singing in French in a call and response manner. I'd love to know who it is if anybody knows at all?

Update: The band is La Volée d'Castors – Les Coucous from their Migration LP – Thanks to Linda for this.. See the comments for her kind transcription of the lyrics!
Related Tags:
Blackalicious
DJ Shadow
Cut Chemist
This Kid named Miles
DJ Krush