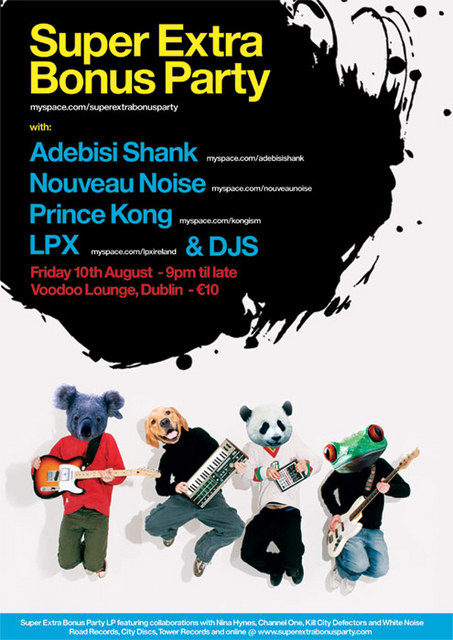 This Friday, a gig featuring some of the best new Irish bands in Voodoo Lounge from 8 till the cows come home. A great line-up. €10 or €15 with a copy of the SEBP album. I'll be doing visuals as always. See ya there! Bios and mp3s below.
Dance 'til you drop electro/indie/rock/hop merchants with one of the best Irish albums this year.
Super Extra Bonus Party – Everything Flows
[audio:http://www.superextrabonusparty.com/mp3/Super_Extra_Bonus_Party_-_Everything_Flows.mp3]
Think At The Drive-In having a Boost-fuelled dance off with Battles. Released probably the best Irish EP this year.
Organic electronica a la Four Tet interspersed with tin pan grooves and African beats. Made one of the tunes of the year in "Cinnte".
Breakcore nightmares from the dark prince. Look out for a split release with Aaron Spectre on !Kaboogie Records soon.
Cutting shock-electro from one man and his machine. Get his "Experiments in Dub and HiFi" mix over @ Alphabet Set.