The Continuous Patterns summer party will return to the ground of IMMA (The Irish Museum of Modern Art) at the Royal Hospital Kilmainham with two nights of music on 14th and 15th July.
Homebeat are once again curating the lineup and here's how it looks:
Friday July 14th.
Headlined by Jape, along with the acts like Bricknasty, Qbanaa, Dreamcycles, Efa O'Neill, Kenny Hanlon, and DJ Emmy Shigeta.
Saturday July 15th
Sunday is headlined by Talos, along with Ailbhe Reddy, Cian Nugent, Caoi De Barra (Wyvern Lingo), Donal Dineen, Hewan Mulugeta, and DJ Pablo Santos.
Day Tickets are available from €35 from Eventbrite.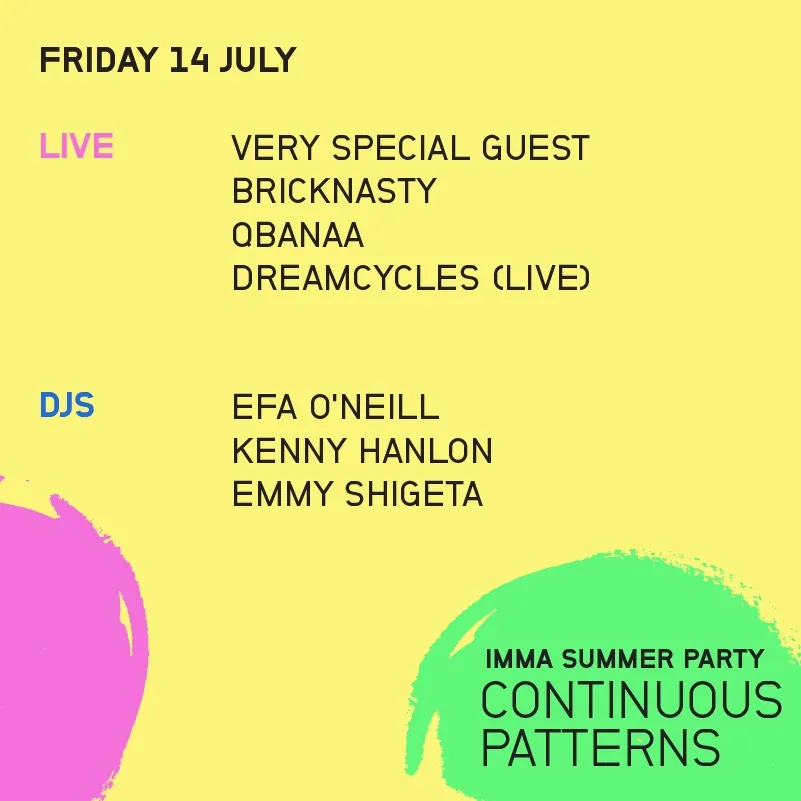 ---
More from the event:
Friday July 14th sees incredible live performances led by a de facto Dublin legend VERY SPECIAL GUEST who will be announced on June 21st, with performances in tandem from the brilliant and brash nu jazz stylings of Bricknasty, the exciting emerging soulful voice of Irish-Cuban singer Qbanaa, alongside the elegant and esoteric moods of one of Dublin's underground electronic stalwarts Dreamcycles, with complimentary DJ sets from Kerry native Efa O'Neill fresh off a landmark Boiler Room set at AVA Festival, the unstoppable grooves of Apartment Records boss Kenny Hanlon, and the ever vibrant sound pallets of Dublin based Japanese DJ Emmy Shigeta.
Saturday July 15th brings a slightly different energy, with the epic widescreen soundscapes of the hugely popular Talos, the sparkling hook laden indie creations of Ailbhe Reddy, the beautifully nuanced tones of guitar darling Cian Nugent, alongside the consistently brilliant voice of Caoi De Barra (Wyvern Lingo) and perfectly pitched Saturday evening DJ selections from broadcasting legend and champion of disparate sounds Donal Dineen, the effortless cool of Dublin based – Ethiopian DJ and DDR resident Hewan Mulugeta, and the easy charm of superb Brazilian DJ Pablo Santos.
All of this – with more to come – across two wonderful evenings filled with art, talks, tours, delicious food, interesting drinks, and atmosphere in the stunning grounds of the RHK.