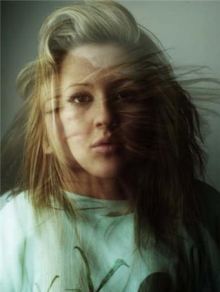 Oh shit. Cast your mind back a year or so to when you first heard Lykke Li do her thing. Or Little Boots. Or La Roux. Or Florence and the Machine. Or Marina and the Diamonds. All awesome female indie/electro-pop and all of it (with the exception of Lykke Li) from the UK. Ellie Goulding is the latest and greatest.
Ms. Goulding has got one of those voices that manages to straddle mainstream sensibilities and leftfield – it's sweet as hell. With knob-twiddling duties from another rising star Star Smith, 'Starry Eyes' is a great alt dance-pop production but there's more.
What really convinced me of her talent was her stunning cover of Bon Iver's 'Wolves'. That was the sucker-punch.
Also, any singer that can turn Sam Sparro's annoying 'Black and Gold' into something great deserves serious recognition.
Ellie Goulding – Black and Gold
Ellie Goulding on Twitter.