The press coverage around Dublin week-long Extinction Rebellion proves a couple of things.
Firstly, the idea is valid. In that, it has generated enough of an interest to respark the national discussion surrounding climate change – a victory in its own right.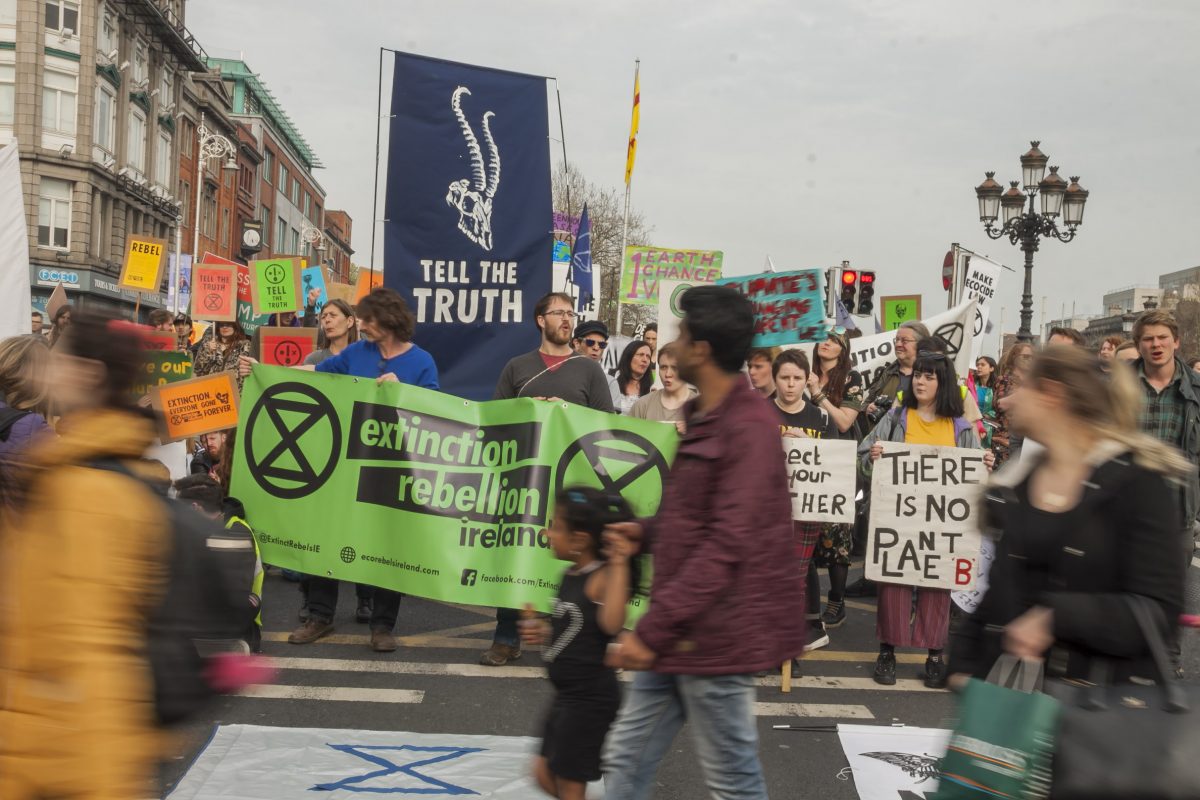 Not that the conversation is always all that good. Apparently all the concerned footfall around Dublin city, either through this week's proceedings or the huge march a couple of weeks back, hasn't been enough to shake the sand out of the most ignorant of ears. Heads remain buried, but the fight goes on.
The organisers behind the Dublin extension of the Rebellion have gathered a few powerful allies in the world of art, perhaps most notably Blindboy Boatclub of Rubberbandits and Podcasting acclaim.
Support the extinction rebels the way the 1916 rebels weren't

— Rubber Bandits (@Rubberbandits) October 7, 2019
Musicians across the country have also answered the call to go an support the week-long peaceful rebellion in person, more than a few notable Irish names are due to perform at the mainstage built adjacent to Dublin's Merrion Squaure throughout the week.
Who Is Playing?
The Scratch headline this evening's proceedings, the rock meets trad band are fresh from the release of the wonderful The Whole Buzz EP earlier this year. Joining them will be Cooks But We're Chefs and indie-electronica band Pecking Party.
Banyah is the only confirmed act for tomorrow (Wednesday 9th) so far, but there's a well known Dublin event organiser rumoured to be putting on something for just the occasion – so keep an eye peeled.
Thursday promises two heavyweights of the national circuit. Bubblegum rock group Thumper and trad influenced singer-songwriter Sive will both grace the mainstage in the evening.
Friday and Saturday's proceedings are distinctly more dance centred. Sing Along Social will be proving all the karaoke vibes you could want on the 11th. While Donal Dineen, Toby Hatchett & Homebeat will all be taking turns spinning tunes on either night.
This is capped off by a performance from Limerick rock trio Bleeding Heart Pigeons on Saturday evening, who make the trip from Shannon to capital to ally themselves to the cause. Right on.
Sunday will see a host of, yet unannounced, acoustic acts performing – gradually winding down the week-long rebellion.
While a rough running order has been established, it's fair to assume that times could shift a bit depending on the myriad of extenuating circumstances surrounding running a DIY gig of such proportions illegally in front of Dail Eireann, so best to get there when everything kicks off at 5 pm to avoid disappointment.
Please remember that the Extinction Rebellion is a family affair – please no drugs or alcohol