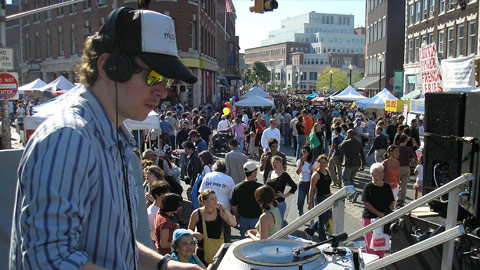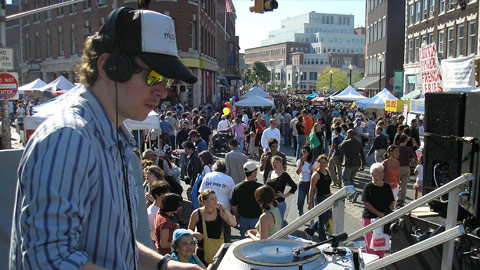 Mashit label founder DJ C has been knocking out consistently excellent mixes for the last three or four years and they usually contain a mashup of different genres such as grime, jungle, crunk, dancehall, ragga and any other genre designed to get your ass moving. Luckily for us, DJ C puts them up for download on his site where there are currently 10 such mixes in his 'B' Series available for download. You could compare his mixes to someone like Drop The Lime but DJ C is more a self-described "party scientist" than a bass-wobblin' DJ.
DJ C has also dropped remixes of M.I.A, Gregory Isaacs and Max Sedgley and sadly missed radio DJ John Peel chose Mashit as a "label of the month" in October 2004. I won't pretend I've listened to all of the mixes of yet, but my favourite so far is "Bouncement" with tracks from Lady Sovereign, M.I.A, Warrior Queen, Shystie, Ms. Dynamite, Bounty Killa and Beenie Man amongst loads of others. Also worthy of your attention is "Boots2" which takes in Girl Talk, Damian Marley, Dead Prez, Danger Mouse, Donna Summer and other mashups.
He also has an album called Sonic Weapons out a few days ago featuring guest appearances by ragga vocalist Zulu, world's greatest thereminist Pamelia Kurstin, riddim professor Wayne&Wax, Jamaican vocalists Wasp and Dami D, and UK-based Jamaican vocalist Quality Diamond.
For further excursions into DJ C terroritory, check out Antrophe's feature and interview on Soundtracks for Them with the man himself which turned me on to his mixes in the first place. Otherwise catch him @ Mantua this Sunday morning in Roscommon in the Alphabet Set Tent @ 1.45am. Full line-up here.
MP3
DJ C – Let it Bille (Jungle Version)
[audio:https://nialler9.com/mp3/DJC_BillyJungleVersion.mp3]
[audio:http://www.mashit.com/babel/audio/DJCsets/DJ_C-Bouncement.mp3]