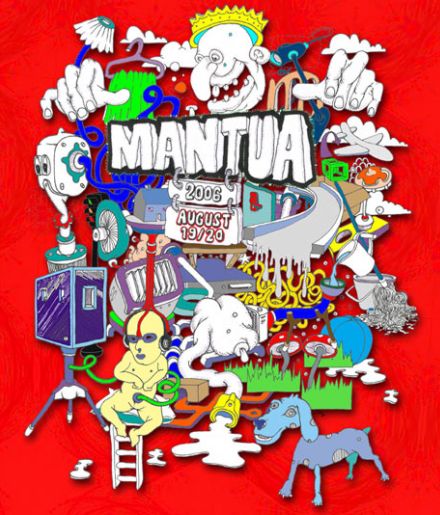 Next weekend sees the Mantua Lives Festival take place in Ballinagare, Roscommon. It's a small festival run by a local art collective. There will be 4 stages of quality music as well as live visual art installations and a sculpture arena. There's a main stage with a bit of everything including Luke Vibert, God is an Astronaut, Halfset, Jamaican reggae legend Eek-a-mouse, Mirakil Whip, Giveamanakick and many others. There's a Bar Stage featuring the likes of Blue Food, Arketek and plenty of other interestingly named acts I've never heard but that are guaranteed to be good. The Reggae stage is run by the Rootical Soundsystem. I'm looking forward to the Electronic Stage curated by the established Alphabet Set collective who put on great electronic nights mainly in Dublin. Tickets are €52.50 for the weekend available from the shops listed here.
The Alphabet Set stage will have Radioactiveman (Keith Tenniswood), a DJ set from Plaid's Andy Turner, Planet Mu's Ambulance and Boxcutter, 4 time Irish DMC champion DJ Tu-Ki as well as Alphabet Set artists, Herv, Super Extra Bonus Party (with my visuals), Lakker, T-Woc, Sarsparilla, MelodyMasher and many more. Artist biographies and links are up on the Mantua section of the Alphabet Set site.
Have a listen to the artist MP3s playing next weekend. It's going to be a good one! I'll do a review next week.
MP3s
Plaid – The Launching of Big Face
God is an Astronaut – Forever Lost
Super Extra Bonus Party – Spanik Sabotage
Related Tags:
Mantua