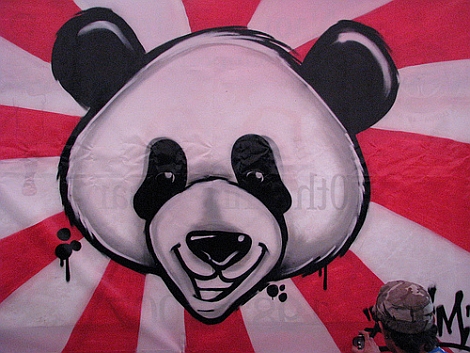 SEBP Panda Graffiti by Askim.
It's official: Mantua 2008 > Mantua 2007. There may have been a few organisational problems again this year, namely the lack of a main stage until the magical "Stagecoach" float turned up in time for Múm but in every other aspect of the festival, it was a complete success. The people of Bellinagare I spoke to were very happy to host the festival and the local pub/shop owner was delighted with the mobile cinema, which nobody at the festival seemed to notice. Also, the line-up was delayed and chopped and changed all over the gaff. Plus! There was a special appearance on my face, of the rarest of summer novelties – festival sunburn. It kinda hurts and I'm dayglo red.
Friday was looking like it was going to be a complete washout when we arrived. Putting up a tent in the rain is not recommended. Thankfully, Saturday and Sunday were largely rain-free days.
Múm were due to play at half past midnight but the mobile truck which was brought in to replace the main stage was only just ready by then. Nearly two hours later and the Icelandic band finally played. They took ages to soundcheck but were in jovial mood and played with steam from the crowd swirling around them. Their set was rather pleasant but compared to everything else going on, it was a little bit tame. Patches of brilliant melody and song but I tottered off to bed towards the end.
The Rootical reggae tent was omnipresent no matter where you were on site. The constant rumble of bass coming from its soundsystem was disorientating for many and the planned stoppage of all music on Saturday to allow mass in the nearby church to take place also had the added bonus of giving my ears a rest from reggae for a bit. I don't hate reggae, I just don't want to hear it for three days straight y'know?

The Alphabet Set tent was the place to be for me. The best line-up and the best stage going with LED strip lights and all sorts of lighting at the back of the stage. It looked like a row of six Johnny 5 replicas. Various Production were superb as was Cotti.
Tardis – the bar decked out like Newgrange also hosted a superb beatboxing showcase from White Noise and Murrough.
There was a strange proliferation of Reggae everywhere on Saturday afternoon which was annoying. Saturday's Highlights were Sarsparilla, SEBP, Clark and a smashing, smashing set from Ed Devane.
Sunday was where everything came together. A varied line-up with some stellar performances. Fringe and Nouveaunoise kicked things off nicely. Plus, the Binocular Soccer was amazing!

A decent spate of bands on the Dionysus stage included Adebisi Shank with stage invader (below), Terrordactyl and Bats. Missed RSAG, Ily a K and Jinx Lennon (who played a day earlier than scheduled).

Went to the pub in Bellinagare in the afternoon for a pint of Guinness which was some nice relief before I caught some of BLK JKS' set which wasn't very exciting to be honest. The Infomatics were great though as was the total headfuck Egyptian Lover – electro, hip-hop and rude lyrics played by an overbearing man in a patterned shirt. Splendid.

DJ Halfdutch was knocking them out in the Tardis bar before and after Daedelus. She's seriously an underrated DJ. I'm pretty sure she dropped a messed up Sugababes sample during the set at one point.
Daedelus was totally amazing. He was dressed in a Victorian-style jacket and was playing with his customised Monome box. His movements were hypnotic. Seriously, I've never seen anyone press buttons with such stylistic aplomb. The set consisted of heavy electronic beats and with snippets of songs from Love to Make Music To fleeting in and out. There was also a bit of Nirvana's 'Drain You' and Portishead's 'Only You' in there too.
When I got home last night, I went straight to bed for 12 hours but I'm still wrecked. Great festival though. To everyone I met there – thanks for saying hello. There was a general great vibe there even if the feral hippy children were running around the place all day. I may revisit this post later when I can think (and write) straight.