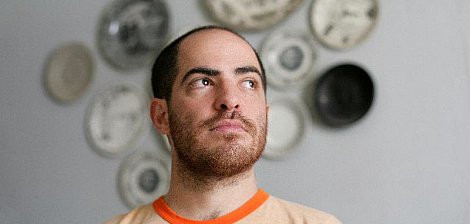 Ben Jacobs, the man responsible for two fo the best gigs I've seen in my lifetime is back with a new album, 6 years after the brilliant Mastered By Guy at the Exchange. I'm pretty sure Leagues O' Toole is responsible for me getting into that album as he raved about it so much back then. His new album Parallel Error Beheads You is the same madness you'd expect. Vital madness. Like a man who lives in a Teletubby land and plays with synths made of jelly all day and sings about jumpers, Google images, threeways on eBay and the Glycaemic Index.
The entire album was recorded with his trusty Commodore Amiga 500 used as a mixing desk/controller. Says Mr. Tundra – "There are no modern-day computers on this record. My PC is strictly for emails and Photoshopping the words Max Tundra into Coldplay line-ups. The main technology behind this and all of my albums has been the Commodore Amiga 500 – bestselling home computer at the time – running a $1 public domain software tracker program. The sounds don't emerge from the Amiga itself however; the machine is used to control various synths, samplers and the like I look at columns of numbers all day on the screen of a black and white television; these digits relate to pitches, durations and tones. A lot of the noises on my record are real; the cello, bass guitar, drums, piano, trumpet and others are all rehearsed and played by me, but sometimes I will use realistic fake versions of these noises. Each song is recorded in a different way; drumkits are recorded on mono cassette recorders twice, then stuck together on the left and right of a mix; string arrangements are planned and then layered up; each note of an electric guitar is sampled so that it can be sequenced in ways too complicated for my fat fingers to play at full speed. And then I have a cup of tea and sing my heart out."
If you are into skewed electronic pop, pick this up when its released on October 13th.

Max Tundra – Lysine (video by Del 9)