Slane Irish Whiskey is a trailblazing Irish Spirit that has music in its heritage. Like Nialler9, Slane Irish Whiskey is all about new adventures and making a bold choice. Next time you're looking for a spirit that comes recommended from someone who knows their music, try Slane Irish Whiskey.
Please enjoy Slane Irish Whiskey responsibly/visit drinkaware.ie.
© 2022 Slane Irish Whiskey

---
Irish intersectional feminist post-punk band M(h)aol have announced their debut album Attachment Styles will be released on February 3rd via TULLE Collective.
The band have also announced a tour for 2023 alongside it, with dates below.
A video for a new version of previously-released track 'Asking For It', a song that was written in the about male violence against women. The song was written by singer Róisín Nic Ghearailt says:
"I wrote it initially in 2016 then revisited it in 2020. I was shocked by how much internalised victim blaming there was in the lyrics. I rewrote it, then we recorded it and it was released to raise money for Women's Aid in 2021. The album version is a lot angrier than the 2021 one and almost satirical insofar as it's highlighting how ludicrous the notion of anyone 'asking for it' is."

The video for the song is by band member Zoë Greenway, who also did the band's album artwork.
"This has been the most difficult video I've made for M(h)aol to date. There's so much power and emotion in Róisín's lyrics and performance, so we worked really hard to create a responsible and sensitive portrayal of this experience she's conveying, do it justice and make people care."

Zoë Greenway
"I think lots of media and cultural depictions of r*pe can be retraumatising. We wanted the video to be cathartic rather than traumatising. We both wanted to offer resources and highlight services that are available to survivors. The quotes in the video highlight the change in the song too, over the years it became a much more hopeful one."

"I hope watching the video inspires compassion and empathy in people. I think it's important to open channels of communication around sexual assault in a way that validates a victims traumatic experience and shows a path towards a more hopeful and supportive healing journey. I think empathy is paramount in trying to build a better world."

Róisín Nic Ghearailt
The band also have 'Ghost A Post-Punk Boy Today' tote bags available as modelled by Phoebe Bridgers.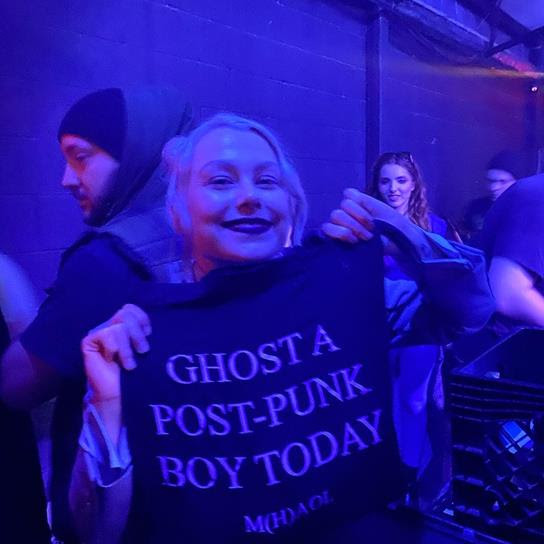 M(h)aol are based in Dublin, London, and Bristol and are Róisín Nic Ghearailt, Constance Keane, Jamie Hyland, Zoë Greenway and Sean Nolan.
The album comes after the band's EP Gender Studies.
About Attachment Styles
Attachment Styles Tracklist
Asking For It
Bored Of Men
Noone Ever Talks To Us
Bisexual Anxiety
Therapy
Nice Guys
Kim Is A Punk Type Of Dog
Cowboy Honey
FEMME
Period Sex
Attachment Styles is a record about social connection, queerness and healing. When Róisín was writing the lyrics, she used the theory of attachment styles as an overarching theme which is a theory that looks at the impact our inter-familial relationships and society have on how we relate to one another.
With the album, the listener goes on a journey of healing. We start with 'Asking For It', a song that deals with one of the worst things that can happen to someone, then we travel through various stages of self-acceptance and community building with the triumphant 'Period Sex'.
Bassist Jamie produced, mixed, and mastered the album where she wanted to capture the live element, meaning it was recorded in one small room with no headphones, minimal drum mics, and only a PA for vocals.
M(h)aol Live dates
2022
November 12th | Reims, France | La Cartonnerie*
November 13th | Lyon, France | Le Marche Gare*
November 15th | Zurich, Switzerland | Bogen F*
November 16th | Milan, Italy | Biko*
November 17th | Munich, Germany | Storm*
November 19th | Berlin, Germany | Lido*
November 21st | Copenhagen, Denmark | Loppen*
November 22nd | Hamburg, Germany | Knust*
November 24th | Cologne, Germany | Artheater*
November, 25th | Rotterdam, Netherlands | Maassilo*
November, 26th | Paris, France | La Gaîté Lyrique*
December 9th | Dublin, Ireland | National Stadium*
December 15th | Belfast, Ireland | The Empire*
2023
January 31st | Birkenhead, UK | Future Yard^
February 1st | Manchester, UK | YES (Basement)^ SOLD OUT
February 4th | Brighton, UK | Komedia Studio^ SOLD OUT
February 5th | Bristol, UK | Strange Brew^
March 15th – 20th | SXSW, Austin
May 19th | Newcastle, UK | Bobiks
May 20th | Glasgow, UK | The Hug and Pint
May 22nd | Leeds, UK | Hyde Park Book Club
May 23rd | Manchester, UK | YES (Pink Room)
May 25th | London, UK | Boston Music Room
May 26th | Brighton, UK | The Hope & Ruin
Follow M(h)aol: