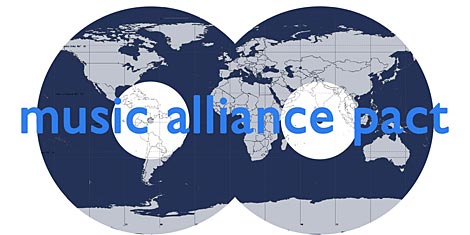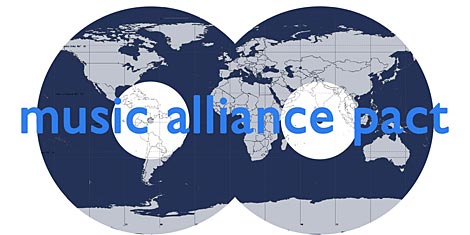 A monthly feature where music bloggers across the world share a track from their home country which they are excited about.
We have 12 countries represented in all right now. MAP will appear here on the 15th of each month. It was all Jason's idea so we collectively thank him for organising it. On the same day, each other represented country will simultaneously post this list on their blog.
So America, Argentina, Australia, Denmark, England, Iceland, Ireland, Italy, Peru, Scotland, Spain and Sweden – What's in your ears? Click the song title to listen/download.
AMERICA – I Guess I'm Floating
Arizona – The Glowing Bird
The title track from their sophomore album which came out on October 14th on Echo Mountain.
ARGENTINA – Zonaindie
Brian Storming – France
'France' is the new single by Brian Storming, a psychedelic pop orchestra from Buenos Aires. This band was the support act for Coldplay and Björk when they performed in Argentina. The song is included on their new EP, Brian Storming Avec L´Enchanting Device.
AUSTRALIA – Who The Bloody Hell Are They?
Miami Horror – Don't Be On With Her
Miami Horror pretty much blew everyone's mind from the start, just by being called Miami Horror even though he's a producer from Melbourne (kinda like when everyone freaked about The Streets being just one guy). Then he cemented the name he had made for himself with unapologetically synth-heavy remixes – bootleg and official – of a crazy-wide array of artists from Perth's The Dirty Secrets to France's Stardust. And now here he is with the official release of his first single.
DENMARK – Pastries, Peppers And Canals
Diefenbach – On The Move
Diefenbach have been long-time stalwarts of the Danish indie scene, starting out as a post-rock band and gradually evolving into what they are today. Think Beach Boys meets Mogwai meets…well, Diefenbach, actually. The new album, Dark Spinner, is due in late October but the track we're presenting is from 2005's Set And Drift.
ENGLAND – The Daily Growl
Absentee – Bitchstealer
Absentee's debut album proper Schmotime was one of The Daily Growl's favourites of 2006, and new record Victory Shorts is a direct continuation of what the Londoners do best. Singer Dan Michaelson's ravaged drawl, the sweet boy-girl vocal play-offs with keyboardist Melinda Bronstein and hugely pleasing riffs from Babak Ganjei all call to mind a much less polished Teenage Fanclub or a poppier Pavement.
ICELAND – I Love Icelandic Music
Plúseinn – Shake
The man behind the band Plúseinn is Árni Rúnar Hlöðversson also known as Árni Plúseinn (a.k.a. Árni +1). He recently released an album called Lettuce And Tomato, made in his apartment in Brooklyn, New York under the name Hungry And The Burger. Árni Rúnar is and was involved in a lot of Icelandic bands and projects (e.g. Hairdoctor, Motion Boys) and is a founding member of the band FM Belfast.
IRELAND – Nialler9
Fight Like Apes – Digifucker
The Flapes have just released their debut Fight Like Apes And The Mystery Of The Golden Medallion in Ireland which was produced by John Goodmanson in Seattle over the summer. They are currently touring the UK with The Ting Tings. This song rocks balls. End.
ITALY – Polaroid
Le Man Avec Les Lunettes – The Happy Birth Of You And Me
LMALL's new album Plaskaplaskabombelibom is free to download from their website.
PERU – SoTB
ERA – Opium
Taken from the band's second album Ufocalipsis which was released last year.
SCOTLAND – The Pop Cop
Roddy Hart – Dead Of The Night
Roddy Hart made the folk-rock masterpiece Bookmarks, arguably one of the best albums to have come out of Scotland. Dead Of The Night is the first fruits from its follow-up due out in 2009. It's a live favourite and easily the most immediate pop song the Glaswegian has ever written.
SPAIN – El Blog De La Nadadora
Blacanova – Los Remedios
Blacanova is a band from Seville and this song is from their second demo, Perro EP. They are influenced by Joy Division, Seefeel, The Cure, Spanish band Sr Chinarro, David Lynch and Tod Browning films, and the writer Alejandra Pizarnik. Their music is a cross between dark pop, IDM (intelligent dance music) and shoegaze.
SWEDEN – Swedesplease
Tvärvägen – September
Tvärvägen is an eclectic one-man orchestra from Gustavsburg, Sweden. Notice both the clattering instrumentation and hummable melody. It's that dichotomy that makes Tvärvägen so unforgettable. The band's debut record is out November 6th on the small label Knoppar.
Download all file in a ZIP.