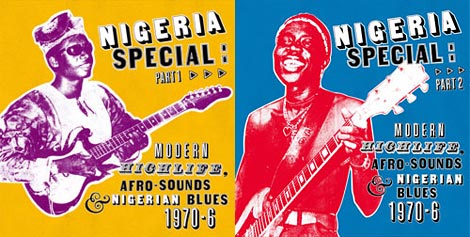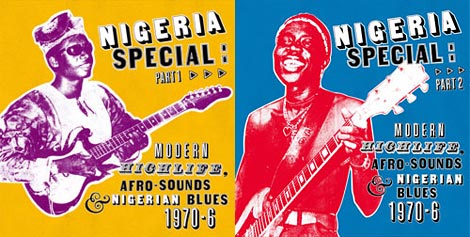 My recommendation for the week is the 2 part compilation Nigeria Special: Modern Highlife, Afro-sounds & Nigerian Blues 1970-76. on Soundway records. It's a superb document of the vibrant and diverse music scene in Nigeria in the early to mid '70s. I bought both vinyls myself, it really is the type of compilation perfect for Vinyl.
Nigeria is most often linked with Afro-beat, Juju & Apala but the musical heritage of Nigeria is much deeper than the Yoruba speaking styles that emanated in the west of the country. This compilation presents some of the best un-reissued and forgotten sounds from Nigeria that have previously been overlooked. The two CD's cover some of the many styles that emerged and flourished in the early '70s. This is by no means meant to be a definitive collection but merely a snapshot of some of the vast amount of music that remains lost since first being issued 30 years ago. This was a time when younger bands expounding Rock, Jazz and Funk were colliding with the older more established Highlife scene of the 50's & 60's producing some unique & highly original recordings.

Soundway records label boss and Compiler Miles Cleret has spent five years working on this compilation (and the planned spin-off compilations)– travelling to Nigeria, interviewing musicians, label owners and distributors – tracking down the forgotten sounds of '70s Nigeria in dusty warehouses, studios and markets. He uncovered so much amazing music that the project became a double CD (with two accompanying spin-off albums to come). Over two hours of rare tracks from seminal artists like Celestine Ukwu, the Funkees, Victor Uwaifo, Tunji Oyelana, Bola Johnson, Etubom Rex Williams, as well as many unsung heroes. The CDs are accompanied by a 32-page booklet with rare photos, cover art and historical information on the musicians, giving an in-depth look at the scene and its influences. The Vinyl release is split into 2 separate high quality double gatefold LPs.
If you like The Ethiopiques Series, get your hands on these releases.
MP3
Celestine Ukwu & His Philosophers National Band – Okwukwe Na Nchekwube
[audio:https://nialler9.com/mp3/Celestine_Ukwu_-_Okwukwe_Na_ Nchekwube.mp3]

More info and buy links