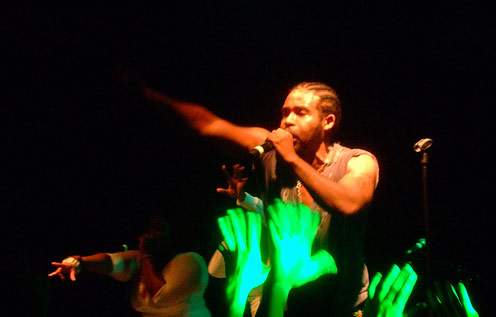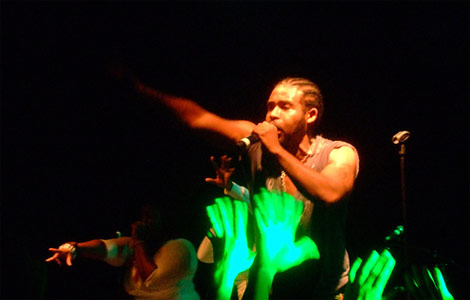 I'm being spoiled. So far this year I've seen brilliant hip hop shows from El-P, TTC and Subtle. Without trying to be hyperbolic as bloggers are want to do, the Pharoahe Monch show last night might just beat them all….and he covered U2! WTF?! Seriously though, a 7 piece band including drums, bass, guitar, DJ (one of the X-ecutioners), keys and 2 backing singers made more than adequate backing for a Monch gig that can't help but be all about him because a) he's a great rapper and lyricist and b) he's got charisma.
First up though was Jeru the Damaja who got the crowd going single-handedly. His show was good but it's a distant memory now. He's been around for years but I'm not ashamed to admit I've never listened to him before. I do recognise some of the lyrics from samples from other tunes. Jeru rocks it old school and was also a bit of a comedian. A good starter.
Tripod was by no means full, but it didn't affect the atmosphere. There were plenty of Polish and Brazilians at the gig as well which was noticeable when they were shouting the "Simon Says" in their native tongues – "Spierdalaj!" (Polish for Get the fuck up!). The show was full of material from his recent phenomenal Desire album including "Free", "Desire", "Push", "Welcome to the Terrordome", "Gun Draws" (Sorry Rod, no video!) , "Agent Orange" and a beautiful version of "Body Baby". We also got "We must be in Love" – the J Dilla produced track and even a song from 2000's Lyricist Lounge 2 – "Oh No".
I don't think anyone expected the encore though! We heard the familiar military drumroll of "Sunday Bloody Sunday" and we looked at each other in disbelief and horror. Was another foreign artist going to fuck up his show with a hamfisted attempt at connecting to his tour schedule spot on a political level too? Thankfully, it was tastefully done and while I'm not sure he completely understands the song (like Alan Partridge) he did put his own spin on it by with political rhymes including the famous line from Public Enemy's "Black Steel In The Hour Of Chaos" – "They wanted me for their army or whatever /Picture me given' a damn – I said never". He finished the set with a phenomenal version of "Simon Says" – the crowd were sated and the band jammed the song out past the end with big smiles on their faces which was reflected in the crowd below them. Thank you Pharoahe and friends.
More videos, mp3s and such -If you only watch one watch the Body Baby video above – those women know how to sing :

Photos
MP3
Pharoahe Monch – We must be in Love (prod. J Dilla)
[audio:https://nialler9.com/mp3/pharoahe_monch_-_we_must_be_in_love.mp3]
[audio:https://nialler9.com/mp3/pharoahe_monch_-_agent_orange.mp3]