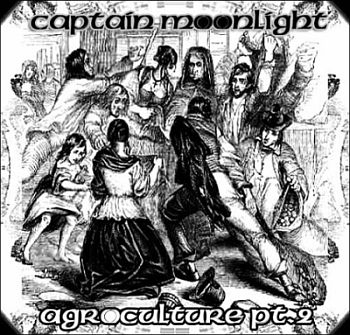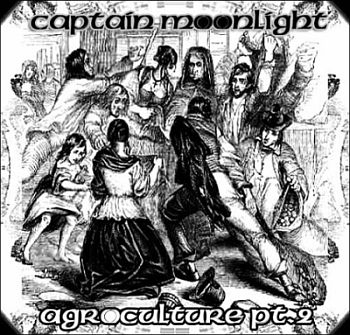 Guest blog by Barry on Captain Moonlight's new album:
Kilkenny MC, Captain Moonlight is back with his second album, the 16 track Agroculture pt.2 – Return of the Barnstormers. Once again he displays no fear in dealing with controversial topics that other musician would not dare even dream of.
The variety on Agroculture pt.2 is so vast it is impossible to single out one or two tracks as the form. Each track is brutally honest and throughout the album it is clear this is an MC who speaks his mind regardless of what others may think. His diverse range of influences of Planxty, Public Enemy and Stiff Little Fingers are once again apparent. He blends them to create fantastic beats, funky rhythms, fantastic rhyming, intelligent and honest lyrics to produce another truly special album.

There are many consistencies with his previous work, the anger at all that is wrong with the world is ever present as is his disdain towards the world of mainstream politics. Among those he lambastes this time around are bull-shitters and those 'kind hearted' musicians such as Bono, Geldof and Chris Martin who with their 'god complex' feel they can save the world just by being themselves. We are also given an insight to life on the dole in "Was it a good day?", this is also accompanied by an excellent defence for all those who are signed on in "Economics of a wasted life" whixh his provides quite an interesting juxtaposition from mainstream hip-hop which has become increasingly concerned with the bling culture of flashy life styles, excessive amounts of jewellery and other accoutrements.
Throughout the album there is never a feeling that there is a topic that he would be uncomfortable is tackling. This is shown not just by his dealing with controversial topics but his own personal issues too in tracks like 'Fantasy Land'. I haven't been able to stop listening to the album since I got it and the more I listen to the more I like it. I really can't praise it enough. The album also brings back great memories of seeing Captain Moonlight play in the Homespun tent at Electric Picnic which was well worth missing the Beastie Boys for. I would recommend going to see this man live, it is a really great buzz. Well I think that's about it except to thank nialler9 for allowing me to do yet another blog and I hope you enjoy the tunes.
Agroculture pt.2 – Return of the Barnstormers can be purchased from Plug'd in Cork, Empire in Limerick, All City Records in Dublin, and Rollercoaster & Cinema City in Kilkenny.
MP3
Captain Moonlight – The Macker McKeown
[audio:https://nialler9.com/mp3/Captain_Moonlight_-_The_Macker_McKeown.mp3]
Captain Moonlight – Economics of a Wasted Life
[audio:https://nialler9.com/mp3/Captain_Moonlight_-_Economics_Of_A_Wasted_Life.mp3]