Rock Against Homelessness returns with live show streamed from Olympia & Windmill Lane with Pillow Queens, Blindboy, Wyvern Lingo, Tolü Makay & more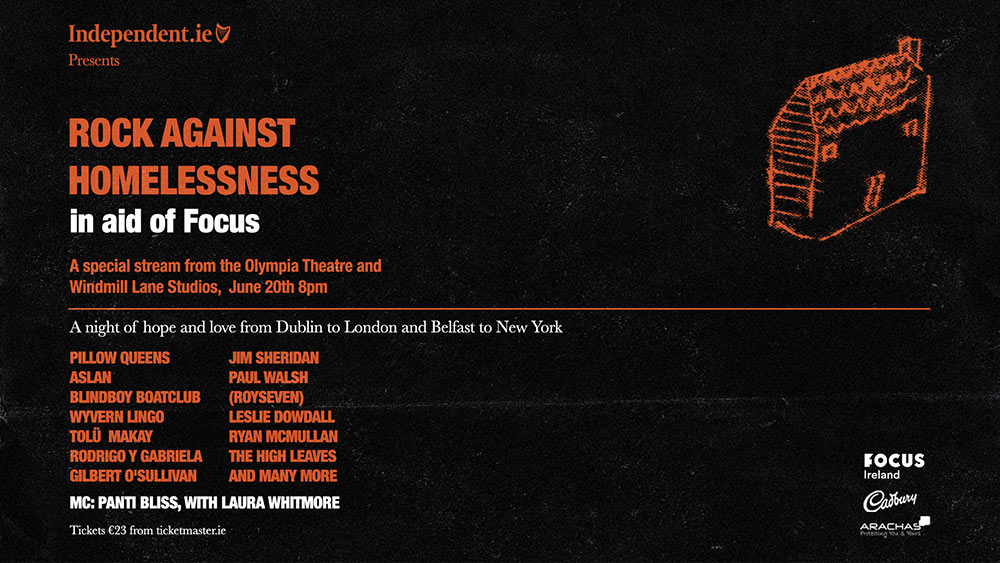 After the success of Rock Against Homelessness gigs in the Olympia pre-pandemic raising much needed funds for Focus Ireland, the event will return on June 20th as a live stream event broadcast from the Olympia Theatre and Windmill Lane Recording Studios in Dublin, along with performances from Mexico and New York.
The lineup is:
Pillow Queens
Aslan
Blindboy Boatclub
Wyvern Lingo
Tolü Makay
Rodrigo & Gabriela
Gilbert O'Sullivan
Jim Sheridan
Paul Walsh (Royseven)
Leslie Dowdall
Ryan McMullan
The High Leaves
MC duties; Panti Bliss & Laura Whitmore. 
Tickets for the streamed event cost €23 and are available this Sat 29 May from 10am via  Ticketmaster. The concert will be available in its entirety to view for 7 days after the event (4pm, 27 June).
Rock Against Homelessness is an Independent.ie event in aid of Focus Ireland  and Sponsored by Cadbury and Arachas Insurance. The show is directed by Dave Merriman of Savoy One Films and executive  produced by the Sunday Independent's Barry Egan.
More info:
---
The incomparable Panti Bliss will serve as main MC, with Laura Whitmore on board to help  out. As well as the coolest MCs, Independent.ie's Rock Against Homelessness will feature the hottest Irish act on the planet right now, Pillow Queens, who have just made their US TV  debut with James Corden on CBS' Late Late Show. They will play their four-song set from  Windmill Lane. 
From the Olympia, beloved Dublin legends Christy Dignam and Aslan take the stage, and  their extensive set will include a duet with the legendary Gilbert O'Sullivan, and another  duet with Paul Walsh/Royseven. They will be followed by performances from Tolü Makay  and Wyvern Lingo. Also in the Olympia, Panti Bliss will interview Oscar-winning director Jim  Sheridan onstage about homelessness in Ireland.  
Rock Against Homelessness will also feature performances from other venues and other  countries. Irish icon Lesley Dowdall performs in Windmill Lane Recording Studios in  Ringsend, duo Rodrigo Y Gabriela perform from Mexico, the sensational Ryan McMullan will  perform from Belfast, while Ken Griffin (formerly of Rollerskate Skinny) will showcase his  new band, The High Leaves, from New York. Blindboy Boatclub will also have a few words to  say, filmed from his living room. 
Focus Ireland CEO Pat Dennigan says, 'Focus Ireland needs to raise nearly 40% of our annual  budget through donations so we really need people to support this great event again this  year. Rock Against Homelessness raised over €70K last year. These funds were vital to help  Focus Ireland support the most vulnerable families and individuals and keep them safe  during Covid19. We cannot thank Mediahuis Ireland enough for this incredible support. This  is the sixth year of Rock Against Homelessness and it will be a different year as the concert  will be streamed online due to Covid restrictions. The show looks great and it will also  feature some of the people we have supported, so it is a chance for people buying tickets to  the event to really hear how their kind support is helping our work challenging  homelessness and changing lives. I'd also really like to say thank you to all the artists for  giving their time to support our work.' 
---
QUOTES
Focus Ireland CEO Pat Dennigan: 'Focus Ireland worked with the State to help a record number of families and individuals to leave homelessness and secure a home during the pandemic. This great work has seen the number of people homeless drop which is very
positive. There are still over 8000 people homeless and this includes over 900 families with more than 2200 children in emergency homeless accommodation. There has been a welcome significant drop in the numbers of families homeless in the past year during the pandemic, and Focus Ireland has made a key contribution to this, working with local authorities to help a record number of families who were homeless to secure a home. However, the number of families is now still more than four times the level it was in 2014, when the then Minister for Housing, Jan O'Sullivan declared it an emergency crisis. We now sadly fear the numbers homeless will soon rise due to job losses during the pandemic and also the fact that the temporary eviction ban is now over.'
The Lord Mayor of Dublin, Hazel Chu: 'Our homeless crisis is still very much a crisis. People are sleeping in tents, children are without homes. I am grateful for the work Focus Ireland does to fight homelessness and events like Rock Against Homelessness are essential in raising much needed funds for them.'
Pillow Queens: 'We were honoured to be asked to take part in Rock Against Homelessness for FOCUS Ireland and Belong To (an LGBTQ group for youths that work with FOCUS Ireland). Homeless people are already on the fringes of society, and homeless LGBTQ people are trying to exist within an already marginalised community. Playing at this event is something we didn't have to think twice about. Sr. Stan is our hero. Thanks for having us.'
Panti Bliss: 'I'm delighted to be involved in this event to highlight the ongoing crisis of homelessness which is a stain on all of our souls.'
Laura Whitmore: 'The homeless issue is something that I have thought about a lot, especially because it effects so many children.'
Christy Dignam: 'It's a cause that's very close to our hearts. But for the grace of God it could be any of us and the pandemic showed us how any life can be turned upside down in an instant.'
Tolü Makay: 'A house, a home, having a roof over your head is one of the most essential things many of us take for granted. If me singing can help people dig into their pockets to help those in need of security, a place to call home, it's the least I can do. The housing crisis in Ireland is extremely frustrating. I hope this raises a significant amount of money to help those who need it, to ensure better quality of living.'
David Merriman: 'Imagine being in temporary accommodation during Covid or living on the streets? I'm proud to support Focus Ireland and Rock Against Homelessness, as we try to help those who have no place to call home.'
Jim Sheridan: 'With the homeless, it's almost like you need to see scenes of them being driven out of their homes for it to really strike a chord with Irish people. You don't see that, how they lost their home. All you see is the result; you're not seeing whether it was the banks, or what caused them to be on the street. We need to examine the roots causes of homelessness and what it was that brought them to that place.'
Gilbert O'Sullivan: 'Any event that highlights how serious the issue of homelessness is in rich countries like Ireland has to be applauded. I'm honoured to play a small part, especially over the last year when everybody, not least those without a home, has had their lives turned upside down by this pandemic. Here's to the continued success of Rock Against Homelessness, and all those involved in the concert.'
Eoin Kellet, Managing Director Cadbury Ireland: 'Cadbury have been proud sponsors of Rock Against Homelessness for a number of years, but this year is probably the most important. All charities have faced significant difficulties in raising donations during the pandemic and that is why events like this are vital. We are delighted to play a part in helping to raise much needed funding for Focus Ireland, while also raising awareness of the incredible challenges the most vulnerable in our society are facing during these unprecedented times.'
Conor Brennan, CEO of Arachas Insurance, event sponsor: 'As we near the milestone of a 100 years as an independent nation we can look back with pride on the many great things we have achieved and how we have advanced as a people, however our greatest national shame is homelessness. As a people, we have to say that enough is enough and solve this
issue right now. At this time, we should remind ourselves of the prescient words of our proclamation; 'the Republic guarantees religious and civil liberty, equal rights and equal opportunities to all its citizens'.'
Peter Vandermeersch, Publisher at Mediahuis Ireland: 'Homelessness is one of the most urgent issues in this society. On the Independent.ie and in our various print titles, we continually write about this issue but by organising this concert we want to do a bit more than write about it. We want to enhance the awareness and raise some money for Focus Ireland. Because nobody in this country should be without that place that we all call home.'
Barry Egan, Sunday Independent: 'The situation for the homeless in Ireland is getting worse year on year. It is depressing that great musicians and artists like Pillow Queens, Wyvern Lingo, Aslan, and Blindboy Boatclub have to play at events like this to keep the terrible issue of homelessness in the publics minds and to remind people just what an incredible job Focus Ireland do for the homeless in Ireland. It is a disgrace that there are so many homeless people in a so-called modern country like ours.