Sea Sessions announces full 2023 lineup including Groove Armada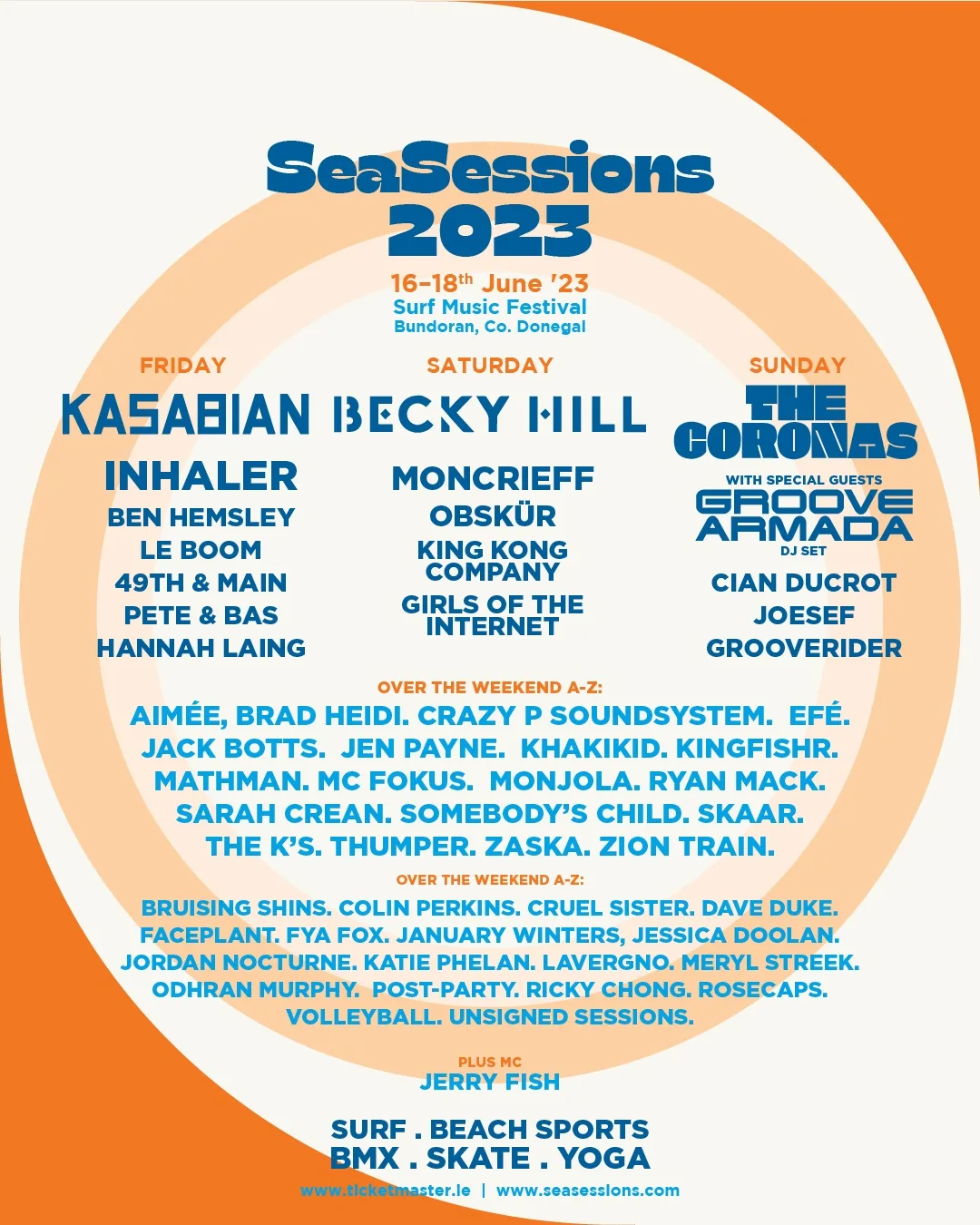 Having previously announced a batch of headliners and names for the festival in Bundoran this summer, Sea Sessions have announced a full list of acts for the festival from June 16th to 18th.
Groove Armada (DJ Set) have been added to the surf and music festival alongside Inhaler, Le Boom, Moncrieff, Obskür, 49th and Main and more. Here's the list:
Kasabian
Becky Hill
The Coronas
Groove Armada
Inhaler
Moncrieff
Ben Hemsley
Obskür
Cian Ducrot
Le Boom
49th & Main
King Kong Company
Hannah Laing
Joesef
Pete & Bas
Girls of the Internet
Grooverider and MC Fokus
Crazy P Soundsystem
Ryan Mack
Skaar
Somebody's Child
Monjola
Thumper
The K's
Khakikid
Mathman
EFÉ,
Brad Heidi
Jack Botts,
Aimée
Kingfishr,
Jen Payne
Zion Train
Sarah Crean
Zaska
Cruel Sister
Jordan Nocturne
Fya Fox, Lavengro
Colin Perkins
Dave Duke
Katie Phelan
Faceplant
Jessica Doolan
Post-Party
January Winters
Ricky Chong
Odhran Murphy
Meryl Streek
Rosecaps
Volleyball
Bruising Shins
Tickets
Sea Sessions Surf & Music Festival Day and Weekend tickets go on sale on Wednesday Feb 15th at 9am from www.ticketmaster.ie and www.seasessions.com. Tickets are priced from €139.90 for 3 days and €174.90 to include 4 nights camping. There are limited single day tickets available from €69.90 + VIP Upgrades for €60.
Sea Sessions Surf & Music Festival, is not only a music and surf festival there's a host of sports to choose from. With Beach Sports, Skating, BMXing, Beach Yoga and loads more daytime activities the festival stands out from the regular music festival.