SXSW announces first acts for 2024 including  Dry Cleaning, Hinds, NewDad, Desire & more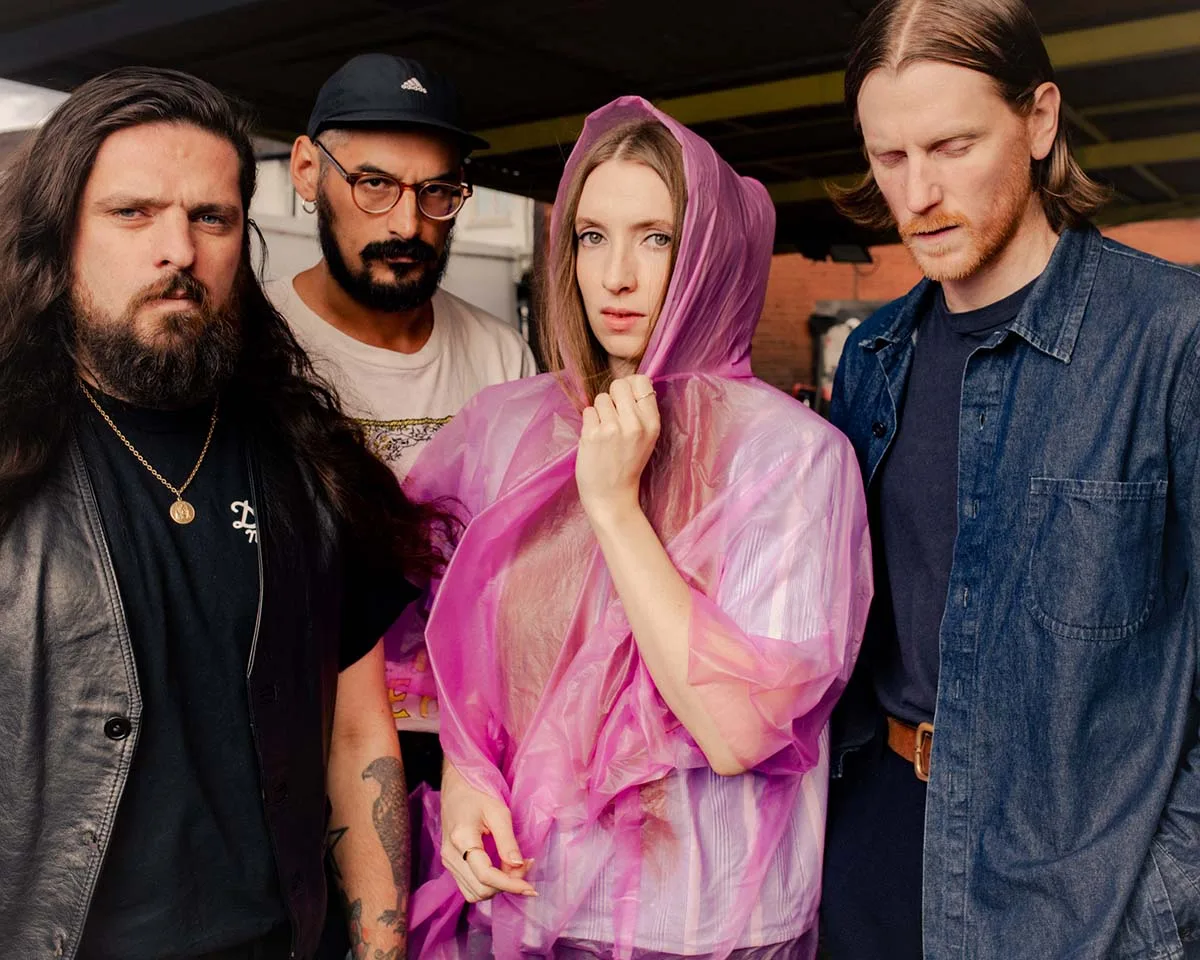 South By Southwest has announced the first acts making the trip to Austin, Texas next March for the music portion of the showcase festival.
It's the 38th year that the festival will take place in Austin and bands from around the world, from Argentina to Australia, Ireland to Italo, Singapore to Scotland and many more will make the trip.
SXSW Music Festival takes place March 11-16, 2024 in Austin with presenters including Adult Decisions, All The Vibes, Breakout West, Everything R&B, Island Wave, Italians Do It Better, The Line of Best Fit, Mint Talent Group, Pop Montreal, Spanish Wave, Taiwan Beats, and Wide Days Scotland.
Bands announced so far include Bodega, Dry Cleaning, cumgirl8, Desire, Hinds, Omar S (Detroit MI), HotWax, Red Axes, Coach Party, porij and from Ireland – NewDad.
This is the first of several announcements of musically diverse showcases spanning six nights. Showcases are curated by SXSW programmers in collaboration with record labels, booking agencies, export offices, management and PR firms, publishers, media outlets, lifestyle brands and festivals.
The first round of artists invited to perform include:
Aleighcia Scott (Cardiff UK-WALES)
alyona alyona (Kyiv UKRAINE)
Ariel & The Culture (Dallas TX)
Arielle Soucy (Montreal CANADA)
ASHY (Christchurch NEW ZEALAND)
ÄTNA (Berlin GERMANY)
Azahriah (Budapest HUNGARY)
BALTHVS (Bogotá COLOMBIA)
Bathe Alone (Atlanta GA)
Bay Ledges (Portland ME)
Beharie (Sandnes NORWAY)
Benét (Brooklyn NY)
Birthday Girl (Brooklyn NY)
Bisa Kdei (Accra GHANA)
Blood (Philadelphia PA)
BODEGA (New York NY)
Boogey The Beat (Winnipeg CANADA)
Candeleros (Madrid SPAIN)
C.Diab (Vancouver CANADA)
Cecilia Castleman (Franklin TN)
CHAII (Auckland NEW ZEALAND)
Chiedu Oraka (Hull UK-ENGLAND)
Coach Party (Newport UK-ENGLAND)
Cool Sounds (Melbourne AUSTRALIA)
Cosmo Pyke (London UK-ENGLAND)
cumgirl8 (New York NY)
DENDÊ & BAND (Salvador BRAZIL)
Desire (Los Angeles CA)
Dry Cleaning (London UK-ENGLAND)
Dylan Gossett (Austin TX)
Ebi Soda (London UK-ENGLAND)
Edan Archer (Gainesville FL)
El Combo Oscuro (Austin TX)
Elijah Johnston (Atlanta GA)
Faux Real (Los Angeles CA)
Fieh (Toten NORWAY)
Fire EX. (Kaohsiung TAIWAN)
fuvk (Austin TX)
Georgia Gets By (Nelson NEW ZEALAND)
Gia Ford (Sheffield UK-ENGLAND)
Giovannie & The Hired Guns (Stephenville TX)
Girl and Girl (Brisbane AUSTRALIA)
Glare (Mcallen TX)
Glue Trip (São Paulo BRAZIL)
Godcaster (Brooklyn NY)
greek (Martinsville VA)
Half Dream (Austin TX)
Heffner (Athens GA)
Hello Mary (Brooklyn NY)
Hermanos Gutierrez (Zurich SWITZERLAND)
Hinds (Madrid SPAIN)
Holiday Ghosts (Brighton UK-ENGLAND)
HONESTY (Leeds UK-ENGLAND)
Horse Jumper of Love (Boston MA)
Hot Garbage (Toronto CANADA)
HotWax (Hastings UK-ENGLAND)
Housekeys (Fort Worth TX)
Housewife (Toronto CANADA)
iogi (Tel Aviv ISRAEL)
Islet (Cardiff UK-WALES)
Jazzbois (Budapest HUNGARY)
Joe King Carrasco (Austin TX)
Kam Franklin (Houston TX)
Karl Vento (Gothenburg SWEDEN)
Kassa Overall (Seattle WA)
Kelz (Westminster CA)
Kibi James (Atlanta GA)
Kiwi Jr. (Toronto CANADA)
Kyra (London UK-ENGLAND)
La Sécurité (Montreal CANADA)
Le Couleur (Montreal CANADA)
The Life (New York NY)
Lika Nova (Bogotá COLOMBIA)
Lip Critic (New York NY)
Little Mazarn (Austin TX)
Living Hour (Winnipeg CANADA)
Lo Moon (Los Angeles CA)
Lord Friday The 13th (Austin TX)
Los Premios (Valencia SPAIN)
Lucy Kruger & The Lost Boys (Berlin GERMANY)
Luge (Toronto CANADA)
Malice K (New York NY)
Mama Duke (Austin TX)
Mamalarky (Atlanta GA)
Marem Ladson (Galicia SPAIN)
Maria Chiara Argirò (Rome ITALY)
Maura Weaver (Cincinnati OH)
Mei Semones (Brooklyn NY)
Middle Sattre (Austin TX)
Miller Campbell (Bigfork MT)
Mim Jensen (Christchurch NEW ZEALAND)
Minimal Schlager (Berlin GERMANY)
Miss Kaninna (Bruny Island AUSTRALIA)
Modern Woman (London UK-ENGLAND)
Mong Tong (Taipei TAIWAN)
Moritz Simon Geist (Dresden GERMANY)
mui zyu (London UK-ENGLAND)
Nabihah Iqbal (London UK-ENGLAND)
Neptune's Core (Chicago IL)
NEWDAD (Galway IRELAND)
OH HE DEAD (Washington DC)
Omar S (Detroit MI)
orbit (Achim GERMANY)
ORION (Providence RI)
Otto Aday (Ferndale UK-WALES)
Paisley Fields (Brooklyn NY)
Pauli The PSM (London UK-ENGLAND)
Peach Luffe (Toronto CANADA)
Pehuenche (Xalapa MEXICO)
PHILMON LEE (Atlanta GA)
Phony (Los Angeles CA)
The Pink Stones (Athens GA)
Pons (Brooklyn NY)
porij (Manchester UK-ENGLAND)
Psymon Spine (Brooklyn NY)
Rawayana (Caracas VENEZUELA)
Reality Club (Jakarta INDONESIA)
Red Axes (Tel Aviv ISRAEL)
Reilly Downes (Bandera TX)
Richard Spaven (London UK-ENGLAND)
Sam Tudor (Gavin Lake CANADA)
Sarah Klang (Gothenburg SWEDEN)
Sarah Morrison (Tallahassee FL)
semiwestern (Rockwall TX)
Sen Morimoto (Chicago IL)
Shelf Lives (London UK-ENGLAND)
The Silver Lines (Birmingham UK-ENGLAND)
Smut (Chicago IL)
Sorry Girls (Montreal CANADA)
Spencer Thomas (Athens GA)
Spyres (Glasgow UK-SCOTLAND)
Subsonic Eye (Singapore SINGAPORE)
Tagua Tagua (São Paulo BRAZIL)
TAUK (Oyster Bay NY)
Teethe (Dallas TX)
Telula (New York NY)
They Are Gutting A Body Of Water (Philadelphia PA)
Tomato Flower (Baltimore MD)
Tough On Fridays (Georgetown TX)
Tramhaus (Rotterdam NETHERLANDS)
Uma (Barcelona SPAIN)
Usted Señalemelo (Mendoza ARGENTINA)
Viji (London UK-ENGLAND)
waterbaby (Stockholm SWEDEN)
West Texas Exiles (Austin TX)
Winona Fighter (Nashville TN)
Winona Forever (Vancouver CANADA)
Wolves of Glendale (Glendale CA)
zzzahara (Los Angeles CA)
Here's the Spotify playliste to date:
Related