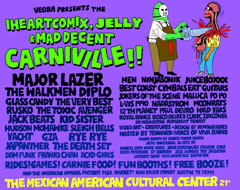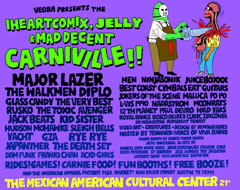 Just a glimpse at some of the madness taking place in Austin, Texas at SXSW next week in terms of bands and parties. I'll be covering what I see there right here next week.
Some MP3s from the official SXSW of bands on my hitlist:
Brahms – Toward The Ghost
Boat Beam – The Rain Pauly
Everything Everything – My Keys, Your Boyfriend
Freelance Whales – Generator 2nd Floor
Lissie – Little Lovin'

Memory Tapes – Bicycle
MNDR – Fade to Black
Oh No Ono – Helplessly Young
Peter Wolf Crier – Untitled 101
Slaraffenland – Long Gone
Small Black – Despicable Dogs
So Cow – Moon Guen Young
Solid Gold – Synchronize
Surfer Blood – Swim
The Golden Filter – Hide Me
The Strange Boys – Be Brave
Toro Y Moi – Blessa
Villagers – Pieces
Woodhands – Pockets
Yes Giantess – Tuff 'n' Stuff
20 acts on my must-see list I've never seen before:
Active Child, Bachelorette, Best Coast, Dum Dum Girls, Flying Lotus, Holly Miranda, JJ, Magic Kids, MEN, Mountain Man, Nice Nice, Phantogram, She & Him, Sleigh Bells, Surf City, The Bewitched Hands on Top of our Heads, The Middle East, The Morning Benders and Washed Out.
Deep breath now for some of the parties..
[nggallery id=5].