Highlights: Just Mustard, Actress, Aldous Harding, Nina Nastasia, New Music Dublin Festival, Burner Records x Hausu, Denis Sulta, Nextus @ Complex, Eats Everything, Soft Boy Records, Jinx Lennon, Greg Wilson, Whenyoung, Cormac Begley.
All door times are 7:30pm/8pm unless stated. Check links for full prices.
---
Tuesday April 18th
Ruby Sessions @ Doyle's (8:30pm)
Weekly Tuesday acoustic night in aid of Simon Community. See link for announced acts.
Pio Hartnett, Ellen Sleator @ The Workman's Club
Cargo EP Launch from pop, folk and indie rock songwriter.
Ex Oh Presents; Ian Veenman, Rachel Grace & Jani @ The Workmans Cellar
3 new Irish acts on the night.
Aldous Harding @ NCH
Long rescheduled show from the magnetic New Zealand performer. 'Tick Tock'
---
Wednesday April 19th
Nick Oliveri @ The Grand Social
Former QOTSA / Kyuss bass player.
Road Crew Records @ The Sound House
Irish urban night.
Nina Nastasia @ The Workmans Cellar
Singer-Songwriter returns after a 12-year hiatus in which she experienced trauma and tragedy. Support Swimmers Jackson
Kormac Equivalent Exchange @ Hen's Teeth
Launch of limited edition Maser-designed LP, exclusive listening event featuring a Q+A with Kormac + special guests)
Jazz @ Juno
The Andrew McCoubrey Trio. Jazz every Wednesday for €10.
Pizza Jazz @ Lucky's
Live jazz trio on Meath Street.
---
Thursday April 20th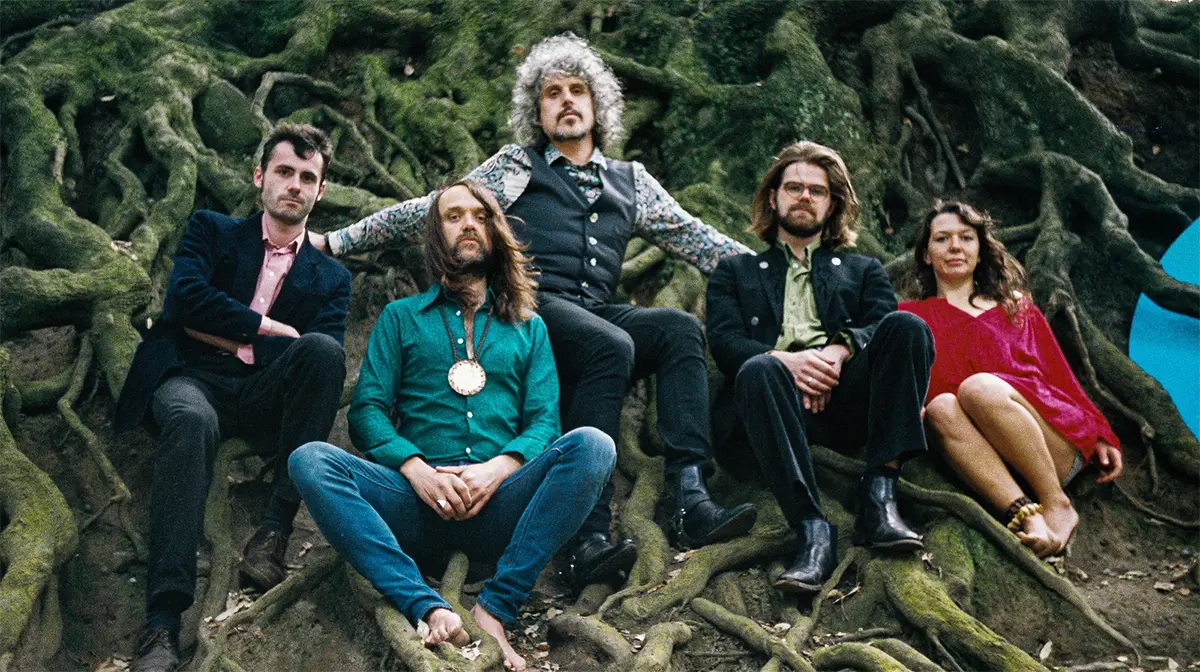 Tau and the Drones of Praise, Guud Grief @ The Grand Social
Irish psych-rock band on their third album, features Seán Mulrooney and his Ireland meets Berlin ensemble. Album also features Pól Brennan from Clannad and Damien Dempsey.
SJ, Siobhán Franks, find-joy @ The Workman's Cellar
Dublin pop artist SJ & friends.
4/20 @ Fibbers
Featuring BrickNasty,Tung In Cheek, SauceGang Collective
Chamomile Club @ ALOFT Hotels
Chamomile Club is a Dublin based collective founded by artists Aby Coulibaly, Monjola and Moio.
Burner Records x Hausu @ The Workman's Club
Burnin' Down The Hausu with live sets from Actualacid, Arthur Valentine, Automatic Blue, Local Boy x Muttonhead, Burner DJs
The Amniotics @ Whelan's Upstairs
Dublin rock band launch new single 'Boomerang'. Support Touch Excellent and Hab.
Badly Drawn Boy @ National Stadium
25 Years of Badly Drawn Boy
Josh Ritter @ Liberty Hall
Sold out show from singer-songwriter.
Jürgen Simpson plays Canto Ositanto @ The Sugar Club
New Music Dublin Festival. Dutch composer Simeon ten Holt's 1977 composition Canto Ostinato is performed at this late evening concert in a hypnotic new rendering for live electronics.

Korteh Sessions @ Bar Eile
Dublin-based jazz fusion group playing original tunes with a jam session afterwards. Every Thursday.
Live Jazz @ Dashi
Weekly live jazz night in the basement.
City Rocker @ The Magnet
Zine launch Thomas Street bar.
Zehnstations @ The Sound House (11pm)
Dj BlkCnvs & Dj Big Cheeks spinning Afrobeats, Amapiano & more
---
Skip to day: Tues | Wed | Thurs | Fri | Sat | Sun | Mon
---
Friday April 21st
Crash Ensemble: You Heard It First @ NCH (3pm)
Performance of five world premieres marking the culmination of Crash Works: a two-year commission and development hub for composers offered by the ensemble in partnership with New Music Dublin.
Music Alliance Ireland public meeting @ NCH (5pm)
Agroup of national music organisations and companies that have come together to establish a collective voice for the music sector in Ireland. Part of New Music Dublin.
Just Mustard @ Button Factory
Sold out show from Dundalk alt-rockers is a 360 degree A/V live show.
Daire Heffernan @ Whelan's Upstairs
Dublin indie alt artist. 'Harry'
Stiky's Summer Kick Off II @ Crowbar
Big lineup of rappers for this hip-hop night.
Matthew Day @ The Magnet
Thomas Street bar hosts DJs most late nights.
Gash Collective: Big Cheeks @ Lucky's (8:30pm)
DJ vibes on Meath Street.
Mark Allton @ Hen's Teeth Hi-Fi Lounge
Limerick's finest vinyl DJ.
Tu-Ki @ Hang Dai Chinese
Dj vibes in the lovely spot on Wexford Street.
Eloise @ All Good Wine Bar
Midnight Disco co-founder
Scenes from iGIRL @ NCH (9:30pm)
New Music Dublin. Songs from Roger Doyle's full-length electronic opera iGIRL
From Midi to Masters: Rory Sweeney, Brian G and more @ Workman's Cellar (11:30pm)
A lineup of Dublin's underground DJs.
Eats Everything @ Centre Point (11pm)
UK producer/DJ with Elle L, Jay Cullen, E.T.C on support.
Rene Wise @ Wigwam (11pm)
Eerste Communie resident for an evening of rhythmic, groovy techno.
Karen Nyame KG @ Tengu (11pm)
Jr Spesh Riddim Series. UK producer plays South African Amapiano to US Jersey Club and beyond. Boiler Room
R3D's House: Ladies First @ The Sound House (11pm)
Alice, Engjoyment, R3D, Silent Jee, Dansiee, TK Sax, Hypeman Weezzy
Marcus O'Laoire & Barista Boy @ The Pyg
South William Street venue hosts the DJ/Chef/bar owner and pal.
---
Saturday April 22nd
Record Store Day '23 with Soft Boy Records @ Hen's Teeth Lounge
Soft Boy crew to celebrate the five year anniversary of Kojaque's 'Deli Daydreams'. Expect some limited records, merch, and music throughout the day, and maybe a special Soft Boy x Hen's Teeth tee.
The Seattle Grunge Experience @ The Grand Social (2pm, 8pm)
All-ages afternoon show / and evening show with a band playing Nirvana, Pearl Jam, Alice In Chains, Soundgarden & more.
Jinx Lennon + Deadlians @ The Workmans Cellar
Dundalk noise-punk-poet has just released a new album.
Zapho @ The Workman's Club
Zapho And Friends 'Pay The Piper' Single Launch Party
Rhob Cunningham @ Phase, Rathgar
with LIVE AV from Phase resident artists. BYOB. New space in Rathgar.
Rhiannon Giddens with Francesco Turrisi @ Farmleigh House
When I Am Laid In Earth.
Zaska @ The Sugar Club
Guitarist, songwriter, musical director, and producer best known for his band ZASKA's feel-good blend of neo-soul, indie jazz, and modern funk. 'Just For One Day'
Róisín O @ Whelan's
Irish pop-centered singer-songwriter.
Ricky Chong @ All Good Wine Bar
DJ vibes in Network at night.
Chris Kabs / Loud Motive @ The Academy Green Room
'Nobody' is a sweet heart-on-sleeve Afropop single from Chris Kabs' EP.
Saibh Skelly @ Whelan's Upstairs
Dublin pop singer-songwriter fresh from supporting Hozier rehearsal shows.
Audible Chocolate Live @ Sin É
Dublin funk band. Support from Callum Wall and Jordan Higgin Quartet
Discofeque @ Bar Eilé
Free early party on Baggot Street.
Martin Roche (Get Down Edits) @ Hang Dai Chinese
Disco edit vibes on Camden Street.
RAGE Takeover Asa Nisi Masa & Djackulate @ Lucky's (8:30pm)
DJ vibes on Meath Street.
Marian Hawkes @ The Magnet
Sound Advice owner DJ set on Thomas Street for Record Store Day.
Gash Collective DJs @ Pawn Shop
Lolz, JWY, Little O, Lychee and more.
Denis Sulta, Sahana, DJ RÍ @ Urban Plant Life
Playing an Absolut club party at the Garden Centre on Cork Street.
Nocturnal Animals presents Nextus @ The Complex (7pm – 1am)
An A/V dance experience featuring live visuals from Kev Freeney Nathanial Wong & more / DJ sets from Ste Flynn, Seboro & more.
Papa Romeo @ The Sugar Club (11pm)
Five-piece band from Dublin, bringing nu jazz elements to their indie rock and bed pop roots.
Graeme Park,& Greg Wilson @ Button Factory (11pm)
Former Haçienda residents play in Dublin together.
Backstory Spring Dance #2 @ Commercial Rowing Club (11pm)
Donal Dineen's club night. with DJ Repoman, Hewan, Sally C and DD at the controls
Actress @ Tengu (11pm)
Foggy Notions presents the UK ambient electronic producer. Support Laurence Kapinga (Negro Impacto).
Mother @ Lost Lane (11pm)
Queer clubbing in the heart of Dublin, playing electro & disco every Saturday night.
EVE Invites Whoriskey @ Juno (11pm)
Wicklow based-Whoriskey plays deep melodic techno.
Back 2 The Old Skool @ The Grand Social (10:30pm)
Old skool anthems all night.
DJ Heartstring @ Here & Now (10pm)
Index hosts Euphoric trance melodies and fast techno from DJ Heartstring. Also: Pagan, Superuser Becky, Dploya b2b Enfour
Ian Ludvig – Experience @ The Pyg (11pm)
Crosstown Rebels DJ / producer. Plus Alex Zander, Fox
Slither x Rave Selekts @ Bow Lane Social (11pm)
Hard Duck B2B Hamilton Scalpel B2B Special Guest
Breaka @ Wigwam (11pm)
UK producer with a love of breaks, footwork and Amapiano.
---
Skip to day: Tues | Wed | Thurs | Fri | Sat | Sun | Mon
---
Sunday April 23rd
Acts of Balancing and Unbalancing @ NCH (2pm)
New Music Dublin. Cork-based experimental music group Quiet Music Ensemble for this afternoon concert.
whenyoung @ Whelan's
London-based Limerick band have just released their second album Paragon Songs. 'The Laundress'
Cathy Flynn @ The Magnet
DDR resident DJ set on Thomas Street
Cormac Begley @ Vicar Street
Kerry trad experimental concertina player.
Brona Keogh @ Whelan's Upstairs
Soulful, indie folk singer from Dublin. 'Far Away'
Little Gem: Jason McNamara & Name Sato (Duo) + Lara Gallagher @ Anseo
Experimental music sets upstairs.
Can Music Be Kind? Crash Ensemble @ NCH (9:30pm)
New Music Dublin. This performance by Crash Ensemble of their major new commission from Irish composer Andrew Hamilton explores friendliness and loving kindness through music that revels in ambiguity and defies constraints.
---
Monday April 24th
Teleman @ Button Factory
English band who are now a trio. 'Trees Grow High'
Concert for Ukraine @ Vicar Street
Roddy Doyle, Glen Hansard, Cathy Davey, Paul Muldoon, Colm Mac Con Iomaire, Lia Mills, Hazel Hogan, Patrick Freyne, Frankham & Love and Chiamaka Enyi-Amadi + Ukrainian performers – some of whom will be travelling over from Ukraine especially for the concert – include singer Olesya Zdorovetska, indie rock group Vivienne Mort, folk band Shpylyasti Kobzari, pianist Mariia Yaremak as well as the renowned author and activist Victoria Amelina.
---