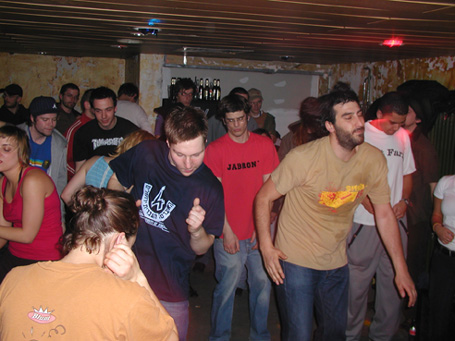 I haven't mentioned a lot of dubstep on the blog recently, the reason being I haven't been listening to very much new stuff. I finally got around to the Boxcutter Oneiric album which is fantastic otherwise a bit of Burial and the Kode 9/Spaceape album have been the recent highlights. Much of the new dubstep I heard, lacked character and left me uninterested. All that has turned itself around the past few weeks when I find some of the amazing tunes below.
Benga – Unusual Time Signature tune (untitled)
From kaini on the Electric Picnic forum, comes this gem from Benga who played it on a mammoth 5 hour Stella sessions set alongside Skream, Benga, Plastician, Chef, LD and Hijak. It's most discombobulating dubstep track I've ever heard. Grab the podcasts: part one and part two.
[audio:https://nialler9.com/mp3/benga_wonky-time_sig.mp3]
The Others – Bushida (Caspa Remix)
Probably the most beautiful dubstep track going, thanks to a sample of a Tan Dun Crouching Tiger Hidden Dragon-type melody. Wonderful.
The Others – Bushido (Caspa Remix)
[audio:https://nialler9.com/mp3/the_others_-_bushido(caspa_remix).mp3]
Jason H – Forever
Speaking of beautiful moments in music, this tune is considered a lost classic. Listen to the emcee lose it, getting emotional after hearing the tune explode. "Fuckin 'ell" he says, sounding wide-eyed and full of wonder as the tune bursts like a prelude to a sci-fi movie with wistful euphoria. Apparently this track will be getting a proper release soon (so say Pitchfork) but it also appears as Jason H under the guise of Calenda on Dubstep AllStars Vol. 3.
[audio:http://www.lilo.net/%7Emartin/kode9_jasonh_forever.mp3]
Kode 9 – Junior Boys remix
Strange candidates for a dubstep remix, this Kode 9 track uses very sparse elements of the original's "Double Shadow" to eerie effect. Along with SpaceApe's emcee talents, Kode 9's Memories of the Future is a great introduction to moody dubstep. You need the sound to fill the room to get the required effect.
Junior Boys – Double Shadow (Kode 9 remix)
[audio:https://nialler9.com/mp3/Junior_Boys_-_Double_Shadow_Kode-9-remix.mp3]
[audio:https://nialler9.com/mp3/Kode_9_and_the_Spaceape-glass.mp3]
Pinch – Qawwali
A very minimal track, this tune starts with bass and basic claps which is joined by an almost electro synth hook and melodica at interjections. Little else happens but I can't get it out of my head.
[audio:https://nialler9.com/mp3/Pinch_-_Qawwali.mp3]
Gameboy Dubstep
Also worth a look for Gameboy aficionados is A2DaGee's dubstep re-workings of Gameboy soundtrack tunes. Some of them are lovely, a mix between ambient electronica and dubstep rhythms. You can get two volumes of instrumentals from his myspace at the moment: Vol 4 & Vol 5, both hosted at Sendspace.
[audio:https://nialler9.com/mp3/a2dagee-mario_and_zelda.mp3]
[audio:https://nialler9.com/mp3/a2dagee-pearly_gates.mp3]
That's enough for now. So, c'mon readers, what dubstep tunes have been rattlin' your cages of late? Holler in the comments.
Related