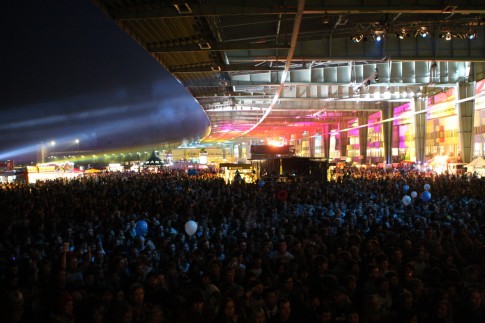 If you're not festival-bound, hate camping but would still like a taste of a festival before the year is out, you could always skip over to Berlin for the 9th and 10th of September for Berlin Music Festival, with the added bonus of being in one of the best cities in Europe while all of these bands play in a disused airport and an afterparty club:
Santigold, Beirut, Battles, Mogwai, Suede , Tune-Yards, Odd Future Wolf Gang Kill Them All, LFO, James Blake, The Rapture, Austra, Primal Scream Present Screamadelica, HEALTH, Diplo, Pantha Du Prince, Aloe Blacc, Yelle, A-Trak, Skrillex, Mount Kimbie, Boys Noize, Hercules & Love Affair, Oh Land, Apparat Band, DJ Hell, Clap Your Hands Say Yeah, Buraka Som Sistema, The Naked And Famous, Mr. Oizo, CSS, The Drums, Rainbow Arabia, Florrie, Last Days Of 1984 and more.

I went last year and had a ball.The event takes place during Berlin Music Week in Tempelhof Airport til midnight and then moves to Club Xberg during the wee hours. Accommodation is available nearby or in the city. Tickets are only €81.40 each.
I've got two VIP tickets to giveaway to the festival. You'll still have to get yourself there and pay for accomodation but Berlin is cheap and both Ryanair and Aerlingus fly there. To enter the competition, email [email protected] with your name before the August 3rd at noon.
The Rapture – How Deep Is Your Love by DFA Records