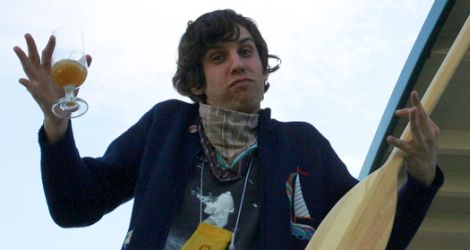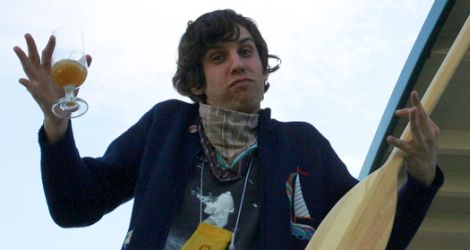 The weather may not suit this song as I type, but it will fit into your forthcoming summer compilations and maybe become as synonymous as partying with friends as much as your favourite LCD Soundsystem song. Which is lucky, because it is directly inspired by them. Jona (aka Yacht) explains:
I heard someone saying that there wasn't a definitive summer banger for 2007, and this saddened me deeply. I'm not sure if this is even remotely true, but just the fact that someone felt like this summer is without its own anthem left me feeling like I could at least give it a shot.

My shot is a love letter to LCD Soundsystem, my new friends and tourmates from the very beginning of the summer. They added me to their top 8, so in turn I made this song for them, and for you, Summer…and for you, dear reader.
"The Summer Song" has got the same bass-percussive drive that James Murphy employs to great effect and is a great tune because of it. Also posted is the Eats Tapes remix of "It's Coming to Get You", the original of which features on Yacht's recent album I Believe in You. Your Magic is Real which I picked up yesterday (So far I'm impressed). Jona recently formally left the band The Blow to concentrate full time on Yacht and in a great move held his album launch party on….. you guessed it.. a YACHT! Video below.
Speaking of Summer mixes, Antrophe's got a Summer Mix up on Soundtracks for Them for your perusal. Bonde Do Role, Peter Bjorn and John, Kid Sister, 2 Live Crew, Spank Rock , Yo Majesty, CSS, Justice, Drop the Lime, MIA and Lady Sovereign all feature.
MP3s
[audio:https://nialler9.com/mp3/YACHT-The-Summer-Song.mp3]

Yacht – It's Coming to Get You (Eats Tapes remix)
[audio:https://nialler9.com/mp3/Its-Coming-To-Get-You-(Eats-Tapes-Remix).mp3]
From I Believe in you. Your Magic is Real.
Yacht – See a Penny (Pick it Up)
[audio:https://nialler9.com/mp3/YACHT-See-A-Penny-(Pick-It-Up).mp3]
Video: Yacht on a Yacht
[ Yacht Official | Myspace ]
I Believe in You. Your Magic Is Real @ Amazon