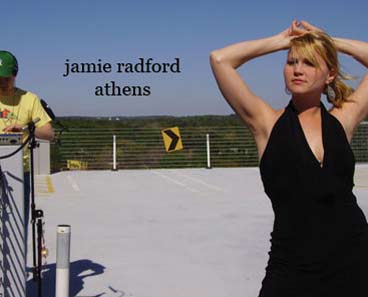 I love songs that use an unusual sound as a hook. Four Tet's 'Slow Jam' with its squeaky dog toy is a good example. So is this song from Jamie Radford – 'You're so warm'. It starts with some lovely drifting piano before you hear some cut up giggling. As the track rolls around, this perfect sample of a kid (I think) going "Bow Bow!" allows the song to shine even further and is the reason I've been listening to this song all day. Check it out.
Jamie Radford is from Athens, Georgia and is also an accomplished MC and has an album named after his hometown for sale on his official website. He has been making experimental electronic rap music since sometime in 2001, when he traded in his guitar for a microphone and computer technology. A debating champion in high school and college, he moved to Athens, GA in 2003 to get a law degree and to absorb the town's famous music culture. With hard drives full of 100's of songs and sound experiments, he decided in 2005 to begin releasing albums. "Athens" is the first.
Check out his MySpace and his official site for more songs – 'Had to let Go' and 'The Breakup Song' are characterised by the underlying female vocal sample and are a delight to listen to. At times strains of Buck 65 but with a unique style on his own, I'm sure we'll be hearing a lot more about him in the coming months.
MP3s
[Buy the album exclusively from Jamie's site]
Related Tags:
Jamie Radford