An up-to-date selection of music documentaries on Netflix (UK and Ireland) to delve into.
---
1.
David Bowie: Five Years'

In the year we lost one of the greatest rock stars and artists of our time, this 2013 BBC documentary looks at a five-specific years that were crucial to Bowie's legacy. It begins in 1971 with his breakthrough, then onto 1975 with his Young Americans record, onto 1977 when he made Low and Heroes in Berlin then onto 1980's Scary Monsters and 1983's Let's Dance, as produced by Nile Rodgers. There's interviews, talking heads, archive footage, live footage and visual footage galore.
---
2.
The Art Of Organised Noize'

The Atlanta production trio behind some of rap and R&B's biggest hits of the '90s. Rico Wade, Ray Murray and Sleepy Brown along with Andre 3000, Puff Daddy, Big Boi, Future and 2Chainz talk about their influence and impact taking in music from Outkast, Goodie Mob, TLC and En Vogue.
---
3.
I'll Sleep When I'm Dead

It's easy to dismiss dance DJs dunderhead like Steve Aoki right? Huge amounts of money amassed playing dumb stadium EDM shows and throwing cake. Dumb. This documentary gives some genuine insight (though it does feel at times, like Aoki commissioned it) into how a man like Aoki got to where he did. The short-hand: a lot of hard work, and a gruelling tour schedule that means 240 gigs a year or thereabouts (he played the Wright Venue just last week). Aoki started the label Dim Mak off the back off a Tuesday night club night where the likes of Bloc Party and Justice played for free. Aoki was in the right place at the right time – the start of electro-influenced indie-rock, or blog house and he went all in. It worked out pretty well for him and it's hard to begrudge him after watching this documentary. His relationship with his distant father, a famous wrester and founder of restaurant Benihana, is explored as a main reason for all this and whether that's true or not it does humanise Aoki as more than a cake-throwing partystarter. The tunes are still shit though.
---
4.
Janis: Little Girl Blue

The tragic story of Janis Joplin, who was one of the first members of the 27 club. The raw blues singer died the same year as Jimi Hendrix in 1970 and Amy Berg's documentary, despite the long time that has passed since her overdose, has a raw emotive quality to it. Berg talks to friends and family about her life and what might have been. There's plenty of footage of Joplin performing and insights into her early troubled life at school in Texas (which she returns to 10 years later at her reunion with cameras). Joplin was a singer who never really found her place in the world. An existing interest in Joplin will help engage viewing. Cat Power narrates.
---

A documentary exploring the modular synthesizer and its impact on music and culture – tracking its rise in the '60s to its revival. Interview subjects include Trent Reznor, Gary Numan, Vince Clarke (Erasure), Chris Carter (Throbbing Gristle), Carl Craig and its makers and doers.
---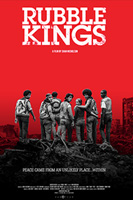 A 2015 documentary about gangs in New York with in 1970s. Not a music film per se but hip-hop was a prominent reason for the reduction of violence when gang members swapped guns for breaking and music. The soundtrack also features Run The Jewels, Bun B and Ghostface Killah.
---
7.
The Other One: The Long Strange Trip of Bob Weir

This film is the story of Weir, the second guitarist with the Grateful Dead. It tells the story of the band and Weir's relationship with Jerry Garcia, his eventful life and his unique guitar technique. The Grateful Dead are an American curio, not as celebrated on this side of the Atlantic, so if you want to know what the fuss is about, this is a good place to start.
https://www.youtube.com/watch?v=wfNewpF-j1E
---

The enigmatic stylish French dance duo explored in style via their closest friends and collaborators including Pharrell Williams, Nile Rodgers, Paul Williams, Giorgio Moroder, Kanye, Michel Gondry and Todd Edwards.
---

The story of Nasir Jones' as a rapper begins with 1994's seminal rap album Illmatic. This richly-shot documentary is as much about the album as it American society's ills that lead to Jones living as a black kid in New York in the Queensbridge housing project.
---

The fascinating story of a bunch of session musicians who played on records by the Beach Boys, Cher, Phil Spector, The Mamas and the Papas, Nancy Sinatra, The Byrds. Director Danny Tedesco (whose father was a prominent guitarist) looks at what made the crew so indispensable to the recording era of the '60s in America. The Wrecking Crew were the unsung heroes in the background of pop hits.
---
11.
What Happened, Miss Simone?

A documentary exploring one of the best singers of all time Nina Simone. It takes in her life on stage, her involvement in activism (she was closely allied with Martin Luther King), her troubled marriage, her volatile personality and addictions. She was a rare talent and the film leaves you with a mixture of sadness and beauty. Crucial to the documentary is her involvement in the civil movement.
https://youtu.be/Z_pS0GhrSj4
---

Nick Broomfield's documentary released in 1998 was one of the first to explore just how volatile and dangerous the Nirvana musician and the Hole singer were to each other. It takes in the conspiracy theories around Cobain's death, that Love was involved in some way. The film includes Love's attempts at censoring the film project with the pair ending up having a public altercation at ACLU when Broomfield gets up to ask her a question.
See also: Broomfield's Biggie and Tupac, which is also on Netflix.
https://www.youtube.com/watch?v=RvjffMViRzg
---
13.
Searching For Sugarman

A fascinating origin story of a musician called Rodriguez who was unknown to most of the world with the exception of a rabid fan base in South Africa, where he was a huge cultural influence. Rumours that he had set himself on fire on stage, committed suicide or shot himself. Everyone thought he was dead. He wasn't. This film was a rebirth for the artist who went on to tour the world after this 2012 documentary came out (including Dublin's Vicar Street).
https://www.youtube.com/watch?v=8hEojBYmR-o
---

Shep Gordon was a manager to Alice Cooper, Blondie, Luther Vandross and more. His career began during a a chance encounter in 1968 with Janis Joplin and Jimi Hendrix, when Hendrix noting he was Jewish said he should manage. So began a life of music and business, as told in this Mike Myers documentary, which paints him as a likeable decent good guy who receives guests in his nice home and enriches the lives of those he is associated with like Michael Douglas. The film also tells how Gordon helped elevate the idea of the celebrity shef in culture.
---

Oscar winner Alex Gibney turns his attention to the Afrobeat legend Fela Kuti explores his life on stage and off. In his home of Nigeria he was a political antagoniser, in his music he mixes jazz, highlife and funk like no one else before or since.
---
16.
Glen Campbell: Let Me Be Me

A documentary looking at what happens when a famous revered musician gets Alzheimer's. This film accompanies the country music legend ('Wichita Lineman', 'Rhinestone Cowboy') on his farewell tour after discovering he had the disease. It's a heartbreaking and moving look at one of the greats.
---