An up-to-date selection of music documentaries on Netflix (UK and Ireland) to delve into.
See 2020's 14 music documentaries worth watching on Netflix list
---
1.
David Bowie: Five Years'

This 2013 BBC documentary looks at a five-specific years that were crucial to Bowie's legacy. It begins in 1971 with his breakthrough, then onto 1975 with his Young Americans record, onto 1977 when he made Low and Heroes in Berlin then onto 1980's Scary Monsters and 1983's Let's Dance, as produced by Nile Rodgers. There's interviews, talking heads, archive footage, live footage and visual footage galore.
---

A documentary that takes an in-depth look into the life of singer Stefani Germanotta or Lady Gaga during the production and release of her fifth album Joanne. In the documentary shes speaks openly about her struggles with pain and mental health following a diagnoses with fibromyalgia.
---
3.
I'll Sleep When I'm Dead

It's easy to dismiss dance DJs dunderhead like Steve Aoki right? Huge amounts of money amassed playing dumb stadium EDM shows and throwing cake. Dumb. This documentary gives some genuine insight (though it does feel at times, like Aoki commissioned it) into how a man like Aoki got to where he did. The short-hand: a lot of hard work, and a gruelling tour schedule that means 240 gigs a year or thereabouts (he played the Wright Venue just last week). Aoki started the label Dim Mak off the back off a Tuesday night club night where the likes of Bloc Party and Justice played for free. Aoki was in the right place at the right time – the start of electro-influenced indie-rock, or blog house and he went all in. It worked out pretty well for him and it's hard to begrudge him after watching this documentary. His relationship with his distant father, a famous wrester and founder of restaurant Benihana, is explored as a main reason for all this and whether that's true or not it does humanise Aoki as more than a cake-throwing partystarter. The tunes are still shit though.
---
4.
Janis: Little Girl Blue

The tragic story of Janis Joplin, who was one of the first members of the 27 club. The raw blues singer died the same year as Jimi Hendrix in 1970 and Amy Berg's documentary, despite the long time that has passed since her overdose, has a raw emotive quality to it. Berg talks to friends and family about her life and what might have been. There's plenty of footage of Joplin performing and insights into her early troubled life at school in Texas (which she returns to 10 years later at her reunion with cameras). Joplin was a singer who never really found her place in the world. An existing interest in Joplin will help engage viewing. Cat Power narrates.
---
5.
The Rolling Stones: Crossfire Hurricane

Written and directed by Brett Morgen, this documentary traces the first 20 years of The Rolling Stones career, featuring interview audio in which no cameras were allowed mixed with archival footage. It discusses their relationship with Brian Jones, media comparisons with the Beatles and drug addictions that nearly cost them their career. If you like The Rolling Stones you have to see this documentary.
---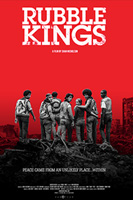 A 2015 documentary about gangs in New York in 1970s. Not a music film per se but hip-hop was a prominent reason for the reduction of violence when gang members swapped guns for breaking and music. The soundtrack also features Run The Jewels, Bun B and Ghostface Killah.
---
7.
The Other One: The Long Strange Trip of Bob Weir

This film is the story of Weir, the second guitarist with the Grateful Dead. It tells the story of the band and Weir's relationship with Jerry Garcia, his eventful life and his unique guitar technique. The Grateful Dead are an American curio, not as celebrated on this side of the Atlantic, so if you want to know what the fuss is about, this is a good place to start.
---

The enigmatic stylish French dance duo explored in style via their closest friends and collaborators including Pharrell Williams, Nile Rodgers, Paul Williams, Giorgio Moroder, Kanye, Michel Gondry and Todd Edwards.
---
9.
Shot! The Spiritual Mantra of Rock

Following the career of the rock photographer Mick Rock, the man behind iconic photographs and album covers for the likes Lou Reed, David Bowie, Iggy Pop, Queen and how the lifestyle that went with this career almost ended in an early death.
---

A film directed and produced by Dave Grohl looks at the recording studio Sound City Studios where various artists such as Nirvana, Kyuss, Red Hot Chili Peppers, Fleetwood Mac, Neil Young, Rick Springfield, Tom Petty and Rage Against The Machine recorded their albums. The film explores the life of the studio from its opening in 1969 to its closure in 2011.
---
11.
What Happened, Miss Simone?

A documentary exploring one of the best singers of all time Nina Simone. It takes in her life on stage, her involvement in activism (she was closely allied with Martin Luther King), her troubled marriage, her volatile personality and addictions. She was a rare talent and the film leaves you with a mixture of sadness and beauty. Crucial to the documentary is her involvement in the civil movement.
---
12.
Whitney: Can I Be Me?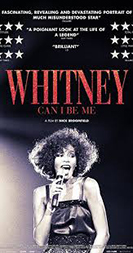 A documentary that by filmmaker Nick Broomfield filmed four years after Whitney Houston's tragic death that explores the life of the singer, the heartbreaking tale of what lead to her demise and the destructive warning signs of fame that shone through during her career. The film also shares interviews with her bodyguard and discusses her relationship with Bobby Brown and best friend and assistant Robyn Crawford that lead to the media questioning her sexuality.
---
13.
Metallica: Some Kind of Monster

This documentary names after Metallica's 2003 follows the band during the process of writing and recording their sixth studio album which saw the band seeking two years of group therapy with performance enhancement coach Phil Towle, bassist Jason Newsted leaving the band and frontman James Hetfield going to rehab for alcohol abuse and many other trials and tribulations, a period of time that eventually leads to the release of their St Anger album. This one is a must watch, the story is absolutely insane.
---

A documentary that follows the career of the Canadian heavy metal band Anvil as they still try to make it as a band despite selling millions of records with their 1982 album Metal on Metal influencing other bands such as Anthrax and Metallica. The movie follows Steve "Lips" Kudlow and drummer Robb Reiner as they embark on a European tour that marks their last shot at achieving ultimate stardom.
---
15.
Big Star: Nothing Can Hurt Me

The story of Memphis rock band Big Star, a band that received major critical acclaim during the 70s and 80s from their debut album #1 Record and following three albums. The documentary features interviews with surviving drummer Jody Stephens, producer and Ardent Studios founder John Fry, and other bands such as The Flaming Lips and R.E.M exploring the triumphs and tragedies within the band that prevented them breaking through in their success.
---
16.
Beats, Rhymes and Life: The Travels of A Tribe Called Quest

Directed by actor Michael Rapaport this documentary explores the career of legendary 90s hip-hop group a Tribe Called Quest, getting up close and personal with Q-Tip and Phife Dawg discussing their differences that lead to conflicts that drove them apart, yet how they still remain and retain the title of being one of the most influential groups in hip-hop's history. The movie also features major faces within the hip-hop industry such as the Beastie Boys and Pharrell Williams.
---