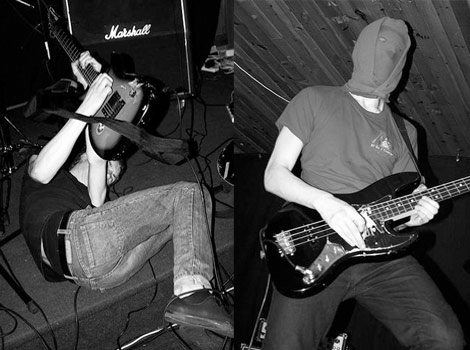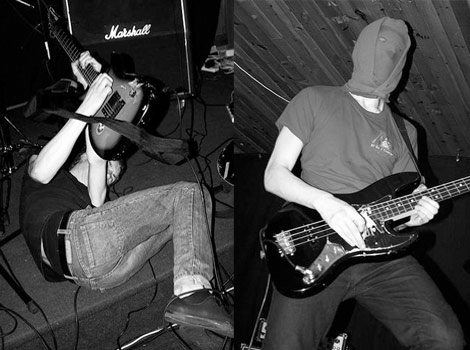 This is a blog of a band called Adebisi Shank by Gav from SEBP.
Adebisi Shank are a three-piece noise rock troupe made up of Lar (Guitars,Bleeps) and Vinny (Bass,Blips) from Dublin and Mick (Drums) from Wexford. Lar and Mick can also be founding playing with Terrordactyl while Vinny makes up the 8-bit one man band – The Vinny Club. Their bio labels them as "synthy, off-kilter math-fueled fun" which I think is slightly misleading, because Adebisi Shank possess something which a lot of so-called 'puzzle pop' (LOL NME!) band don't have – feeling. Witnessing their live show is akin to watching a nervous breakdown:limbs flailing, bodies jerking and frenetic energy pours out of this band. You get the impression that they mean every note.
And so onto their eponomously-titled EP. Kicking off with the ferocious, bass-driven demon stomp of "Horse", the Shank really set out their modus operandi early. Pulsing drums push the songs along and the bass at some points over the course of the EP is so dextrous that it could be mistaken for an additional guitar. The guitar work really shines through on this EP – Lar coaxes sounds from his instrument that are other-worldly at times and hellish the next. On "You Shouldn't Be In White",he unleashes torrents of riffs, each more complex and engaging than the previous. Then at the song's climax, suddenly the mood changes and waves of serenity flood the speakers and washes over the listener as if to calm them after the intensity which has come before.This shows that Adebisi are more than just spazz rock- the level of feeling they inject into every tune shows a depth their peers sorely lack.
They launch their EP this Saturday the 7th of July in The Lower Deck, Portobello with support from Bats, Selah and Enemies. I will be up the front, in a wrestler mask, freaking out. Join me.
MP3
[audio:https://nialler9.com/mp3/adebisi_shank_-_horse.mp3]
Even Michael J Fox endorses Adebisi Shank.
[googlevideo]http://video.google.com/videoplay?docid=3402391719681773602[/googlevideo]