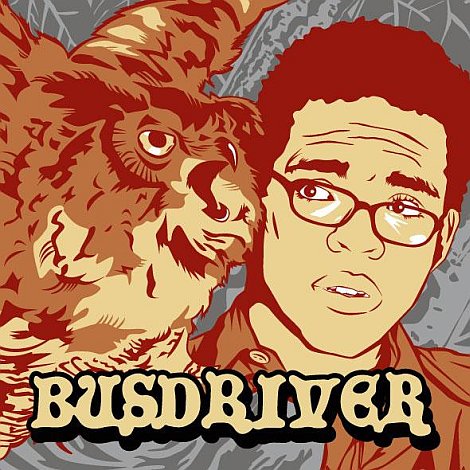 A fresh release from the wonderfully eccentric emcee Busdriver, aka Regan Farquahar, hit the shelves today. Roadkill Overcoat (the prolific LA artists seventh release in six years!) comprises of twelve quite diverse numbers, each with their own unique individual charms. Production from Boom Bip and Nobody ensures captivating pads & melodies and solid beats are a standout feature on the album.
As is Busdriver's idiosyncratic vocal style, which varies from rapid-fire 40-Rothmans-a-day Aesop Rock-ness on "Pompous Posies! Your Party's No Fun", to beautiful Andre 3000-style melodies in "Sun Shower". The content never fails to hold attention either, with constant and carefully-crafted tangents delivering musings on art, love, politics, society and the like.
As I mentioned, the variety of sounds is something that particularly strikes me; take the difference between the bangin beats of "Kill Your Employer (Recreational Paranoia Is The Sport Of Now)" and the ethereal ambiance of "Go Slow" as an example of the mixed bag on offer. If on the one hand there may be a tune or two on Roadkill Overcoat that you may find weak (not that I really do), at least Busdriver has managed to create something for everyone, testament to his creative depth.
Busdriver has nothing penciled in for Europe yet, but state-side he has a load of gigs going on; his myspace seems to be better on info than his official site. You can also check the entire album out on his myspace right now – all tracks are streamed! I've hand-picked two irresistable tracks below for your special attention. Also check out the video for a collaboration with Pigeon John on one of my favourite Daedelus tunes – quality.
Busdriver – Less Yes's. More No's
[audio:https://nialler9.com/mp3/Busdriver_Less_Yes_ More_Nos.mp3]
Busdriver – Kill Your Employer (Recreational Paranoia Is The Sport Of Now)
[audio:https://nialler9.com/mp3/Busdriver_Kill_Your Employer_Recreational_Paranoia_is_the_Sport_of_Now.mp3]
Daedelus featuring Busdriver and Pigeon John
Buy Roadkill Overcoat: Amazon | Kill your Employer EP –
iTunes