Gorillaz, Mali Music, The Good, the Bad & the Queen, Deltron 3030, Monkey: Journey to the West, Doctor Dee. Damon Albarn's career path has a multi-faceted global outlook these days. Last night's Another Honest Jon's Chop Up gig was just the latest chapter in Albarn's role as cultural curator which this year has seen an charity album recorded in the Congo called DRC Music and now Rocketjuice and The Moon, his latest collaborative project with Flea of Red Hot Chili Peppers and Nigerian-born legendary drummer Tony Allen.
Honest Jon's is the record label based in London that Albarn has a hand in and a "chop up" is Nigerian slang for a feast and what a rich one it was – both his Rocketjuice and The Moon collaborators were present in Vicar Street along with a large troupe including French-based Malian-born singer Fatoumata Diawara, Hypnotic Brass Ensemble and father to eight of the ensemble Sun Ra member Phil Cohran on Space Harp, Detroit techno/house legend Theo Parrish, Soweto dance magicians Shangaan Electro, rapper M.anifest & Malian keyboardist and singer Cheick Tidiane Seck.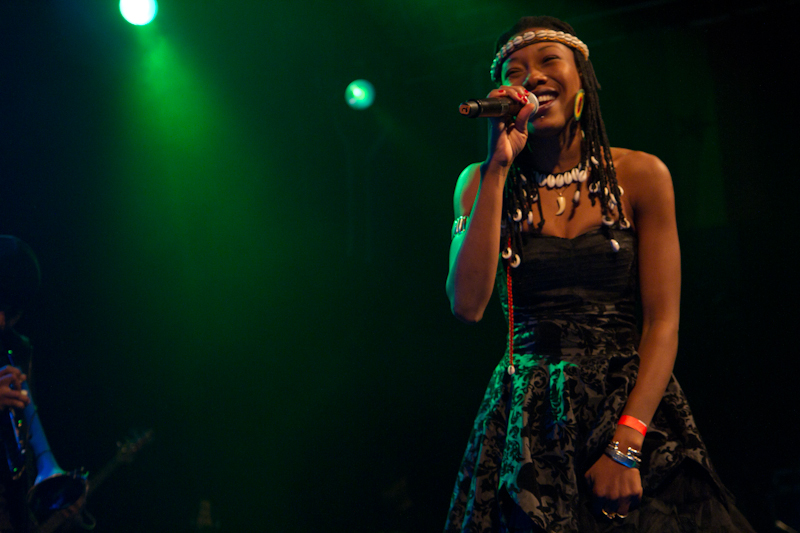 With such a loose and disparate large group of musicians (much like the widely-diversive Honest Jon's discography which swings from '70s English folk to the dance rhythms of Actress), large passages of indulgence or noodling were to be expected. Over the course of an hour and 45 minutes even with a rotating on-stage membership, what transpired was an incendiary and uplifting display of musicianship and talent packaged in an old-fashioned knees-up concert-style that only momentarily lost focus.
At the centre of the entire night's performance was Chicago's Hypnotic Brass Ensemble who added a brace of brass tones to almost every song from the middle of the stage. Whether it was the dizzying funk of 'Damn' led by M.anifest, 'Red Skies' with Fatoumata Diawara on vocals, adding body to Shangaan Electro or the Ethiopian funk-vibe of their father Phil Cohran's songs, they were the hardest working section of the assembled musicians. Albarn, Flea and Allen collaborated on the languid Rocketjuice number 'Poison' and otherwise, added deft touches with their instruments to the setlist. Flea's bass-playing was funky, silently-contributory and jazz-inflected when required ('Dolo Mbife') and Allen's soft rich rhythms kept things in check on songs like 'Put It Out'.
The diversions into the outer reaches of the musicians present were the real highlights. Theo Parrish led a Miles Davis' On The Corner- style frenetic cop chase theme psychedelic funk and synth workout, Cheick Tidiane Seck's solo organ song settled into the room's skin after a few minutes. Fatoumata Diawara shone in a duet with Damon on twinkling keys for a touching quieter number. Her rich heart-filled distinctly African voice prompted an audience member to exclaim "Wow wee wow" in response. Her voice really was that beautiful.
Having visited Soweto myself to witness Shangaan Electro, in all its glory, the trio's introduction on a Dublin stage was a personal achievement for the producer and leader Nozinja dressed in a toga and multi-coloured wig. Warning that "Now we move at speed", he was joined by Nkata Mawewe and one of the Tshetsha Boys in a mask and a fake belly paunch for some loose-limbed flailing while 180bpm beats streamed through the speakers at a frenetic pace. The upsurge in tempo added a shot of raw energy to the show.
The night finished on a couple of all-cast tunes, with one called celebratory rendition called 'Here We Go' ending a fascinating evening. To paraphrase a tweet by Emmet Condon I saw after the show from this was not world music, but out of this world music.
The night finished with Nozinja getting me to take photos of himself with everyone in the Honest Jons Chopup entourage. Here are the best of the photos. All above photos by Kieran Frost. More photos on Facebook.
[nggallery id=30]