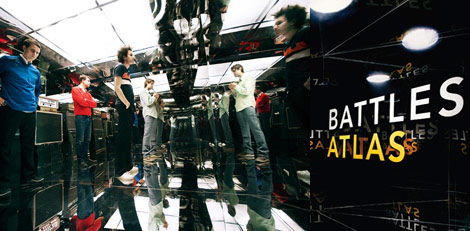 Another day, another excuse to mention Battles, my favourite math-rock band, the only math-rock band worth mentioning these days. They will be releasing a new album on May 15 entitled Mirrored through Warp. Preceding that is a single "Atlas" alongside a remix from DJ Koze. The album will feature vocals and a Pitchfork writer recently said:
it kind of sounds like the Knife sent through a post-hardcore meat grinder. In a good way.
Update: Pitchfork have a stream of "Atlas". My God it's weiiird.
Most importantly, U:mack are bringing them back to Ireland once again for a show in the Music Centre, on the 25th May. I missed the show in Whelans but the numerous videos on YouTube have it down as looking like one of the best gigs of the last year.
All this news gives me the chance to talk about one Battles song called SZ2 from their B EP last year, which would have topped my favourite songs of 2006 list, had I made one. So I made my own small list just for this song….

9 things that make SZ2 amaaaaaaazing….
It's over 9 minutes long and I always have to put it on repeat.
It's a song with three distinct parts.
It all sounds so incredibly loose and organic.
It starts with a lovely slithering guitar line.
Those drums that wallop in at 2:43.
The proceeding angry sounding synth weaving with the guitars which builds and builds for 2 and a half minutes.
The funky bassline at 5:06.
The breakdown shortly after with the amazing drumming at 5:43.
The par-rapp rapp rapp sound out of the guitars at 7:28 which segues into the ultra-fast riff.
You should have a strong urge to listen to the song now…
[audio:https://nialler9.com/mp3/Battles_-_sz2.mp3]
More:
Battles on Myspace | Warp
U:mack
Live videos: #1 / #2
Buy Battles:Ep C/B Ep