All photos by Killian Broderick.
It might have been the week after Electric Picnic but what self-respecting music fan doesn't want to spend the weekend in a disused German airport watching bands? Given the opportunity to revisit Berlin Festival a year later, I jumped at the chance. Add in a couple of days of food and drink, a tour of Berlin music including Hansa Studios and the history of well-known Berlin clubs on the Berlin music tour, an Irish showcase during Popkomm featuring Le Galaxie, Ham Sandwich, We Cut Corners, Last Days Of 1984 and Funeral Suits (beset by sound problems bless them) in one of my favourite cities in the world and I'm all over Berlin Festival again.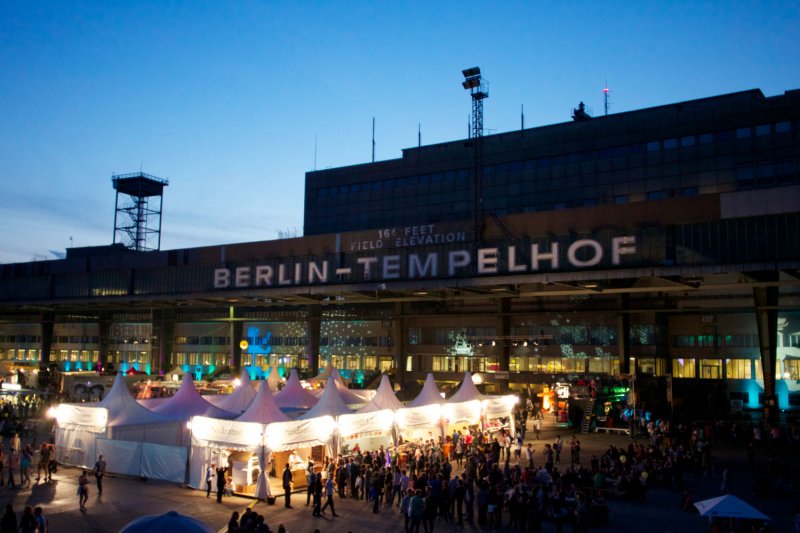 Last year, because of the close proximity to the Love Parade tragedy, the security at the festival site in Tempelhof airport was overtly-cautious resulting in a bottleneck that cut short the festival on the Friday night and affected the lineup. This year, there were no such problems. While the main stage remained under the large roof on tarmac beside the departure and arrival gates where the planes used to park (the bass-heavy sound from that stage was a continuous annoyance for the weekend – the only real black mark on the festival), the other two stages placed in hangers at opposite ends of the festival site faced out (rather than last year's indoor positioning) resulting in an increased capacity that had no need for stringent security. In between, there was an awesome collection of artists who worked on installations throughout the weekend, a Silent Disco, a market and a mobile disco. Oh, and Pedobear.
The biggest addition to the festival this year is the answer to last year's necessary but surprising early curfew on the main venue. This is Berlin after all right? An early finish just won't do for Irish people who aren't normally allowed to enjoy themselves long into the AM on a night out. Once the main arena is done buses are available to bring you to Arena Berlin in Kreuzberg, an after-hours festival site with a main warehouse, a Spree-side boat and another building housing a series of dark spaces designed to get lost in with a soundtrack of cerebral German techno and off-kilter dancing music on some dank cavern dancefloor.
With the close proximity to Electric Picnic, there is naturally some touring crossover as bands like The Rapture, Oh Land, Health and Santigold feature on the weekend's bill of artists once again. It's a good opportunity to get a second glance at some. Santigold fails to re-ignite the same energy as the previous energy as EP but her backing dancers thrilla moves and the on-stage cow costume are as beguiling as before and make up somewhat for a set beset by a late start and sound issues. Elsewhere, Oh Land sounds warm and inviting, Battles finally decide to play 'Atlas' again albeit in chopped up minimal form during a set that gets increasingly frustrating and lacking in the "going apeshit" department, CSS were refreshing for about 15 minutes before their music starts to come across as just silly, The Rapture rely on the older songs to provide festival oomph and HEALTH (pictured above) make an over-bearing impression on post-Irish showcase hangovers that make them easier to enjoy from the back of the hangar.
As Friday night moves into Saturday the programming relies more on body moving. Hercules & Love Affair give it all with disco struts and diva beats, we get LFO's frankly frighteningly paced set with huge blocky visuals and some classics like 'LFO' and of course, 'Freak' while Apparat (above) appear to have morphed into a post-electronic version of Sigur Ros.
Saturday's lineup is a little more nuanced. Florrie opens up main stage proceedings but her adequate pop songs could do with an injection of bite on stage. Last Days Of 1984 do the Irish proud on the big stage for their big festival debut. There's just enough time to be intrigued by Housse De Racket – Phoenix-esque French indie jangly pop which is mot surprising considering their history (they used to be session musicians for Phoenix and Air).
Download:Housse De Racket – Roman by Housse De Racket
Predicatably one of the festival highlights, Tune-Yards blows everyone away again. Berlin was my fourth time seeing Merrill Garbus this year and she never fails to bring elation to her performance and it always extends into the audience. She touches people with her music without resorting to schmaltz or base emotion. Her music is rich and multi-layered – always uplifting. Garbus is musical happiness personified. Person of the year.
One act who manages to best their previous Electric Picnic performance is Beirut who sound at home under the iron awning in old Europe. There are waltzes aplenty and swaying galore as Zach Condon and band delve into newest album, the growing in stature The Rip Tide.
Over at the hangars, Mount Kimbie bring their hazy electronic A-game which results in a lot of head-nodding, Pantha Du Prince brings some dark billowy hooded figures on stage around heavy dry ice for added "did I just see that?" ominous effect while pumping knotty electronic beats with a deft hand. On the main stage bring us closer to the end, Alex Ridha aka Boys Noize devasted the place with banging nuanced electro complete with actual fire and (dry) ice (video highlights here).
The Splendour by Pantha du Prince
Upon arrival in the Arena warehouse an hour or so after Mogwai finish up proceedings on the Saturday night, Public Enemy greet is in full swing, as energising a welcome as any. Despite Flava Flav's plugs for Twitter and his book, the greatest hits set is the perfect re-up for late night party antics which continues from an unlikely source. So we arrive at our festival highlight, North American producer Skrillex. You'll probably have heard of this guy, he's one of the biggest DJs in the world right now. His distinctly North American hybrid of electro and dubstep loses the nuance of each and goes for the aggressive jugular drop (look even Weetabix ads are aping this style).
Skrillex couldn't exist without the pioneers of dubstep who relied on sub-bass and dub rhythms or electro DJs like SebastiAn who use funky glitchy synths as the basis of most of their tracks. Skrillex takes parts of that and moves it all into the stadium.
Skrillex' Wikipedia page clunkily calls his music "complextro", I'm calling it dumbstep. There's no room for nuance in Skrillex's repertoire, there's barely any room for sub-bass. What we get is a immediately unimaginative formula of build up of gigantic digitised bass growls (see the compilation below). It's big, dumb and silly but my, is it fun. Abso-bloody-lutely massive fun. We enter the arena taking the piss but are soon taken over by the experience and wholly enjoy it so much I almost feel guilty. Til next time Berlin.
[nggallery id=29]