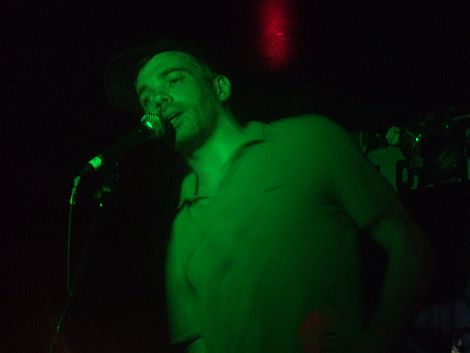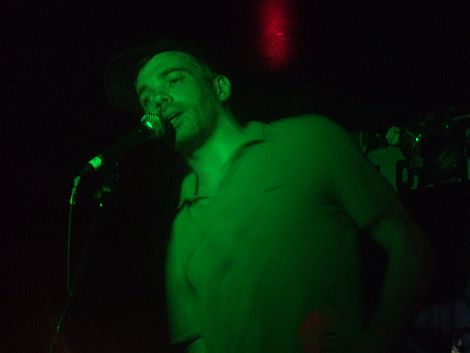 I hate The Hub. It really shouldn't qualify as a venue at all. It's got a small dancefloor, pillars and walls blocking the stage, it's a weird oblong layout and sometimes it really smells like sillage. However, due to Whelans being closed this dark dank venue is where the Buck 65 gig was held so I went along. I'd seen Buck before about two years ago (in Whelans) just before the release of his Secret House against the World album. This time he's getting ready to release Situation along, one of three albums he has prepped. He played one song from a project he's working on with Electrelane as well as an excerpt from Dirk Thornton, another project with DJ Flip who supported last night.
Armed with a laptop with iTunes, a single deck and a mic and wearing a green polo shirt and a trucker cap bathed in green spotlight, he started with the excellent "Indestructable Sam", and I realised I had forgotten how funny he was when he broke out the jellied dance moves. In-between songs he told stories about a girl he used to know in Nova Scotia who was a bit dumb and told him to get in touch on a social network site – ("you should come on my face!"), his wish for a Buck 65 sextape, he Googled famous birthdays, falling in love with a stripper leading into "Temporarily in Love", and his love of old-time Marx brothers talk – ("Between the two of us we're fastidious – he's fast and I'm hideous.[Henny Youngman]").
The set was top notch an included versions of "Pants on Fire", "Out of Focus", "Kennedy killed the hat", "Food", a hilarious "Pretty" ("I'm pretty / You're pretty but not as pretty as me"), a LOL-friendly version of the Jungle Brothers "I gonna do ya", a song about getting frisked by the cops resulting in a "Sexy Arrest" called "Spread 'Em" and adding the Fine Young Cannibals song "Johnny come home" [Youtube] to the end of "Roses and Blue Jays". Buck then took requests for "Centaur", "463" and "Wicked and Weird" all the while throwing confetti from his back pocket. A great show as usual and it seems he'll be back in September for those who missed it!
Video
MP3
[audio:https://nialler9.com/mp3/Buck_65_-_Centaur_(acoustic_version).mp3]
[A good introduction to Buck: This Right Here Is Buck 65 @ Amazon]