With Electric Picnic sold out, one could be forgiven for thinking that the lineup was done but no, there has been a fleshing out of the lineup in recent weeks in the various stages around Stradbally of late.
This morning, Nile Rodgers and Chic were added to the lineup as a last minute surprise and I can bet confidently there will be at least 1 or 2 more names added when the stage times are announced next week.
Check out the top 10 new artists to see at EP this year.
In the meantime, here's what you may have missed since:
Heineken's Live Your Music:
Krystal Klear
Ejeca
Mix & Fairbanks
Sing Along Social
Erol Alkan
Lumo Club
Trinity Orchestra
We Cut Corners
Tara Stewart
Gxrl Code
Stevie G
George Feely
Marcus O'Laoire
Aimie Le Boom
Lime & Fancy
Mona Lxsa
Spies
Handsome Paddy And Bobofunk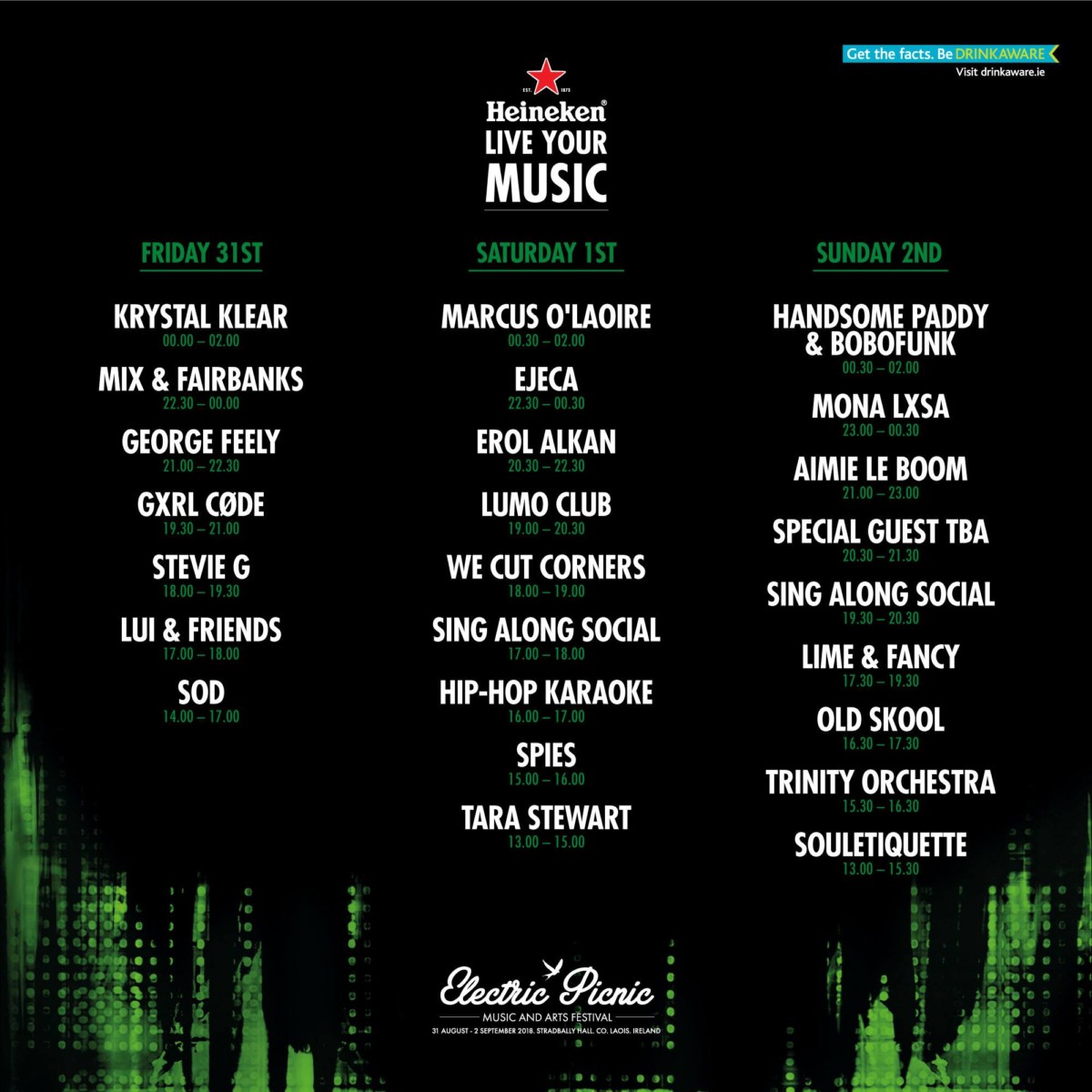 Attention Bebe
Interskalactic
Galway Street Club
Stomptown Brass
Elaine Mai
Elvis The Way It Was
Luna Boys
Junior Brother
Cc Brez
Prison Love
Katie Laffan
Father Ted Experience
Brian Whittington
Larkfield Four
Aindrias De Staic And The Latchikos
Mutefish
Robin James Hurt
The Acks
Looseysmokes (Aerial Theatre)
Spoken word arena:
The Word
Leviathan
An Puball Gaeilge,
Dublin Theatre Festival Theatre Stage
Theatre of Food
DANCE DAYS by Dublin Dance Festival
Highlights:
Talks on foreign affairs and Brexit, hosted by the Rubberbandits' Blindboy Boatclub
The Blindboy Podcast
Ah, Hear! the new podcast stage also features Soundings hosted by Lisa Hannigan and Dylan Haskins with special guests Marian Keyes and Ships; a host of podcasts curated by the Headstuff Podcast Network collective; and a special An Irishman Abroad podcast with Jarlath Regan.
Highlights of the new writing and ideas stage Manifesto stage include Northern Soul, a conversation about growing up in music in Northern Ireland with Tim Wheeler from Ash and Bronagh Gallagher; readings of Seamus Heaney's poems from the recently published 100 Poems selected by his family. Stray Lines is an intriguing new format that brings together live readings of comics and graphic novels with visuals, special effects and music. New to the Parish hosted by Sorcha Pollak features a panel of fascinating people new to Ireland with reflections on this country's direct provision regime from theatre maker Oonagh Murphy.
International Dublin Literary Award winner Mike McCormack (Solar Bones); former political prisoner, Ibrahim Halawa; writer, Michael Harding; and legendary comedy producer John Lloyd (Blackadder, Spitting Image, QI).
Waterford Whispers News will present a Sky News-style special preview of their new live show which premieres in October.
Miriam O'Callaghan presents the annual Sunday Brunch Show with very special guests reviewing the papers, chewing the fat and having the craic. B
Blindboy Boatclub also hosts the delightful Illuminate illustrated talks with artists and creatives including celebrated jewellery designer Chupi among many others.
There's an Amnesty Hour Special on Human Rights Defenders hosted by Roisin Ingle; debates on fake news and the digital public square with the Irish Research Council, the ever-popular Salon du Chat; History Ireland Hedge Schools; and Paddy Cullivan's Ten Dark Secrets of 1798.
The Theatre Stage – presented in association with Dublin Theatre Festival – brings a provocative and thoughtful programme of performances to this year's festival. Programme highlights include Kicking All the Boxes developed by world-renowned performer and theatre maker Mikel Murfi, written and performed by Liz FitzGibbon; Thisispopbaby's presentation of Tara Flynn's deeply personal, brave and funny Not a Funny Word which had such an impact in the lead up to the referendum on the Eighth Amendment; and electrifying performances by The Word Up Collective featuring Hassan Baker, Jake Hurley & Nick Stanley, Amber O'Connell, Sasha Terfous. The Breadline Collective in association with Theatre Upstairs presents Say Nothin' to No One by Thommas Kane Byrne; Sickle Moon Productions present Tryst by Finbarr Doyle and Jeda de Brí, performed by Katie McCann, Clodagh Mooney Duggan and Finbarr Doyle; and Pan Narran's Theatre present My Left Nut performed and co-written by Michael Patrick and Oisín Kearney – the true story of a Belfast boy growing up with no father to guide him through, and a giant ball to weigh him down. Malaprop present LOVE + devised by Dylan Coburn Gray, Claire O'Reilly, Breffni Holahan, Maeve O'Mahony; and X+Co. present XNTHONY and Mark T. Cox with a special performance of highlights of their hit international cabaret shows.
The Word Stage is, as always, packed to the rafters with an electric mix of spoken word, storytelling, poetry, cutting-edge comedy and theatre; rap, funk and rock and roll. UK rapper Finn Detax will be strutting his stuff on Friday, while The Word Up Collective will be bringing all kinds of cool to the stage over the weekend featuring some of the top rappers and spoken word artists on the Irish scene. Expect blistering sets from Outsider YP, Jay Ronic and Tommy G. There's also lots of live music by night with festival favourites Good Man Sheila and Cronin and their special guests ready to whip the crowd into a frenzy along with Bobby and The Blunts, Backroad Smokers Club, Megacone, and Reprisal. During the day we will please delicate minds with storytelling, poetry and comedy, building up to dulcet tones from the likes of Oscar Mild, Con Murphy and Distant Sons. Sunday night closes The Word Stage with a rip roaring high octane trad. set from Ruaile Buaile.
Related