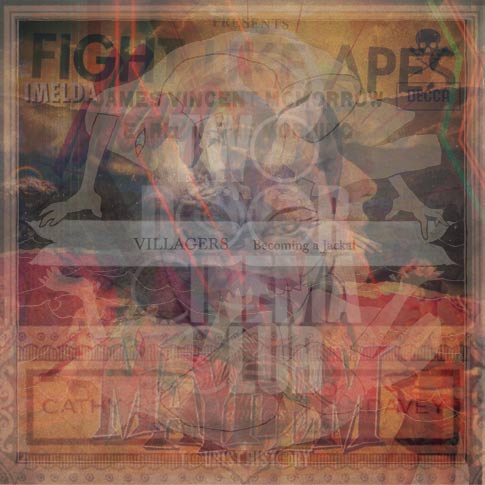 The 10 albums on the shortlist for this year's Choice Music Prize (Ireland's Mercury or Polaris Prize international visitors) are:
I made a Spotify playlist of 8 of the albums. The Cast of Cheers album can be heard and downloaded here and some Halves tunes from the album can be heard on Soundcloud including the below new tune 'I Raise Bears' featuring Katie Kim.
Download: I Raise Bears (featuring Katie Kim) edit by halves
Personally speaking, I'm delighted with the list. Five of the artists debuted tunes from the above albums on this very blog so that's something for me personally to be proud of. Beyond that, The Cast of Cheers became the first band to be nominated for an album they gave away for free, Adebisi finally got their Choice recognition, James Vincent McMorrow so deserved a nomination after his slow-burning year, we've done Villagers to death here by this point but congrats to Conor and friends, Two Door Cinema Club have grown beyond the scope of this award in their short lives as a band and Halves is a surprising but lovely addition.
What's more, every year there's a certain amount of incredulity around what wasn't picked but if there's was never going to be enough room for all of the brilliant albums that were released in 2010. It's the nature of awards of any kind. Not Squares suffered perhaps from a lack of Nordie judges (Chris AU represents) as with Solar Bears, Shit Robot, Meljoann, Somadrone, The Rednecks, Strands, Ham Sandwich et al. All 10 of the albums featured in the top 30 of the Irish Album poll as voted for by you guys. The important thing is albums featured on the shortlist and those not on the list will still benefit from the chatter surrounding it.
The full list of judges is after the jump. The winner is announced in Vicar Street on March 3rd with as many of the nominated live bands as possible playing live. Tickets are €22. The winning act will receive €10,000, a prize fund courtesy of Irish Music Rights Organisation (IMRO) and the Irish Recorded Music Association (IRMA).
Aidan Cuffe – Goldenplec.com
Ray Darcy- Today FM
Michelle Doherty- Phantom 105.2
Dave Fanning- 2fm
Shane Hegarty – Irish Times
Chris Jones – Alternative Ulster
Danny McElhinney – Irish Mail on Sunday
John Meagher – Irish Independent
Jenny Mulligan – Entertainment.ie
Celina Murphy – HotPress
Phil Udell – State.ie
Tony Clayton-Lea – Chairman of Judging Panel