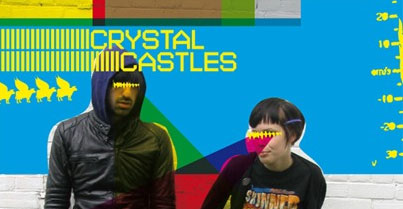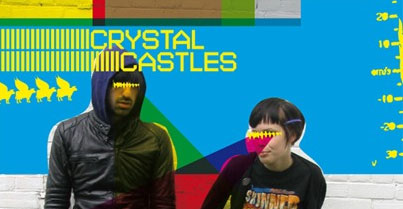 Playing live tonight in Andrews Lane Theatre ( or ALT as they are calling it. See? ALTERNATIVE). So, after all my talk, I'm going.
Will the set be longer than 30 minutes?
Will they finally apologise for stealing their t-shirt artwork?
Will Una buy another t-shirt?
Will Justin make the gig?
Will the venue be finished for its grand re-opening?
Will the casseroles rival Pieminister for tasty delicacies?
Will Maximum Joy ever forgive CC?
Are they just for the hipster fraternity?
What will Thumped make of all this tomorrow? (Sample quote from a heated thread about them – "People who live in glass houses, or crystal castles if you will (with an underlying chuckle), shouldn't throw stones".)
The image above is from Jody Gaffney. He does lots of great artwork and posters etc for the likes of Foggy Notions, Forever Presents and more. Check out his portfolio.
Crystal Castles VS HEALTH – Crimewave