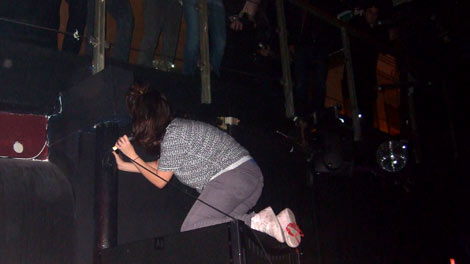 CSS rocked the stage in the Village last night and wouldn't let go until the crowd were a sweaty shadow of their former selves. It was a hectic and energetic show starting with "CSS Suxxx" and running through most of the songs on the album as well as a couple of older tunes near the end of the set. Cansei de ser Sexy like their Brazilian counterparts Bonde do Role a few weeks ago, are all about fun and lead singer, Lovefoxxx is the singing embodiment of it. Climbing onto speaker stacks, stage diving numerous times, leading crowd hand-dances and generally behaving like a lunatic. She also dropped a Missy Elliot verse into one of the songs.
The crowd at the front was the closest I've seen to a mosh in a good while and everyone went wild when "Let's make Love and Listen to Death from Above" was played. Here's a shakey video of the gig.
CSS – Music is my hot hot sex live
[youtube]http://www.youtube.com/watch?v=TtPxpOVqGsw[/youtube]
Roll on TV on the Radio tonight!
P.S – Has anyone who applied to the Bud Rising Storehouse gig got tickets? I haven't heard anything yet. C'mon I want to see Diplo!
Related