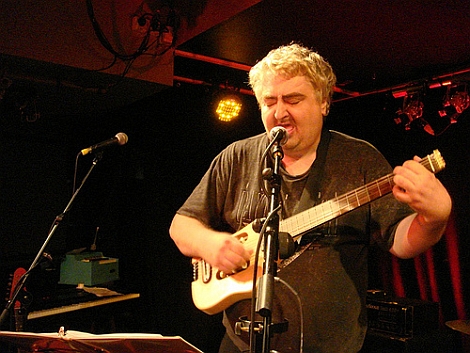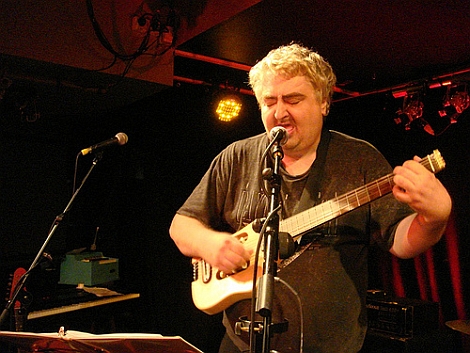 Photo from Flickr by kaotage.
I was aware that two special shows were to take place in Whelans and were to feature Daniel Johnston, Mark Linous of Sparklehorse, Scout Niblett, James McNew of Yo La Tengo, Norman Blake of Teenage Fanclub and Jad Fair and Bob Sluggett of Half Japanese. When Daniel played Vicar Street last year, I was wary of going. I had just seen The Devil and Daniel Johnston months previous so although I was fascinated by his story, his unique and sometimes painfully simple songs but I decided I wouldn't go. Was I going to gawk at some fucked-up guy from that movie or did I genuinely think he was some kind of god? Neither. Afterwards, I remember hearing reports that people were laughing at him so I was glad I didn't experience it.
When tickets returned on sale two weeks ago without thinking about it, I snapped two up, mostly out of latent curiosity. The initimate setting and the supporting group of indier-than-thou messiahs was enough to convince me to give it a shot. They were not my indie messiahs however. Let me explain. In the years a lot of my peers were probably finding themselves in a Yo La Tengo albums or Wilco, I was listening to Beastie Boys and discovering hip-hop. I have 1 Sparklehorse album, 2 Yo La Tengo albums and 1 Daniel Johnston album but none of them are regularly played if I'm honest. So that's the mindset I approached the gig last night, thinking the names were attracting the crowd more than their back catalogue.

It was a singular kind of event last night, not too dissimilar to the Hal Willner's Rogues Gallery of Indie music except for a lot more engaging and a lot less forced. Sure, people were clearly fawning at the site of Daniel or Mark Linous or James McNew but in the end there were enough decent songs played to ensure, it was an engaging experience. Mark Linous played 'Homecoming Queen', a Sparklehorse song I'm familiar with, getting the audience to sing the backing vocals in hushed tones. Jad Fair led a musical game of stop-start song with NcNew and Blake watching for the cue. Scout Niblett impressed with an idiosyncratic performance which I hate to say, reminding me of PJ Harvey's caustic morbidness. She bleated out the line "We're all going to die soon". How Lovely. Norman Blake played a short acoustic set full of simple pop melodies and the first Teenage Fanclub song the band ever wrote 'Everything Flows'. The Scotsman's set was a highlight.
Daniel Johnston came out and played a short set on a miniature guitar. He introduced himself by telling us he had a dream where he was sentenced to death for trying to commit suicide. That sums up Daniel for me. He was joined by his guests for a full band set which included 'Speeding Motorcycle' and 'Casper The Friendly Ghost'.
I needn't have worried about the gawking factor at a Daniel Johnston show. Being schizoprenic and bipolar removes the shrinkwrap around the part of Daniel's brain which filters honesty and that's his unique talent. His ability to convey directly through his lyrics and simple melodies, emotions and feelings that most people would hide out of embarassment or awkwardness. That is why people are there to witness him in the flesh. He is loved, not laughed at. I'm glad I witnessed that for myself.
Related