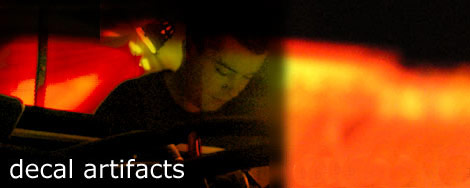 Free albums are wonderful things. No strings attached, no pressure to enjoy, if you like one or two songs then it was worth the download. Well here's another one for you but I happen to think there's more than one or two gems on this.
Alan O'Boyle aka Decal has released an album on his site called Little Sketches. Alan has this to say about it:

These tracks were recorded at home in late 2004 when I'd dismantled my studio in Moore Street and had just bought a decent soundcard and a half decent computer. I was basically just messing around learning how to use Logic and guitar seemed like the fastest way to get some ideas down. The plan was that I would eventually flesh them out into a proper album but the tracks seemed to stand on their own – not as properly finished tracks but as what they are, little sketches. Martin Kelly (The Ruby Tailights) provided the lyrics and vocals for "Wake Up With The Sun Behind You" sometime in 2005. Rather than let them gather dust on my hard drive I thought I'd put them up for download.
And I'm glad he did. There's some great stuff on the album. It's basically some really nice soundscapes with vocals on a couple of tracks. If you're looking for a reference it's like a cross between A Silver Mount Zion's more ambient stuff, Boom Bip with a bit of shoegaze thrown in. These two tracks below are my favourites – "Wake Up with the Sun Behind You" with vocals from The Ruby Tailights' Martin Kelly and "54 Feelings" with its lovely layered guitar. Kudos to Alan for the best title relating to Dublin since The Jimmy Cake's Dublin Gone Everybody Dead– "Dancing Skeletons on Moore Street".
The album can be downloaded in a zip (93MB) at 320kbps. Get a taster below.
MP3s
Decal – Wake Up with the Sun Behind You
[audio:https://nialler9.com/mp3/Decal_wake_up_with_the_sun.mp3]
[audio:https://nialler9.com/mp3/Decal_54Feelings.mp3]
Video: live from Whelans July 06
[youtube]8aUmkylX7-w[/youtube]